Snow Park Dubai 2022: Information, Tickets & activities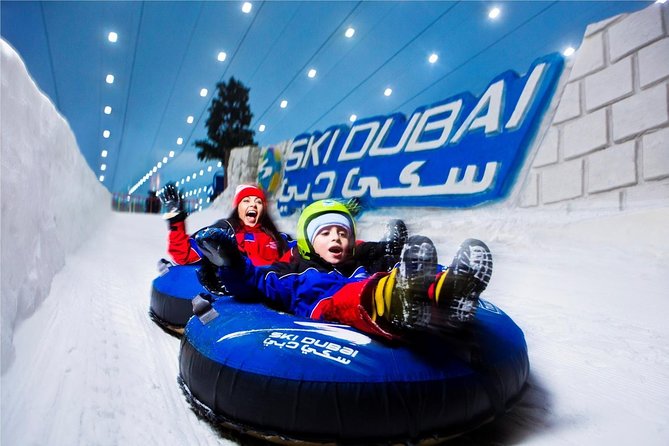 Entertainment and tourist attractions are many and varied in Dubai, where Dubai has become an  important destination for attracting visitors throughout the year and from different countries of  the world.
Here you will read about a unique entertainment destination in the UAE, which is Ski  Snow Park Dubai that located in the Mall of the Emirates, and it is one of the most important  creative, innovative and exciting tourist attraction in the Middle East, and the first indoor ski  resort in the Middle East Central, and it can be distinguished by looking at its location, which is  the inclined building that is located at the top of the mall and includes the largest snow park in the  world, which gives visitors the feeling of being in the heart of the North Pole due to the low  temperatures inside this snowy city. 
Snow Park Dubai extends over an area of 22,500 square meters, and it is covered with real snow  that made it the first refuge for ski enthusiasts, professionals, residents and tourists alike. Ski  Dubai includes a wide range of activities that will be talked about in our article.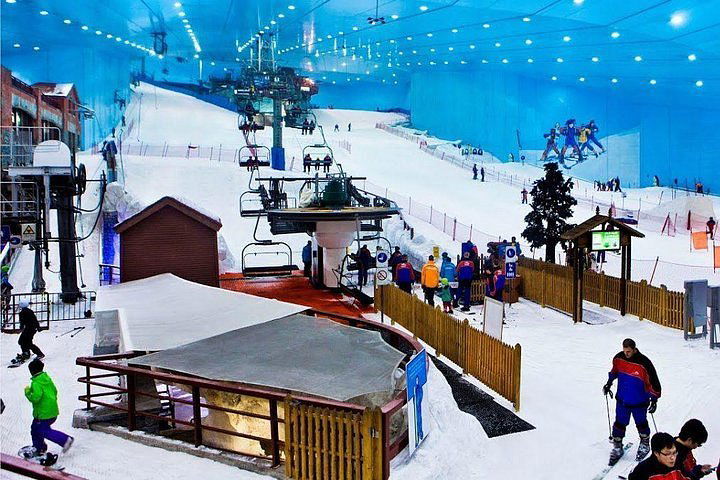 Ski Dubai Snow Park Dubai facilities and activities 
There are many activities in Ski Dubai, Snow Park Dubai, such as Snowball, skiing on the slopes,  ski school, and meet a penguin, in addition to the different levels of skiing from primary to  professional level, a free ski area without any restrictions, and many more… 
Skiing on the slopes 
One of the first things to do is to head to the slopes for some fun. You can try out the i slopes by  yourself. There are five different slope packages that you can choose from. Each of the following  Ski Dubai snow park entrance fee for the slopes per head for both adults and children and  includes outfit/equipment rental and locker facilities. 
∙ Two-hour Slope Pass (AED 210) 
∙ Full-Day Slope Pass (AED 310) – 
∙ SkiFly Slope (AED 305) – Here you can explore the Snow Park and try out certain rides as  well as get two hours access to the Slope. You also get two flights at the famous indoor  skydiving experience, iFLY Dubai free! 
∙ Snow Plus Slope (AED 340) – Unlimited access to the Snow Park rides and one exclusive  experience which can either be: 2 hours Slope, a 40-minute Penguin Encounter, a Snow  Bullet Ride or a skiing/snowboarding lesson. The 20% residents discount is also available  in this package. 
∙ Snow Premium Slope (AED 490) – This is the ultimate Ski Dubai ticket package! It  includes unlimited access to the Snow Park and all its rides, a 40-minute penguin encounter  and the choice between a Slope sessions or ski/snowboarding lessons.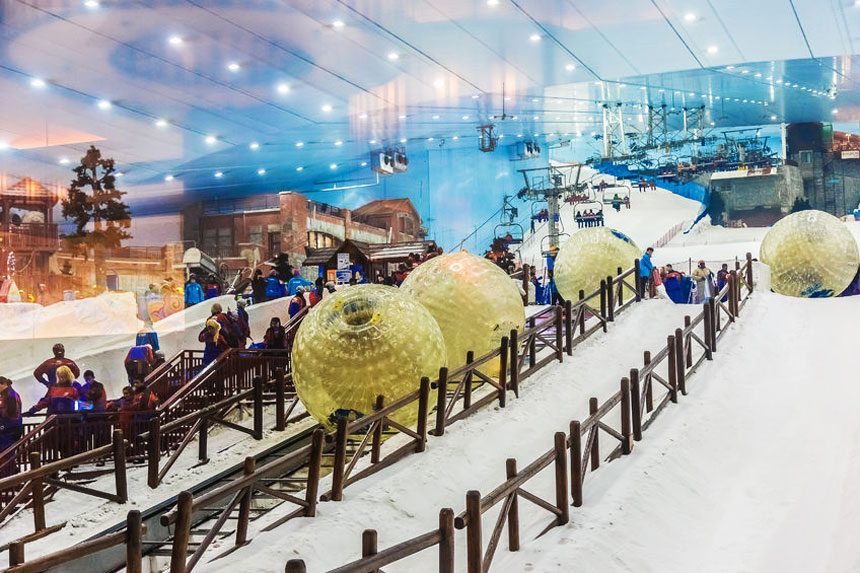 Read More: Hot air balloon Dubai price 2022 – Best hot air Balloon in Dubai Companies
Snow Bullet 
Here you can live a thrilling and unique experience full of enthusiasm and excitement, enjoy  sliding on the seats installed in air on ropes along the snowy hills of Ski Dubai Snow Park. You  have the opportunity to watch the skaters below, and you can also share this experience with one  of your friends by riding two seats fixed on two separate ropes. As for children 8+, who weigh  between 30 and 125 kg and their height more than 120 cm, they can enjoy and participate this  experience. Ski Dubai snow park entrance fee for the Snow Bullet start from 225AED. 
Meet the Penguins  
Ski Dubai Snow Park is more than just a place for skiing; Ski Dubai snow park Dubai offers  visitors the chance to meet one of the most interesting birds in the animal kingdom- the penguin.  Who not love these beautiful and distinctive birds that take us to the frozen poles! Penguins are  quite comfortable with humans so you can let your kids them enjoy this adventure and make sure  to take their memorial photos with the penguins without being afraid of them.
These cute birds  offer four amazing shows during the day, and Ski Dubai also provides all the clothes requirements for this adventure from pants, jackets and helmet, to shoes and socks. All the  penguin meetings start at 12:00 pm and are held after every 30 minutes, up till 09:00 pm. If you  are wondering about the Ski Dubai ticket offers, you can visit their official website and book  directly and get a Ski Dubai discount of up to 10 AED when booking online and here is ski Dubai snow park entrance fee for the penguins area, you can pick what suits you from these packages 
Peng-Friend Encounter (AED 230) – You get a 40-minute, meet two species of penguins,  the get a locker, child less than 14 years enters with escort more than 16 years. 

Snow Plus – Penguin Encounter (AED 520) – Here you get a 75-minute, meet the two  penguins species, get a photo opportunity with the penguins as a souvenir, plus a  complimentary hot chocolate drink to keep you warm. 

Ultimate Peng-Friend (AED 890) – This gets you unlimited access to Snow Park rides, one  go at the Chairlift and Mountian Thriller and a 75-minute Peng Encounter. It also includes  lockers, a hot chocolate drink and photo plus a souvenir. 

Swimming with the Penguins (AED 1,390) – Includes everything from the Ultimate Peng Friend plus a 15-minute session to swimming with the penguins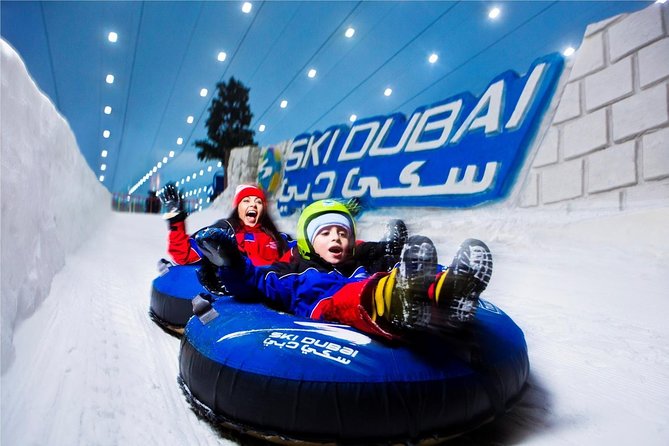 Read More: Dubai Eye tickets 2022: Info to the Ferris Wheel in Dubai
Snow Park Dubai Snowboarding 
One of the most important activities in Ski Dubai is skiing on the snow slopes, which can be  accessed on foot or using the teleferik \ cable car, to start skiing using the sled or shoes equipped 
with ski blades, and it is also possible to play with snow and make a snowman and take Ski  Dubai photos. 
Ski Dubai Snow Park Ski School 
For those who love skiing and want to develop their skills, they can join Ski Dubai School, which  offers a variety of lessons, whether in groups or solo, to learn this skill at different levels  "beginner – intermediate – advanced" for all ages, starting from 3 years. The ski school offers the  opportunity to learn to ice skate using wooden sleds or roller skates. 
Snow Cinema 
Ski Dubai Snow Park offers a variety of shows, where you can enjoy the cinema, Ski Dubai and  VOX Cinemas have combined their capabilities to create a unique cinematic experience located  in the white wonderland! Snow Cinema shows like no other, watching the latest movies on the  most modern big screens. The ticket includes watching one movie of your choice, a coat, socks,  shoes, blankets, and a helmet, in addition to renting wireless headphones and locker. 
Cafés at Ski Dubai Snow Park Dubai: 
∙

Avalanche Café: 

Avalanche Café is located halfway on the slope and lets you relax with good views. It offers  delicious soups, sandwiches, desserts and drinks of all kinds. 

∙

North 28: 

North 28 serves a selection of delicious dishes and warm drink, it has a distinctive view. 

∙

Ice Café:

You can get some savoury treats at this café near the Snow Plough in the Snow Park area. 
Ski Dubai Snow Park entrance fee 
The Ski Dubai prices vary for the activity you want to do and the zone you will be visiting. As there are many events at various prices, so you can choose the most suitable for you. Ski Dubai  Snow Park entrance fee can start from 175 AED. You can purchase your tickets online, from the  official Ski Dubai website here.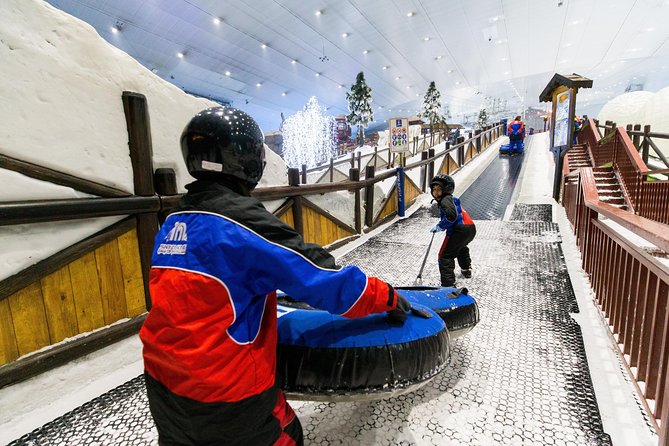 Read More: Kidzania Dubai Mall 2022: ticket price, Activities, timings
FAQS 
∙ Is it safe to play at Ski Dubai Snow Park Dubai? 
Ski Dubai operators provide all necessary instructions and precautions for public safety, in  addition to carrying out continuous cleaning and sterilization within public safety protocols. 
∙ How can I book Ski Dubai tickets? 
Entry tickets can be purchased from the same destination, and Ski Dubai provides online booking  through the website. 
∙ What are the Ski Dubai Snow Park Dubai timings? 
What are Ski Dubai snow Park Dubai timings? 
This chilly attraction is open seven days a week. On the weekdays, the Ski Dubai Snow park  Dubai timings are from 10:00 am to 11:00 pm, except Thursdays where they are open till 12:00  am. They operate from 9:00 am till 12:00 am on Fridays and from 09:00 am till 11:00 pm on Saturdays. 
For more information call the Ski Dubai Snow Park Dubai management on +971-800-386. 
At the end of the article, where you know the activities and events in Ski Dubai, Snow Park  Dubai in Mall of the Emirates. Having attractions such as this snow park Dubai in proximity also  ensures that weekends are never dull.