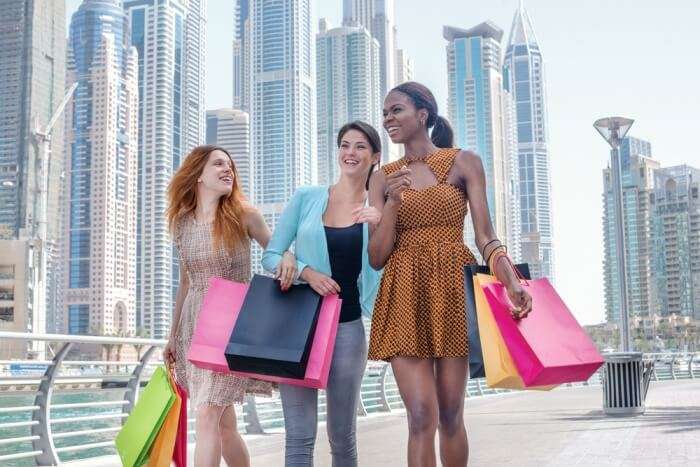 What are the best malls in Dubai? The city of Dubai is called the pearl of the Gulf, and it's  not out of thin air, Dubai has many elements that made it a pioneer of tourism in the Arab ian world, as it has a large group of the most important tourist places in Dubai and the United  Arab Emirates in general, as well as a group of the most famous international shopping malls  in Dubai, which are visited by millions of visitors and tourists each year. 
Here, we offer you a complete guide about the best entertainment and shopping malls in  Dubai, which are spread throughout Dubai, providing visitors with multiple options for  shopping and enjoying entertainment activities and events, and we also list a group of famous  malls in Dubai, so that you can get to know them to visit them during your upcoming  vacation. 
List of the best malls in Dubai  
1- Dubai Mall 
Dubai Mall is considered one of the largest malls in Dubai and in the world and the most  famous mall in Dubai, with almost 100 million visitors each year especially from those who  want to have great shopping mixed with fun in one of the most famous malls in Emirates the  Dubai Mall. 
The Dubai mall, which is the famous mall of the Emirates, extends over a huge area  exceeding one million square meters, and thus it is ranked sixth among the list of mega  shopping complexes in the world and one of the best malls in Dubai. And you can reach it  very easily via Doha Street in Dubai, and it is located at the first junction of Sheikh Zayed  Road. 
Also, Dubai Mall has a panoramic view of Burj Khalifa, which is like an elegant and  luxurious reception hall for the mall, in addition to the charming Dubai Fountain, the largest  water fountain in the world, and one of the most important sightseeing in Dubai. 
The mall, which is considered one of the most beautiful places in Dubai, hosts about 1,300  stores for families in various fields, all of which provide services for displaying and selling  various products such as clothes, watches, electronics, shoes, glasses, etc., in addition to  various entertainment activities such as cinemas and the Dubai Aquarium.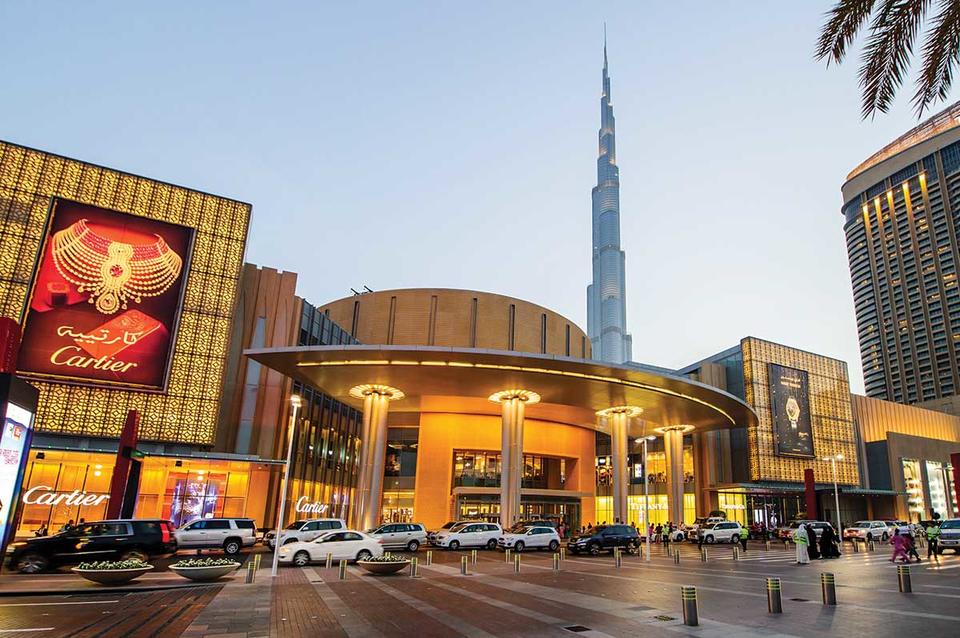 2- CITY CENTRE MIRDIF 
There are many malls in Dubai, but among them, City Center Mirdif is on the list of Dubai's  best luxury malls. It is located in the Mirdif area on Sheikh Mohammed Bin Zayed Road and  was opened in 2010.
You can find there many brands such as the famous Carrefour supermarket, Debenhams,  Forever 21, and other brands; there you will find more than 200 stores in City Center Mirdif.  
City Center Mirdif also includes many entertainment facilities such as Vox cinemas, iFly  Dubai for free flying, jumping in the air, children's games and a wide range of luxury  restaurants and cafes.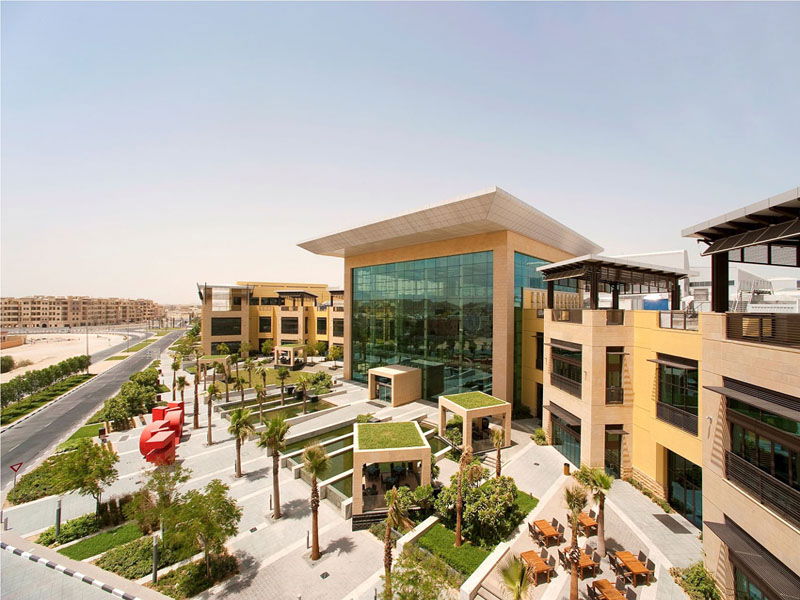 3- BURJUMAN CENTRE 
One of the oldest shopping malls in Dubai, it's also the most popular shopping mall in Dubai which is visited by thousands of visitors daily It has a vital location on Khalid Bin Al  Waleed Street in front of the famous Burjuman metro station. 
What makes Burjuman Center one of the notable malls in Dubai is the unique exterior and  interior designs, and it brings together dozens of stores that display different international  brands. All what you are looking for you will find in Burjuman Center, watches, shoes,  accessories, glasses, jewelry, as well as home accessories, masterpieces and antiques. 
Burjuman Center embraces more than 40 food and drink stands, among them the most  recommended and tested restaurants in Dubai, all of them compete to provide delicious meals  and drinks. You can enjoy meals in Asian, Egyptian or Gulf style, as well as fast food.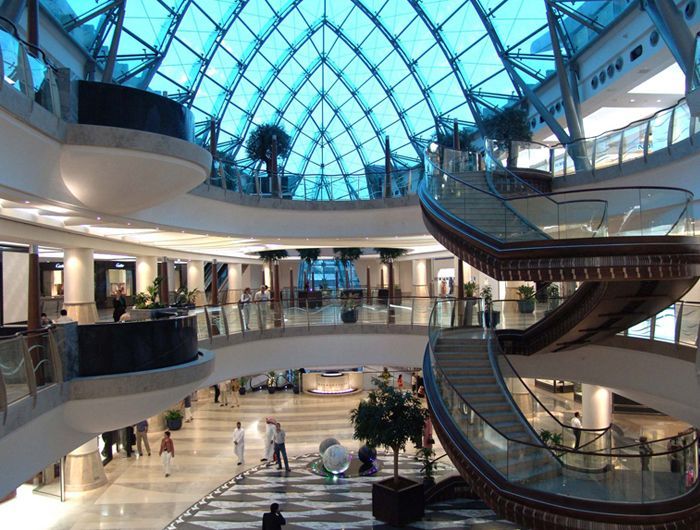 4- Wafi Mall 
When we talk about malls in Dubai, we cannot ignore one of the best malls in Dubai "Wafi  Mall", there you will be impressed with the Pharaonic design that is characterized by Wafi  Mall from inside and outside. 
When you pass by the main gate, you will be greeted by the famous Sphinx, next to the three  pyramids, Khufu, Khafre and Menkaure, in a dazzling and magical sight. 
As for the interior, Wafi Mall, which is one of the best shopping malls in the Emirates, is  famous for inscriptions and drawings on the walls, as well as statues, obelisks and columns  that were inspired by the Pharaonic culture in Egypt. 
In Wafi Mall you can find Khan Murjan Souk, one of Dubai's most famous and popular souk.  It sells all kinds of souvenirs, accessories, antiques, handicrafts or leather goods.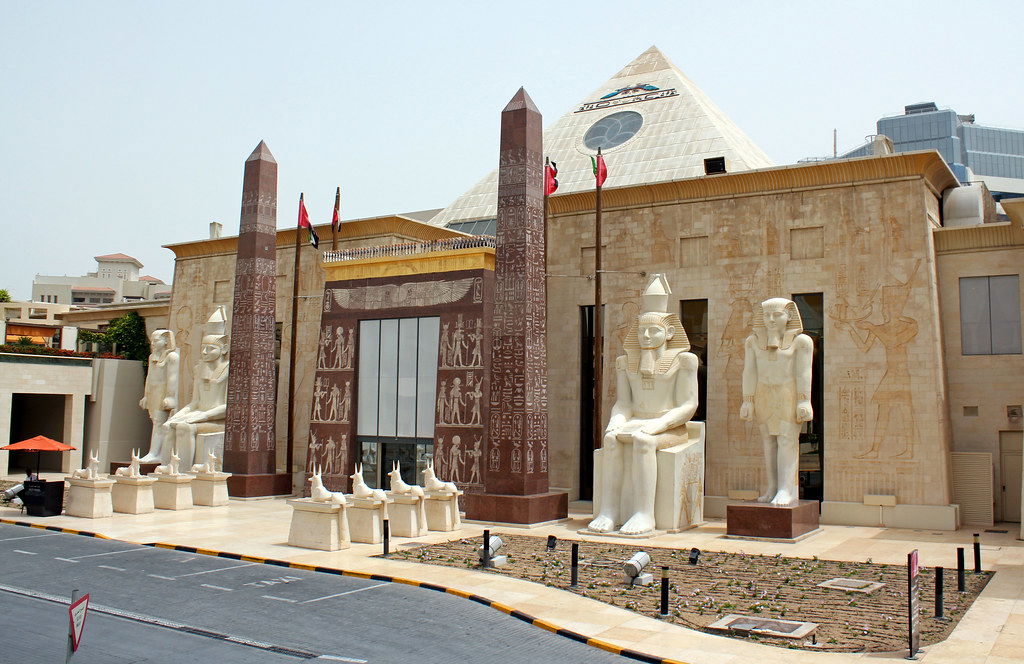 5- Ibn Battuta Mall 
Ibn Battuta Mall is one of the most famous heritage malls in Dubai. Shopping becomes an  adventure here, where the mall gives visitors a golden opportunity to enjoy shopping on a 
unique trip in the largest themed malls in Dubai. It's located in the Jebel Ali area, along  Sheikh Zayed Road. 
Ibn Battuta Mall is known by its upscale design, which is inspired from the voyages of the  famous Arabian traveller Ibn Battuta to Andalusia. Through this design, you feel that you are  on a special trip to the Middle Ages. Without a doubt, it's one of the finest malls in Dubai.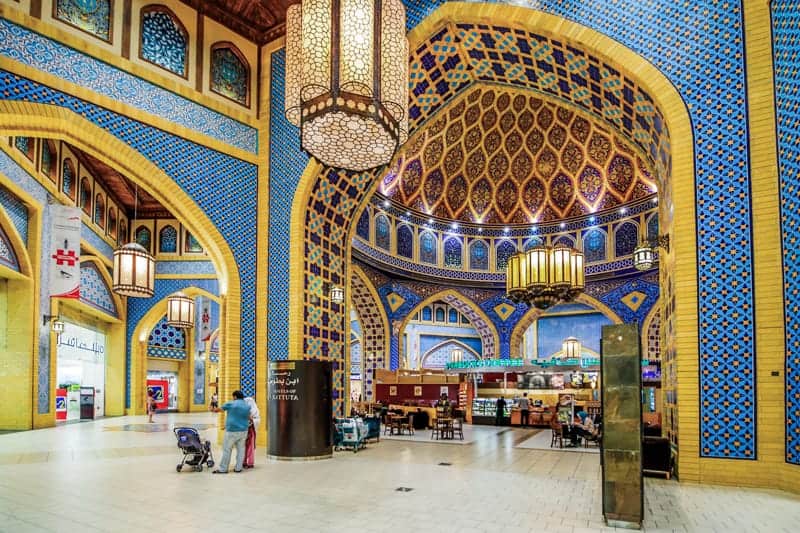 6- Mall of the Emirates 
It is one of the most popular shopping malls in Dubai and also one of the biggest malls in  Dubai, with about 650 stores spread over seven million square meters, and it is located in the  Al Barsha area of Dubai on Sheikh Zayed Road. 
Mall of the Emirates, which is one of the best malls in Dubai for shopping, offers its visitors  many entertainment activities and Dubai amusement parks, such as Ski Dubai. In Mall of the  Emirates, the first indoor slope and indoor ski hall in the Middle East, and the Magic Planet  city that includes various games for children in addition to an Apple store and many  international cafes and restaurants.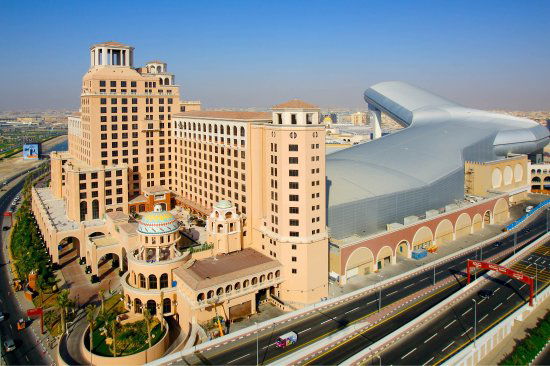 7- Mercato Mall Dubai 
Mercato Mall is also one of the most famous malls in Dubai, as it has an unparalleled  charming Italian design as if you are in an Italian neighborhood with its cobbled streets and  unique Italian music, and it is located on Jumeirah Street in the Emirate of Dubai. 
Mercato Mall, which is one of the best malls in Jumeirah, provides countless services to  visitors, the most important of which are Spinneys supermarket and Virgin Megastore, in  addition to a wide selection of restaurants and cafes that offer various food and drinks of all  kinds, all you have to choose from Between them.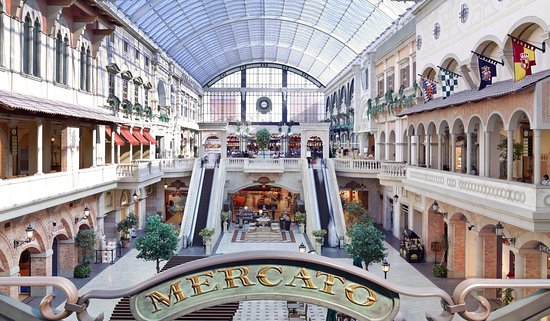 8- Dubai Festival City Mall 
One of the best shopping malls in Dubai and one of the popular shopping malls in Dubai, yes,  we are talking about the famous Festival City Mall, which has a unique location which makes  it easily to access by the Al Garhoud Bridge in Dubai, and it also has a panoramic view of the  charming Dubai Creek, which Shows the most important Dubai tourism landmarks.  
Dubai Festival City Mall, which is one of the typical Dubai malls for children, includes about  350 stores for many famous brands such as IKEA, Robinson, Marks and Spencer, Coach  Leather Products, Ice Hardware in addition to the largest display screen on the water in the world and a group of international restaurants and cafes and children playing areas.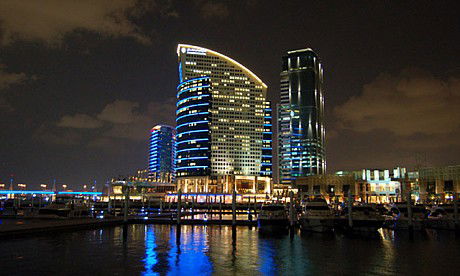 9- City Center Deira 
City Center Deira is an oldest shopping mall in Dubai, and it is very popular with visitors  who are looking for a typical shopping and entertainment, it's visited by nearly 2 million  visitors each year due to its easy accessibility in the city center.  
City Center Deira extends over an area of about 112,000 square meters and it takes a place in  the list of top malls in Dubai for shopping, and includes famous and international shopping  stores, especially international fashion for women and men as well as children, such as H&M,  Zara, Sharaf DG, Marks Spencer, and the famous Carrefour hypermarket.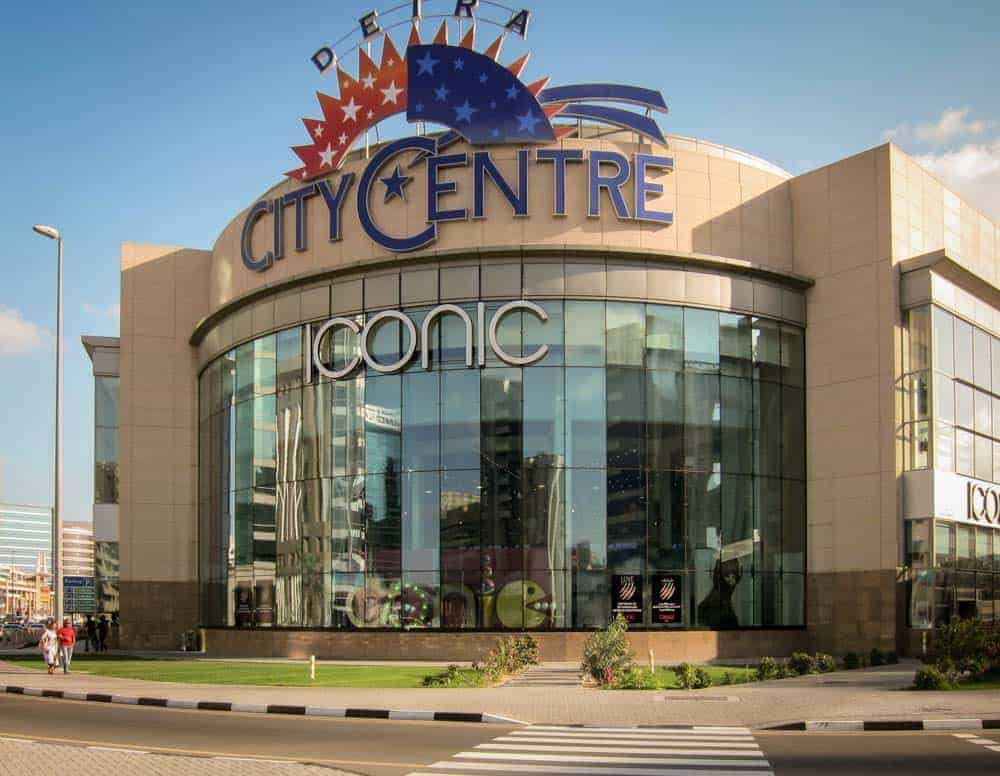 10- Dubai Outlet Mall 
If you are looking for cheap malls in Dubai for shopping, you have to visit Dubai Outlet  Mall. It is the first outlet center in the Middle East, located on Dubai Al-Ain Road, and it  includes 240 stores offering many varied goods at preferential prices for those looking for  cheap things in Dubai. 
Dubai Outlet Mall, which is considered one of the cheapest Dubai's malls, also includes  many international cafes and restaurants that offer the best food and drinks, in addition to  many brands and entertainment facilities for children.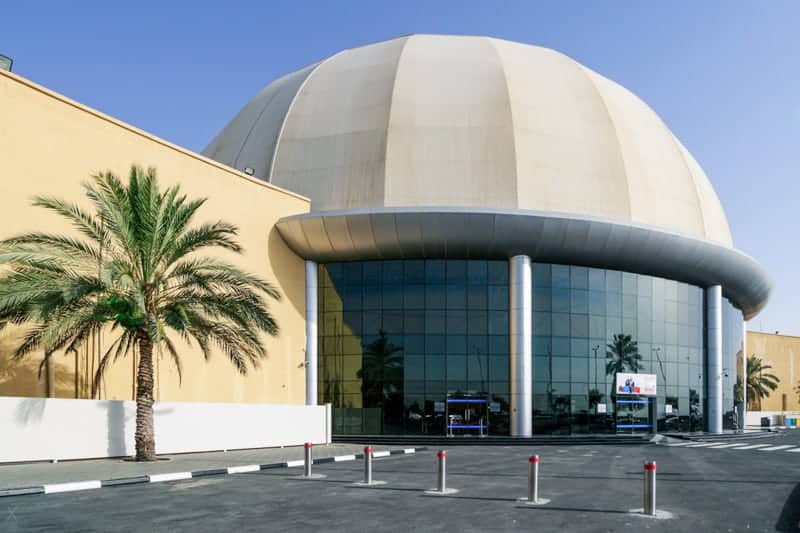 11- Dubai Marina Mall 
Dubai Marina Mall ranks as one of the most important shopping malls in Dubai and it is one  of good malls in Dubai for entertainment, it consists of four floors, but despite this, it  includes many famous international brands stores, and a number of other activities that  visitors enjoy such as Snow Festival in Dubai Marina Mall. 
Dubai Marina Mall is located in the center of the Marina District in Dubai, and includes the  most important international clothing brands such as, H&M, New Look, WH Smith, Boots  and other stores, which includes about 130 various selling points, which made it among the list of best shopping malls in Dubai.
UPCOMING MALLS IN DUBAI 
Dubai is one of the most prominent cities, due to its continuous and rapid  development in all fields and levels, providing all means of luxury and a high  standard of living for its residents, in addition to it being an important tourist  attraction in the Middle East and the world to combine beauty, entertainment and  urbanization. 
The Emirate of Dubai is witnessing a series of construction works to build the  largest malls and commercial centers that will redraw the features of Dubai for  shopping, entertainment and recreation. . Here's a list of upcoming malls in Dubai  
1- Mall of the World  
One of the largest upcoming malls in Dubai, it's located on Sheikh Mohammed bin  Zayed Road in the Emirate of Dubai. It is the largest mall in the world, extending  over an area of 14.6 million square meters, it's equipped to receive 180 million  visitors annually. It includes the largest indoor games park in the world covered by  a single dome that opens during the winter season, and more than 100 hotel  facilities with 20 thousand rooms, all of these buildings are connected to an  environmentally friendly internal road network surrounded by shops, restaurants  and various cafes. 
This is in addition to theaters, areas for entertainment and cultural performances, a  walkway for celebrations, and parking for more than 50 thousand cars. The mall  will also be linked to an area for medical tourism and high-quality healthcare that  includes medical centers, health resorts and specialized clinics. 
2- Nakheel Mall 
A very huge new mall, and once you see it, you will realize why it costs 1.2 billion  AED. 
We always get excited when we hear about the establishment of new commercial centers in the United Arab Emirates. After all, these destinations are an essential  part of the culture of the Arab Gulf states. However,  
Malls in Dubai are not limited to being a place to buy clothes, electronic devices,  and accessories only, as UAE residents go to them to do many other activities. For  example taking skiing lessons, spa treatments, seeing marine aquariums and even  to watch art and theatrical works.
During the harsh summer months that start in early May, you will find many  children in the malls after school. Therefore, they were happy when the  construction of "Nakheel Mall" is announced, which is located in the center of  "Palm Jumeirah". If you live in there, then you have to know that this mega  entertainment and shopping mall "60,000 square foot" will include 15 exhibition  halls within the Vox Cinemas, as well as 5 floors containing 350 stores, restaurants  and entertainment facilities. 
The facilities and special features of Nakheel Mall will make it distinctive, it  includes two water fountains and two waterfalls descending from a height of 65,  and its roof will include a plaza that has a range of high-end restaurants with a  captivating panoramic view of the "Palm Jumeirah", the Arabian Gulf, and Dubai  skyline. 
Visitors can access the 240-meter-high platform (the 52-storey residential and  hotel apartment building of Nakheel) for stunning views.  
As we all know that parking a car on "The Palm" island is not easy, but there you  shouldn't be worry. "Nakheel Mall" will have 3 lower levels of parking with a  capacity of 4,000 cars. So you won't have to drive for long around. 
3- Dubai Hills Mall 
This massive 11 million square meters mall will have more than 650 shops and  restaurants, plus an 18-screen rooftop cinema. It will be the best mall for Shopping  enthusiasts. It will become a popular mall in Dubai  
It is going to be a focal point for residents in Mohammed Bin Rashid City and Dubai Hills Estate. It is a joint venture of Emaar Properties and Meraas.  
4- Meydan One 
Meydan One Mall is another upcoming luxury shopping mall. The Meydan One  Mall will be home to a wide selection of luxury outlets, eateries and tons of  entertainment and leisure options for children and adults. 
In the massive 46,000 sq.m area of Meydan One Mall you will find the world's  longest indoor ski slope, a one-kilometer slope, there is also electric go-karting  track, e-gaming zone and designated areas for extreme sports. Another highly 
anticipated attraction will be an enormous Crystal Lagoon with a 500 meters beach. Meydan One Mall will also feature a 380-metre long dancing fountain.  
Opening 2021 
5- Deira Mall 
One of the oldest districts of the city "Deira" is seeing a great renovation with the  much-awaited Deira Islands project progressing as per schedule. A key highlight of  the upcoming development is Deira Mall.  
Deira Mall is expected to have more than 1,000 stores, cafes, restaurants and  entertainment across three floors, transforming old Dubai into an investment hub.  There will also be a 3.8 million square feet multi-storey car park with capacity of  8400 cars. Deira Mall will be distinguished By the 1km-long retractable roof,  bringing natural light into the complex and allowing for open-air shopping in  cooler months 
Opening 2021.