Al Baik Dubai mall menu – Prices – Location – branches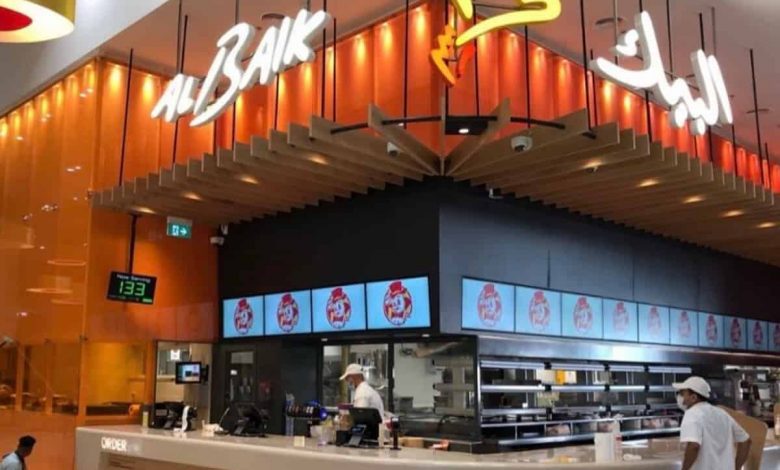 Opening of Al Baik Dubai mall Restaurant at Dubai Mall – The famous Saudi Al Baik restaurant chain  announced the opening of its first branch in the United Arab Emirates in Dubai on Wednesday,  June 16, 2021, in the food court at Dubai Mall. The United Arab Emirates is the second country  outside the Kingdom of Saudi Arabia in which Al Baik UAE restaurants are opened after the  Kingdom of Bahrain, in addition to other branches spread throughout the Kingdom.
Al Baik Dubai mall location
Dubai Mall was chosen to open the first branch of Al Baik UAE Restaurant in its food court, as it is  planned to open other branches in the cities of the United Arab Emirates soon. 
The food court in Dubai Mall includes many famous international restaurants that serve all  kinds of food from around the world, but Al Baik chicken Dubai mall is an important addition to  Dubai Mall restaurants for fans of Al Baik chicken and broasted meals in general. 
Al Baik Dubai mall location: Dubai Mall food court, Downtown Dubai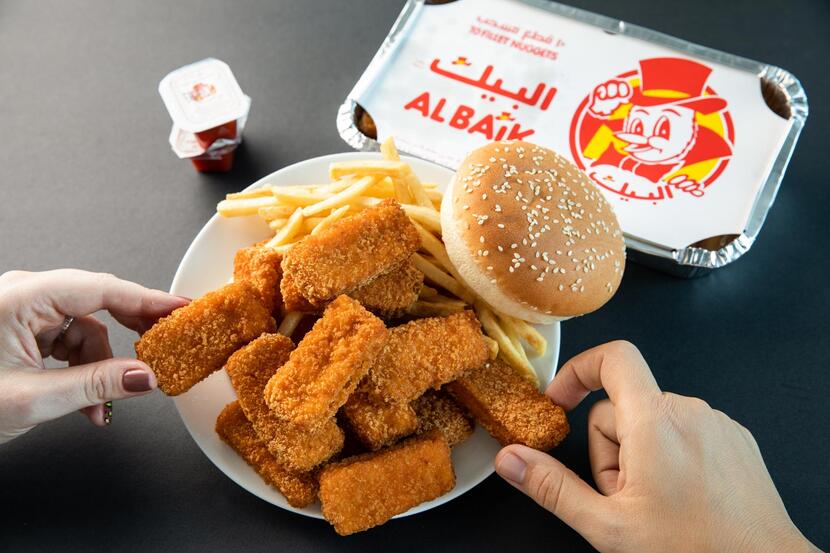 Al Baik Dubai Menu
Al Baik chain is renowned for serving delicious crispy broasted fried chicken meals, and Al Baik Dubai Menu includes a wide variety of seafood, side dishes and desserts, as well as multiple types of sandwiches.
1. Al Baik Chicken Meal 4 Pcs Regular / Spicy
2. Fillet Nuggets Chicken \ Fish meal
3. Chicken Fillet Burger Regular / Spicy
4. Chicken Fillet Sandwich Small/Large \ Regular \ Spicy
5. Chicken Fillet Snack Regular / Spicy Regular / Spicy
6. Fish Fillet Sandwich Small/Large Regular / Spicy
7. Value shrimp Regular / Spicy
8. Value Shrimp Combo Regular / Spicy
9. Shrimp sandwich Regular / Spicy
10. French Fries
11. Coleslaw Salad
12. Hommos
13. Fries with garlic sauce
14. Smoothies
15. Soft drinks
16. Water
Al Baik Dubai Breakfast Menu
1. Egg Sandwich
2. Egg sandwich with cheese
3. Grilled chicken slices and cheese Sandwich 4. Falafel
5. Falafel sandwich
6. Al Baik Falafel Meal
Al Baik Dubai Mall Meals Prices Chicken Meal
Chicken Fillet Nuggets Meal 10: 15 AED

Chicken Fillet Nuggets Combo Meal 10 Pcs: 18 AED
Seafood Meals
Value Shrimp Meal: 22 AED 

Value Shrimp Combo: 25 AED 
Sandwiches
Chicken Fillet Sandwich: 6.5 AED 

Sandwich Combos :

Chicken Fillet Sandwich combo: 12 AED

 
Side orders
Al Baik Fries: 4.5 AED 

Fries with garlic sauce: 5.5 AED 

2 Bun bread: 1.5 AED 

Cocktail sauce: 1.5 AED  

Garlic sauce: 1 AED 

Corn on the Cob: 5.5 AED 
Drinks and Desserts
Soft drinks 4-5 AED 

Vanilla Ice Cream 2 AED 

Vanilla ice cream with chocolate syrup 3 AED 

Vanilla ice cream with strawberry syrup 3 AED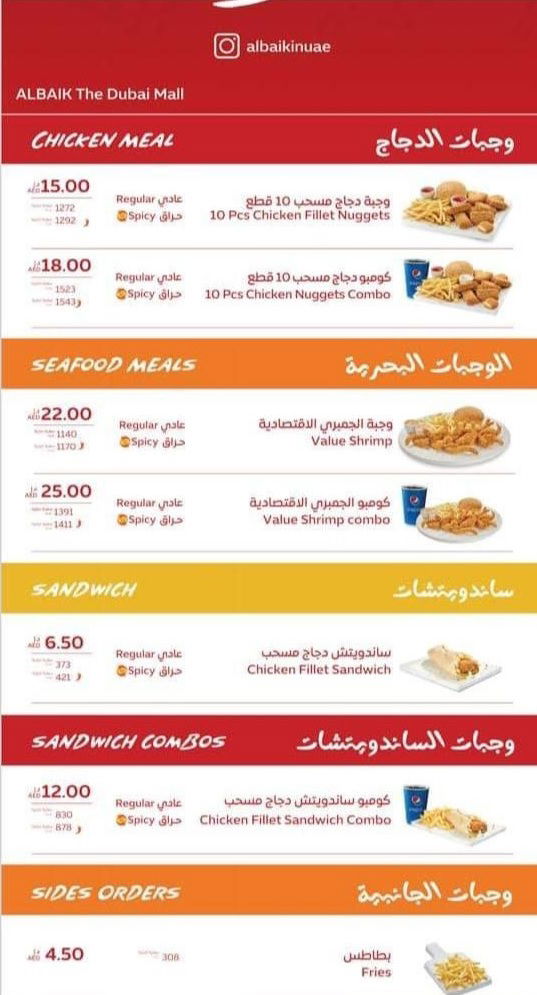 Al Baik Dubai Mall Restaurants opens its first branch in Dubai 
Al Baik restaurants chain was opened in 1974 in the city of Jeddah, Saudi Arabia, and then  began to spread in all cities of the Kingdom. A branch was opened in Mecca in 1990, and then  Al Madinah, Qassim, Dammam and Riyadh. The word "Al-Baik" is a poetic Arabic word  which means "the choice". 
Contact Al Baik Restaurant Dubai 
To see all the restaurant's offers and the latest news, you can follow the Al Baik Dubai mall restaurant's page on  Instagram.