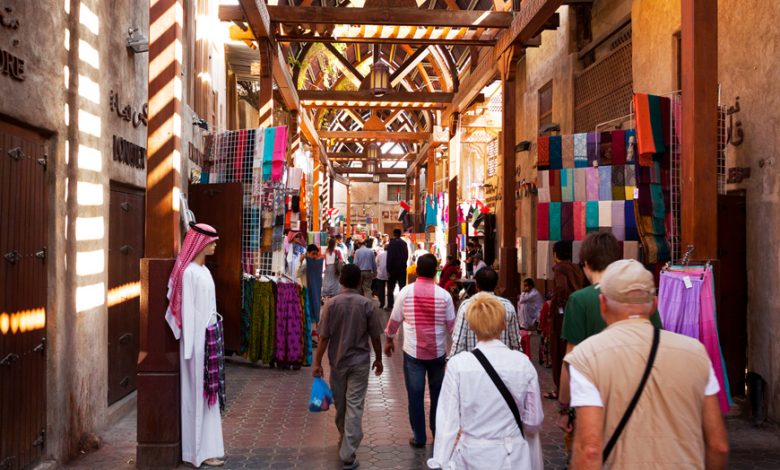 What are the most famous and best commercial and traditional souks in Dubai? Dubai is one of  the most famous cities for tourism and shopping in the Middle East, specially shopping in  Dubai which is one of the pillars of Dubai tourism, so Dubai is known as The Shopping Capital  in the Middle East, in addition to having the most famous international shopping malls.  
Despite of the large number of tourists and visitors that comes to the landmarks of tourism in  Dubai, these tourists do not miss the pleasure of shopping in the various souks in Dubai and its  famous malls, which are one of the pillars of Dubai's economy, as Dubai souk is one of the  souks that include a very large group Of the international brands' stores. 
Here we offer you a comprehensive guide to the most famous and best souks in Dubai as well as  the best malls in Dubai, which catch the breath of their visitors, and give them a golden  opportunity to enjoy the luxury of shopping in Dubai. 
Report about the most important and the best Souks in Dubai.
What are the oldest and best souks in Dubai?
1- Naif Souk
Naif Souk is located in the old Deira district of Dubai. It is a popular and old souk in Dubai, if  you ask what Dubai souks are famous for? Our first answer will be about Naif souk in Dubai,  which was in the past famous for serving camel sellers as a marketplace for camels, and since  then it has grown considerably to become an integrated souk. 
Today, the rebuilt Naif Souk awaits its visitors, with more than a hundred of different stores,  restaurants and cafes. You can find everything in this iconic Dubai souk, from souvenirs,  leather, watches, jewelry, handbags, and textiles. 
Whether you are looking for souvenirs, handicrafts or original deals, Naif Souk is an  undiscovered paradise for shoppers. 
What was once the Dubai Camel Souk is now a bustling center of activity, which reaches its  peak during the evening. It is recommended to visit Naif Souk when it is more crowded -so that  you can feel the excitement and liveliness of the traditional shopping.  
Naif Souk is a great public market for a wide range of authentic Arabian goods and services  such as henna designs, hair accessories, and clothing. It is also popular with local women for  owning Abayas as well as a wide range of long Islamic dresses.
You will also find valuable items including leather, textiles, electronics, and more. There is no  better souk to find goodies for souvenirs than Naif Souk.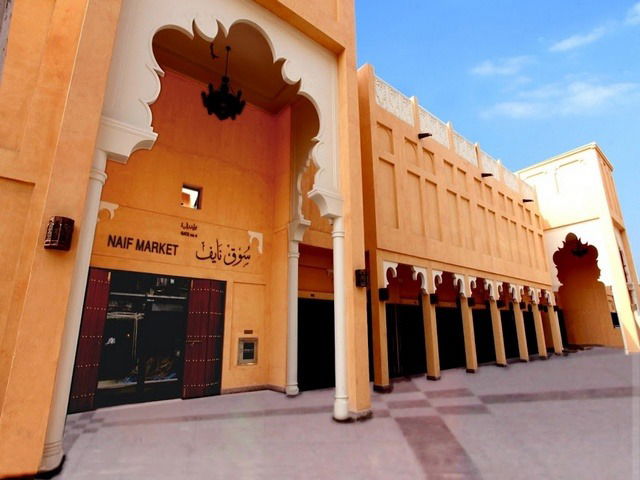 2- Chinese Souk, Dubai
The Chinese Souk – the largest Chinese mall in the world outside of China – is a shopping  paradise and a fast-track destination for a variety of products, including household appliances,  furniture, electronics, building materials, gardening tools, toys, machinery, clothes, and shoes. Chinese Souk is considered one of the cheapest souks; you can find the best prices there. 
At Chinese souk in Dragon Mart you will find many products such as household appliances,  sporting goods, clothing, electronics, lifestyle products and office furnishings, all in one place. 
If you are looking for fashionable clothes at wholesale prices in Dubai, Chinese Souk offers  beautiful clothes, fabrics, handbags, shoes and accessories for all occasions. You will also find  impressive collections of baby clothes, including casual and fancy dresses for girls, and neat formal and casual clothes for boys. 
The Chinese Souk in Dubai is considered a paradise for children of all ages, as it includes a  pavilion filled with a collection of adorable toys, cars, colorful early learning toys, musical  instruments, remote control cars, and more. 
If you are thinking of redecorating your home then Chinese Souk is the suitable place for  unique home décor items, furniture, upholstery, or other home fixtures such as lamps and fans.  You can also choose from several types of rugs. 
And if you want to design the outdoor area for your home you will find there everything you  look for in the Chinese Souk including high-quality garden furniture, sun loungers, artificial  grass, lights, flower pots and more.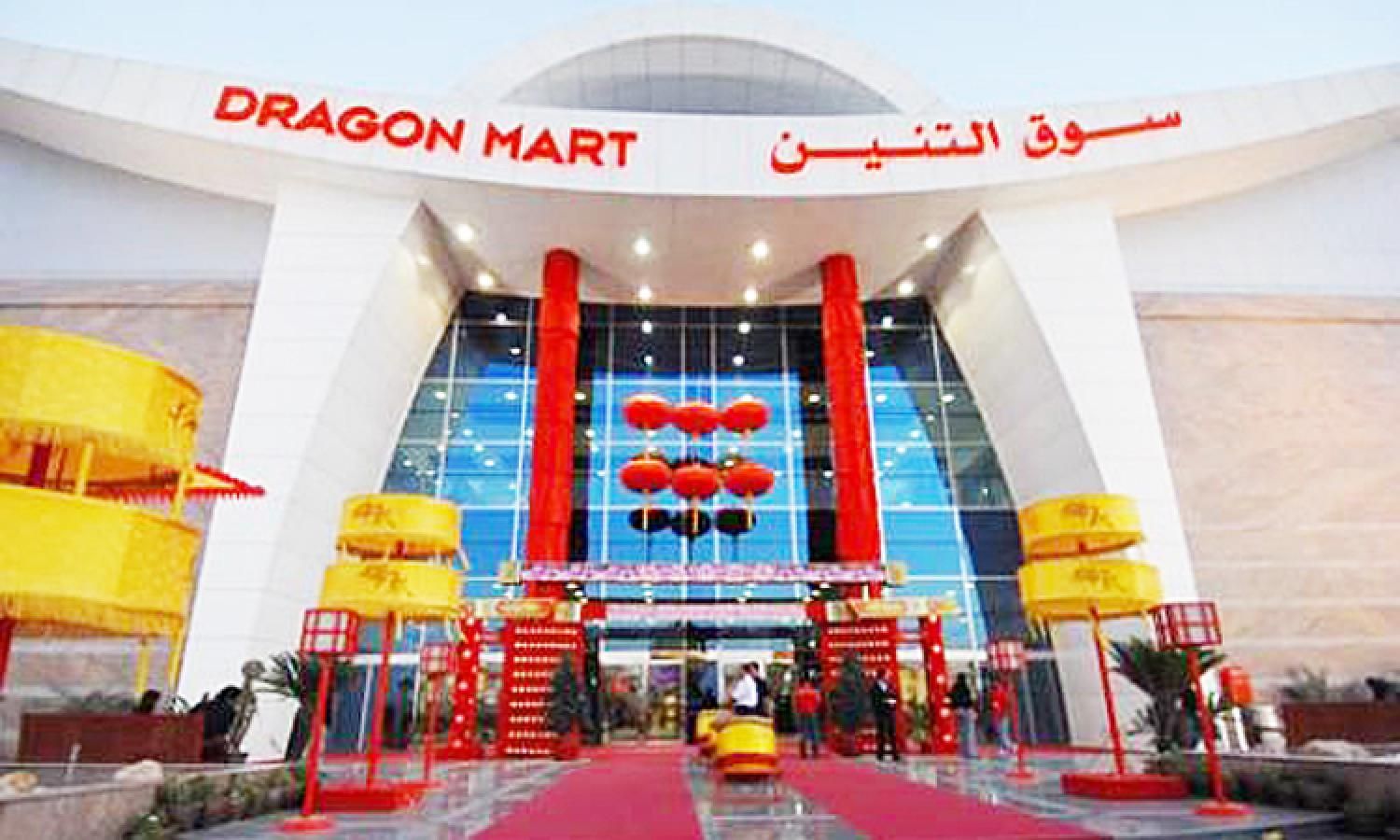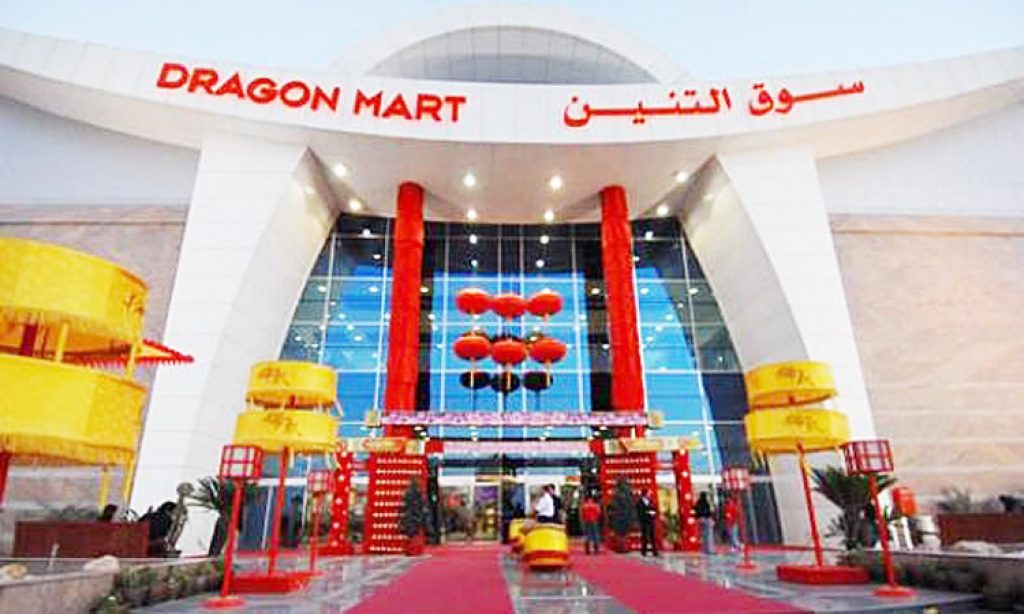 3- Gold Souk Dubai
As one of the traditional souks in Dubai, Gold Souk in Deira is a popular tourist area where you  can find lots of shops selling gold and other jewelry. It is one of the most popular areas which  attract tourists, which leaves visitors dazed by the countless amount of gold offered along alleys  and shops. 
Whether you are considering buying gold or not, this place is a great way to discover what  Dubai has to offer. The Gold Souk is located in the center of Deira, along Al-Ras Metro Station  (the Green Line). The Gold Souk is open to visitors from Saturday to Thursday from 10 am to  10 pm, and on Fridays from 4 pm to 10 pm.
Probably, Gold Souk is the most famous Souk in Dubai, it's bigger than the Gold Bazaar in  Saudi Arabia and one of the best Souks in Dubai and one of the most famous places in the  world for shopping in the field of jewelry, gold, silver and gemstones, whether you are looking  for a luxurious piece for an occasion or daily wearing pieces. 
Whether you want to design a special piece, buy wedding jewelry or pick up modern style  jewelry, all tastes and cultures will be catered for here. 
Dubai offers one of the cheapest gold prices in the world and currently, does not issue any taxes  on purchases. In case that you are going to buy gold at the Deira Gold Souk, here are some  important tips:
∙

The value of gold changes daily: just as it does in the stock market. Do your research on the gold price before deciding to buy any piece. 

∙

Determine the karat amount of gold: You must decide how many carats of gold you  want, as 24 karat gold contains 100% pure gold. The higher the karat is, the purer and  more expensive the gold is. 22 and 18 karat are also available. Gold also comes in  different colors depending on the type of other minerals with which it is mixed. 
The quality of Gold Souk in Dubai: 
The thing that enthusiastic buyers are worrying about is if the piece of gold is genuine. In Gold  Souk in Dubai you should never be worried because the government guarantees the standards and  regulations to ensure that only real and genuine gold is sold. However, make sure that you buy  from authorized sellers.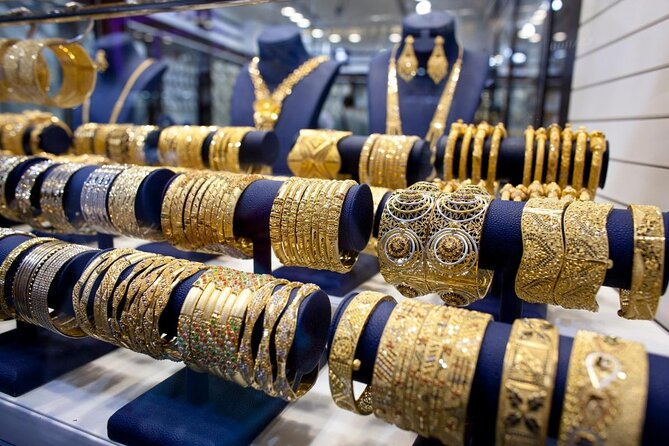 4- Perfume Souk Dubai
To the east of the Gold Souk, there are exotic shops in the Perfume Souk, where you will feel  the sweet scent of hundreds of perfumes, including traditional Arabian perfumes in decorated  bottles. You can prepare your own personal scent for a unique gift or buy Oud and incense for  your home. 
The strong and pleasant smell in the Perfume Souk will caress your nose before your arrival.  Scents mean a lot to the Arabs and it speaks a lot about their luxurious lifestyles, represented by  an impressive collection of scents that you will pick up everywhere in the Perfume Souk. Some  are mild and faint; others are strong. But each one will attract you with a natural feel as you  discover which one works best for you
The Perfume Souk, which is considered one of the most important souks in ancient Dubai, will  captivate your attention, with each breeze that the scent is likely to turn you back from where it  came. 
There are hundreds of different Perfume stalls, where you will find thousands of traditional  Arabic scents that can be tested with incense, and it can be bought as a stick, powder, crystal,  rock or wood. Learn all about Oud, incense, and the many intricacies of these aromatic  materials here. 
To get a truly unique scent, you can even order a completely customized scent based on your  skin type and personality. You can come home armed with your own perfume to impress your  friends.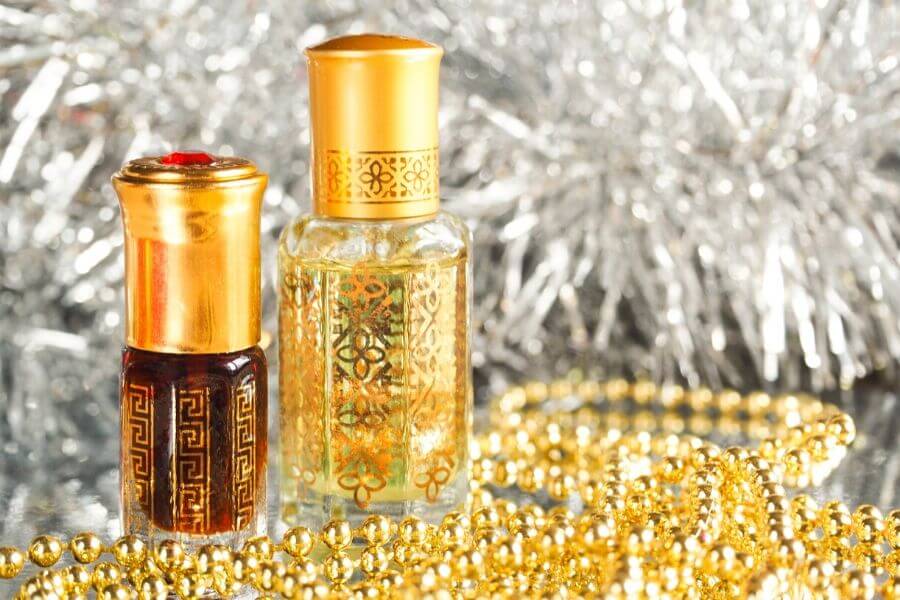 5- Textile Souk Dubai
Head to the old Dubai Financial Souk in Bur Dubai and discover a number of colorful fabrics at  the Textile Souk. You can choose from an endless variety of silk, cotton and embroidered  fabrics in this Souk. There you will find the exact print and color you are looking for from  hundreds of rolls of fabric. 
Just a short boat ride across the creek will lead you down the covered alleys of the Textile Souk.  Numerous stores here offer a comprehensive range of hand-woven fabrics in cashmere, silk,  cotton and wool. 
The Textile Souk, one of the most important Souks in Dubai, is located across Dubai Creek,  near many similar shopping areas, and includes dozens of stalls and stores offering some of the  finest fabrics and silks from all over the world. 
All fabrics here are original and suitable for sewing dresses and suits for women and men. The  Textile Souk also includes a variety of ready-to-wear clothes done in local designer workshops and are also on display for you to try. 
In addition to fabrics and clothing, you'll also find a range of buttons, sequins, gemstones, lace,  and other accessories to help you add a touch of an Arabian flair to your entire outfit. 
The Dubai Textile Souk should be an essential part of your itinerary during your visit to the  city.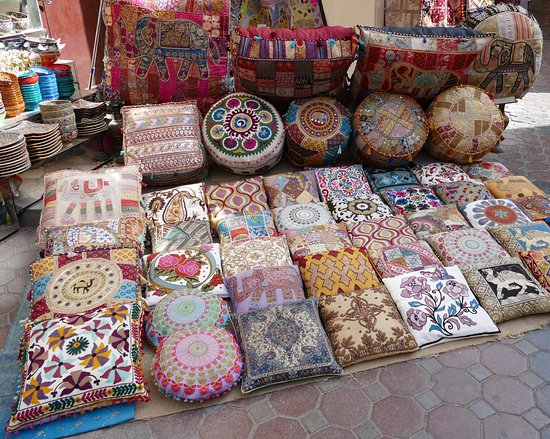 6- Madinat Jumeirah Souk
For a modern experience in a traditional souk, head to Madinat Jumeirah Souk, one of Dubai's  most famous souks. This Souk is considered one of the most important landmarks in Madinat  Jumeirah, and it includes endless alleys for strolling and shopping.
Here in the wonderful Madinat Jumeirah Souk and one of Dubai's traditional souks, you will  find many products such as scented smells, glowing lanterns, aromatic spices and craft  souvenirs that you can pick up as gifts for your loved ones. 
Madinat Jumeirah Souk remains faithful to its Arabian heritage while at the same time it  includes modern technological aspects. The Souk offers more than 75 stores, galleries, and  dining restaurants, as well as beautiful views of the water. The best time to visit is at night,  when the Souk comes to life with a variety of exciting music and loads of activity. 
Whether you are looking for brands stores, household items, fashion, jewelry or souvenirs, you  will enjoy searching for your product and you will definitely find it in this large and diverse  Souk. 
The nearby Medinat Theater offers a variety of shows and parties if you want to have a break  from shopping. You can also take a traditional five-kilometer ride by Abra boat along the  winding waterways. 
Just like any other Souk, don't forget to bargain with the sellers to get the best price.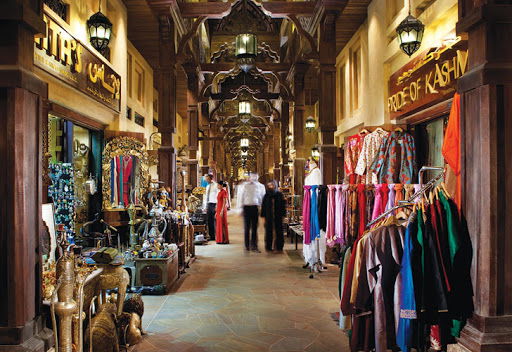 7- Souk Al Bahar
Souk Al Bahar is one of the most luxurious markets in Dubai and it is a modern experience in  the traditional Arabian Souks. Located in the center of Downtown Dubai, UAE, it is a unique  Souk for shopping, entertainment and dining. It can be accessed through the beautiful walkway  in The Dubai Mall, overlooking the Dubai Fountain and Burj Khalifa tower.  
But the most famous feature about Souk Al Bahar is the architecture in natural stone walkways,  dim lighting, and Arabian decoration. 
Souq Al Bahar includes more than 100 stores and 22 restaurants with views of the attractive  waterfront promenade. The alleys are lined with a mixture of Arabic costumes, handicrafts,  perfumes and antiques that will provide you with an unforgettable cultural experience. 
Although the souk is fairly modern, it leaves visitors immersed in Dubai's heritage and  traditions. Once you reach the Spice Souk, your senses will begin a cultural journey of their  own as the scent of perfumes fill the place.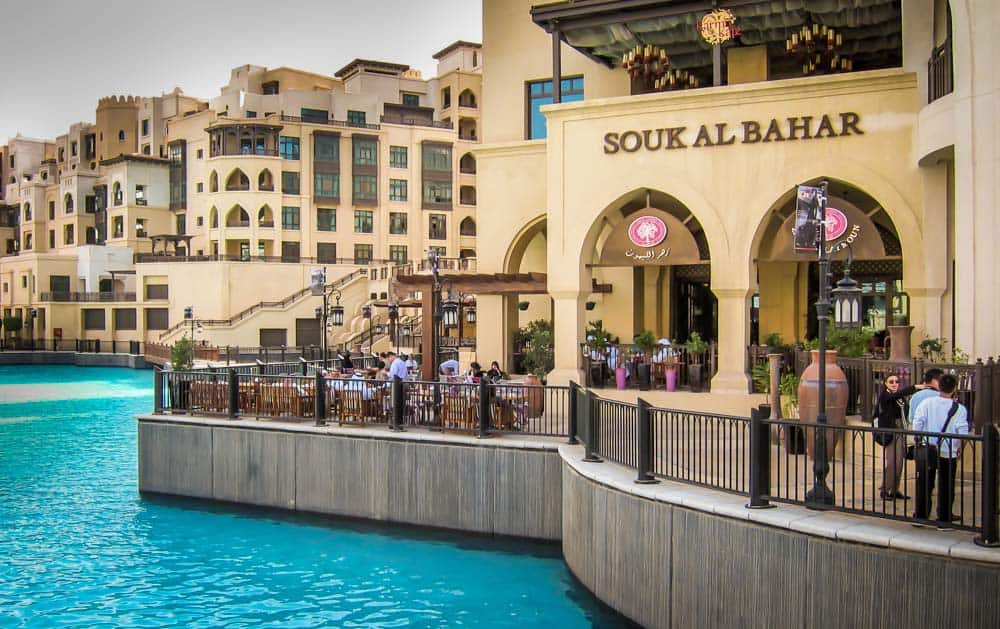 8- Dubai Fish Souk
The Dubai Fish Souk opened near the Hamriyah Port in 2017, replacing the decades-old Deira  Fish Souk and the nearby vegetable, meat and spice Souk.
The new Souk brings with it the best technologies and facilities to enhance efficiency and  regulation. Because of the improvements, fishermen can also load fresh fish from their  Dhows sailing boats directly to the buoys and to the market, ensuring absolute quality. 
It is difficult to get a lot of seafood available elsewhere in the city, which is why you will find  many Dubai chefs shopping from this Souk, which is considered one of the best Dubai souks. 
Traders add a special atmosphere to the Souk, as fish are bought and sold by auction and  demand the best prices. In addition to fish fresh meats, fruits and vegetables are also  available, which makes the fish Souk a popular destination for citizens. 
It is a hive full of activity, one of the best Souks in Dubai, where you experience the Souk in the  early morning when the fishermen come with fresh fish from their fishing trips. The smell of  fresh fish and loud chattering sounds fill the air as you wander through rows of offerings, with a  wide range of seafood caught locally and from nearby areas, such as Oman and India. 
9- Abaya Souk
There are many Abaya's Souks in Dubai; the most popular one is the Abu Al-Hail Mall, which  is the most beautiful Souks in Dubai, in addition to the Naif Souk, which is considered one of  the best Souks in Dubai for women's clothing, and the Okaz Souk. In terms of price, the Naif  Market is the cheapest, where the prices of the Abayas 40 – 100 AED, but the designs in Abu  Al-Hail are much more beautiful. 
It is considered a cheap Souk in Dubai, as the Naif Souk includes the cheapest and most suitable  forms of Abayas. They are mass-produced on a large scale in countries with cheap labor (or  even at home if the designs are very simple). Usually, people who buy them don't appreciate the  quality of their Abayas but only want to use it. 
In the Naif Souk in Deira or the Gold Souk in Sharjah, there is another Souk which is the  Abayas Souk in Dubai where you can find a range of Abayas from 150 – 300 AED. The quality  of the fabrics is good, but the special thing about these Abayas is that they are neat and elegant:  they are not modern or newly designed, but they have attractive designs! These Abayas are for  women who want to wear an Abaya but are not interested in the latest models in the Abaya  industry.
10- Spice Souk Dubai
"Colorful" is one and suitable description for the Spice Souk in Dubai. Spice masterpieces will  take you to another world. Prepare for a unique sensory feeling, because the countless flavors  and recipes will greet you as you make your way through the traditional Spice Souk in the  heritage district of Dubai, as it is a cheap souk in Dubai. 
The Spice Souk is located in Dubai, directly south of the Gold Souk, and is considered one of  the best and cheapest Souks in Dubai, where you will encounter amazing dried herbs and  spices that can be got for a small fee. Experienced chefs will find everything they want in this  diverse Souk with all kinds of spices and herbs. 
Enjoy the atmosphere of the past as you learn about the heaps of herbs and spices that spill out  from large baskets at every turn. Some scents may be strong and emotional, while others are  mild and cheerful. 
Walk through the many different stalls and chat with the sellers who will provide you with tons  of ideas on how to use the various spices. Not all spices are designed for cooking. There is a  wide range of aromatic teas available from all over the world; you can learn all of this at the  Spice Souk, which is among the best Dubai souks. There is also a large collection of nuts, oils  and saffron available in the Souk. 
Spices are sold by weight and packages. But like other markets, if you're buying in bulk, you  can bargain with the sellers. There are many Arabic spices on offer, as well as those in the  Indian – subcontinent and it is considered the most famous Dubai Souk in this area. 
Whether you are an expert in cooking or looking to try some of your favorite recipes, you will  discover many new tastes at the Spice Souk in Dubai.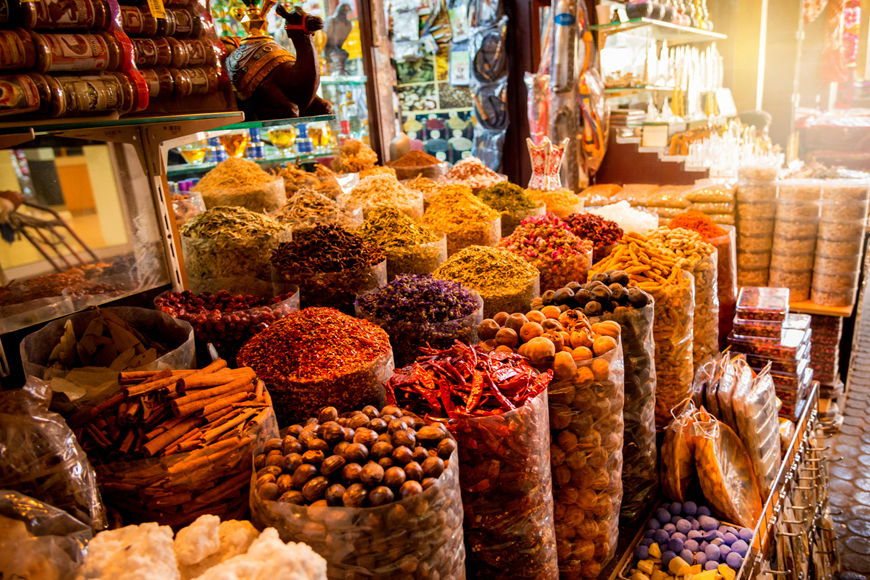 11- Vegetable and Fruit Souk
Seeing the high-intensity stalls with all kinds of brightly colored fresh products, as well as the  many varieties of dates at the Vegetable and Fruit Souk is the best reason to come here. The  Vegetable and Fruit souk in Deira is one of the largest souks in Dubai for vegetables and fruits,  but it is worth a visit, and most sellers will allow you to buy in small quantities. 
When it comes to fruits, you'll find delicious grapefruit, pineapple, and watermelon, as well as  more exotic products like mangosteen, rambutan, and guava. The best thing is that the souk will  give you a real feel for everyday Arabian life that spans for centuries. Don't forget you can  barter for a good deal.