The best recommended beaches in Dubai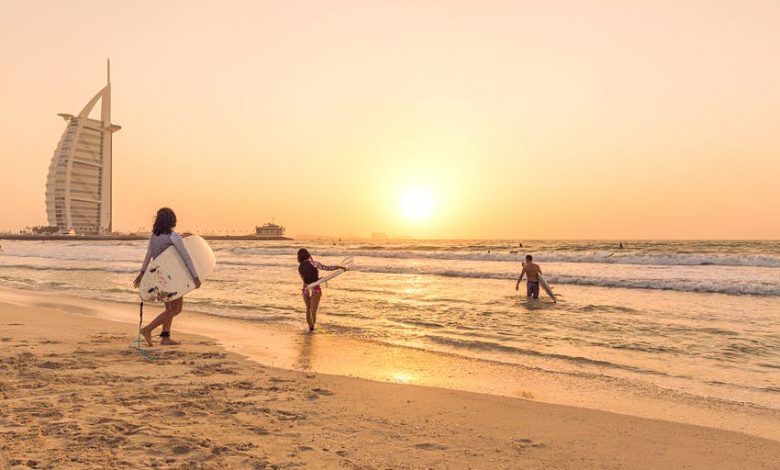 Tourism in Dubai is not limited to skyscrapers and sand dunes. It even includes a group of best  beaches in Dubai which are seem like a heaven, this multi-tasking Emirati destination is located on the  edge of the Arabian Gulf, with perfect weather from October to May, beaches of Dubai  become one of its famous tourist areas. 
Whether you are looking for a short break in the sun or a family beach vacation, Dubai's  beaches are the best. You can swim in the crystal clear water of Kite Beach Jumeirah, or be at  the most picturesque beach to take great photos in front of the Burj Al Arab. 
There are also private beaches especially for women, at the Dubai Ladies Club Beach. You can  also enjoy the sun, sand, blue skies and even surf in Dubai which is an ideal destination for a  vacation in the sun. 
There are many hotels nearby Dubai's beaches which are only accessible to guests or visitors  who paid fees. However, there are free beaches where you can enjoy too. Guarding, clean sand,  showers and changing rooms are found on most beaches. 
Swimmers should note that Dubai's beaches may appear calm, but it is known for its strong  currents. Therefore, please be vigilant when swimming. In this article, we show you the names  of Dubai's beaches: 
Best beaches in Dubai 
1- Kite beach  
Beach-goers, sailboats and spectators will be found on kite Beach, one of Dubai's most popular  beaches. If you like aquatics and want to try out your skills on the best free beach, then Kite  Beach provides you with the opportunity that you are looking for. 
It is located just steps away from the main street of Jumeirah and includes high-quality aquatics  equipment along the sand. And surfing equipments for sailing boats and sailing boards surfing, and fixed oars boards. 
If you don't prefer swimming or aquatics, you can play volleyball , you can play games such as  beach volleyball. Kite Beach provides a great atmosphere of playing and excitement, as well as  swimming and sunbathing, where you can make new friends and have fun with the beach goers. 
If you like walking or jogging along the coast so Kite Beach walking path, which is 14 Km  long, is considered the perfect place for you. Whatever the activities you plan for was you  would enjoy the charming view of the grand Burj Al Arab.  
On the side of the walking paths, there are plenty of food trucks offering a variety of dishes and  drinks including ice cream, pizza, delicious dishes, fresh juice, coffee, barbecue, seafood,  bakery, vegetables, hamburgers and salads. 
In an initiative from Dubai Municipality, now it is possible to borrow books for free for  reading while relaxing on the beach in the sunshine and you can return books to any library  stall on the beach. 
The library stalls are free to use and available to beach-goers all day long and feature an area  with tables for seating. Dubai Municipality has also provided lighting to make reading possible  at sunset.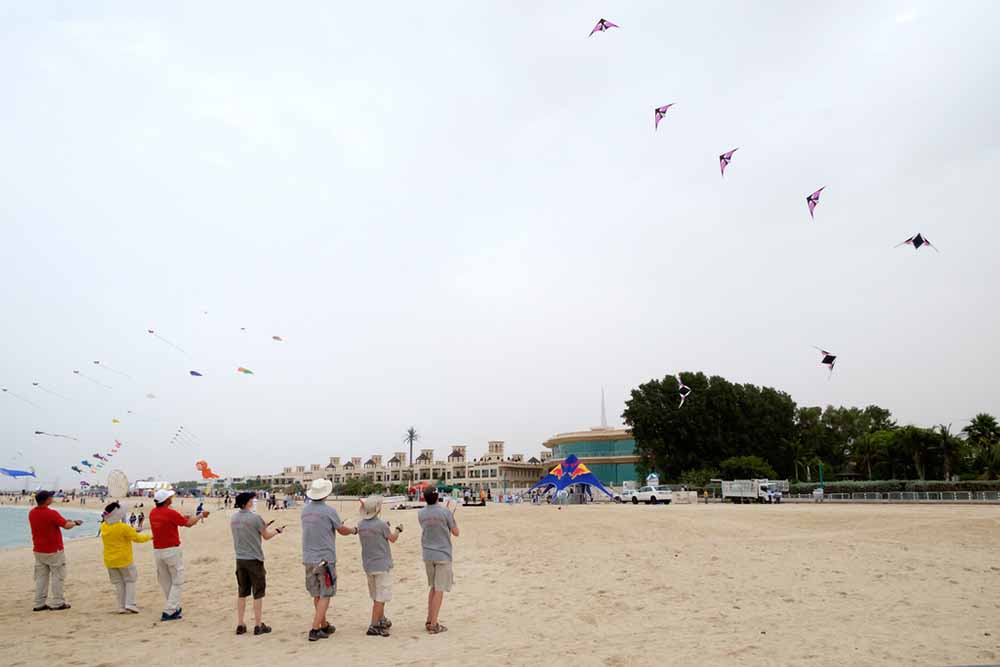 2-  Jumeirah Open Beach 
It is considered one of the most popular open beaches in Dubai. It is located on Jumeirah Beach Road  near the Hilton Club. The beach and the park, which was opened in 1989, have a beautiful  overlook of the blue waters of the Arabian Gulf. It extends over an area of 12 hectares and is  preferred by children and families. 
It is the first beach park ever in the residential area of Jumeirah, which overlooks the Arabian  Gulf. Jumeirah Open Beach, considered one of the best family beaches in Dubai, has children's  playing areas, volleyball areas, food stalls and barbecue sites. It also offers special sidewalk  area at the beach with lifeguards.  
The beautiful golden and white sands attract many swimmers and aquatics enthusiasts, and the  beach administrators have taken a lot of safety measures for the safety of visitors and children.  The park has five watchtowers guarded by rescue experts as well as first aid workers to cope  with any emergency. 
Lifeboats, lifebuoys, and ventilator systems are available to deal with disaster management. A  helicopter platform has also been provided to transport emergency cases to hospitals. 
When you enter this beach from the open beaches of Dubai, you will be greeted by a bouquet  of flowers in the center. From here, use the stairs upwards where you will find vast green  meadows surrounded by palm trees. On the outskirts of the main area, you will find large areas of lawns and a number of trees.
Each step you take forward you will see the special Rocky Garden area, which marked by  various rocks of different size and shapes. You can also see different types of desert bushes  interspersed with benches, and the whole area is beautifully lightened. 
Visitors will find several wooden bridges scattered along the park that connect Jumeirah's open  beach. When you go up to the cafeteria, you will enjoy a beautiful view of the beach and the  sea. There is a unique barbecue area specially equipped with modern grills if you want to use  the barbecue. 
You can enjoy a barbecue lunch and then go to the entertainment area of the Jumeirah open  beach with your kids. Your kids will definitely love the games and stage area which contains  slides, and many other aquatics.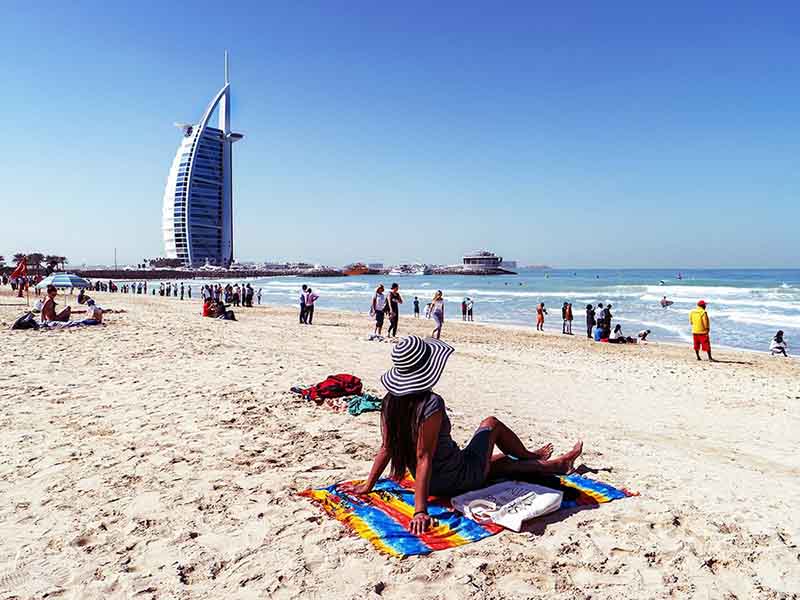 3- JBR beach  
Taste the perfect seaside lifestyle; you can go to JBR Beach (Jumeirah Beach Residences), one  of the most important beaches in Dubai. 
This bustling global area resembles a beach resort, anyone can access there and enjoy a full day  in the sun with modern Arabian touch. This beach is the most favorite beach for families from  anywhere else in Dubai and you can reach it easily. There is a lot to do there – from a wide  variety of beachside dining and shopping to aquatics like parasailing and surfing. 
You can also ride a banana boat and even a roller coaster that your kids will enjoy. In addition  to some great activities, like camel rides along the beach – all with the gorgeous cityscape in  the background. 
Additionally, there is a 600-meter jogging track, outdoor gym, and beach volleyball court if  you are keen on exercising. You can also take part in an outdoor yoga class to start your day in  the perfect way. 
If you're there in the evening, there's a good chance to watch some exciting live entertainment shows. JBR Beach also offers a large variety of dining options and cafes. 
The morning begins at JBR Beach with free yoga, outdoor exercises, jogging, and gorgeous  beach walks, followed by a variety of breakfast options from nearby restaurants, cafes, food  stalls, and 5-star resorts. 
In the afternoon the beach is crowded with visitors with the beautiful sunshine and the crystal  blue waters of the Arabian Gulf. JBR Beach offers a relaxing touch in the midst of a crowded  and bustling city in Dubai, with the fresh seaside breeze and a relaxing environment.
There is a small training park on the beach to get fit. There are also sports facilities such as  beach volleyball, cricket area, cruises, seaplanes, yachts, etc., which making JBR Beach the  most popular among adventure lovers. 
Evenings here are full of live events like fashion shows, outdoor cinema on the beach, street  performances, dancing with music, etc. The sunset from the beach is picturesque, nature lovers  will love it.  
You can enjoy fruit juices and cold drinks with great vibes accompanied by a lively and  relaxing atmosphere on the beach. There are many side streets where you can find lots of  elegant restaurants and cafes with outdoor seating. 
There are also several refreshing juice bars, ice cream stalls, surf shops, Roxy cinemas, and  markets at the beach. 
The markets at JBR Beach are famous for ethnic and trendy jewelery, antiques, souvenirs,  Bohemian clothing, and handicrafts. You can find some local Bedouins who take camel rides  along the beach.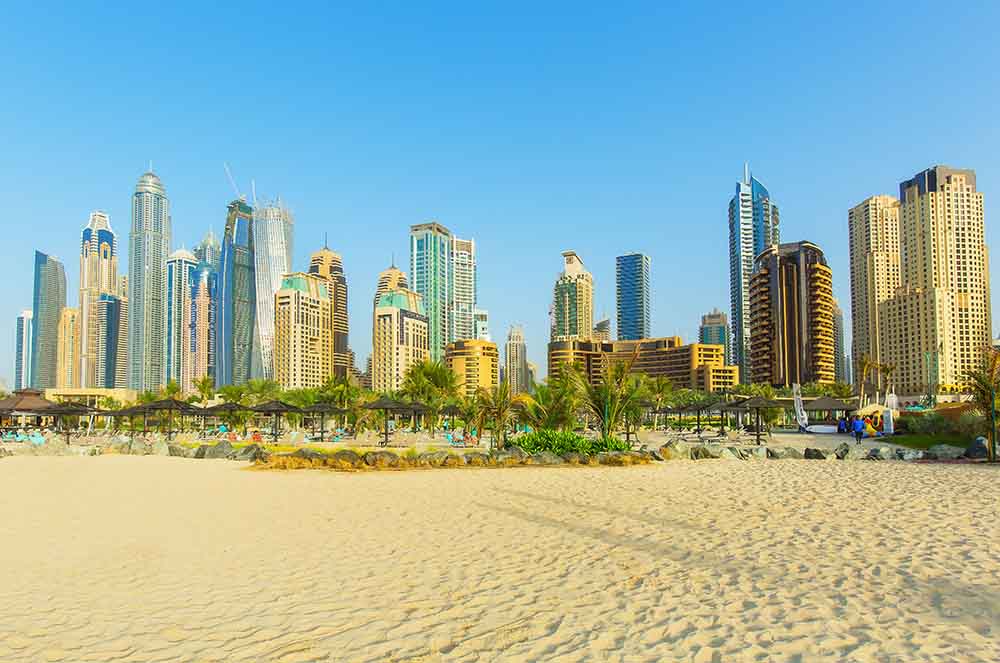 4- Jumeirah Beach  
It is one of the most beautiful beaches of Dubai and how not, Dubai has a plenty of beautiful  beaches and beach parks that provide all kinds of entertainment facilities. The blue waters of  the Arabian Gulf along with the white sands of the beaches in Dubai make the place very  attractive. Jumeirah Beach is certainly one of the most popular tourist destinations in Dubai to  spend a relaxing and good time, and it is also considered one of the oldest beaches in Dubai. 
Among all public beaches in Dubai, Jumeirah Beach is renown with visitors and tourists. You  will find that most of Dubai's beaches and best are located along this stretch. Jumeirah Beach is  a long stretch of sand lined with hotels and private clubs. Some of the most luxurious hotels in  the world can also be found in this area. 
The stretch of beach on the Dubai Marina gives the place a special charm. This popular  landmark is full of hotels, and this beach is located near the famous Burj Al Arab hotel and  other Dubai hotels. The beautiful Jumeirah Beach attracts both tourists and local residents and  you will find numerous swimmers attracted by the blue waters of the Arabian Sea. 
Dubai, a popular tourist destination, has a number of landmarks along Jumeirah Beach which  attract tourists. Nearby is the popular Wilde Water Park, which is a water-themed park that  offers a number of rides and attracts children of all ages. 
Don't forget to take your kids to this amazing park where there are a number of malls,  traditional markets, art galleries and museums along the Dubai Beaches Road. Both kids and  adults can find lots of fun activities along this stretch.
And while you are at JBR Beach, visit Jumeirah Beach Park – it's definitely worth a visit. The  park, located in an area of 12 hectares, has children's playing areas, food stalls, and areas for  other activities. You can also find other entertainment areas such as the barbecue, playing and  theater area, and the wonderful Rocky Garden. 
5- Al Mamzar Beach and Park 
Al Mamzar Beach and Park is one of Dubai's hidden gems which is popular for local residence.  The park covers an enormous area of 106 hectares, next to Al Mamzar Beach near Al Hamriya  and Deira Port. Five separate beaches make up the Mamzar Beach area, one of Dubai's most  famous open beaches in Dubai, and they all surround the park. The huge space is full of facilities and  family entertainment that is suitable for children of all ages. 
There are a lot of barbecue tables, grassy picnic areas, changing rooms, beaches and swimming  pools located on most of the beaches in Dubai. The children's swimming areas are also  guarded all the time by lifeguards.  
You can sit by the lake, or if you want to visit the entire park, take a ride on the park train. This  train takes you around the area and provides another great way to entertain the kids. The park  is also equipped with a concert hall that hosts shows from time to time. 
Whether you will be staying for a few hours or the whole day, you will have a wonderful time  at Al Mamzar Beach and Park. It is only a short drive from Dubai Creek and is ideal for a  picnic or a day out. 
Sun loungers, parasols, and waterslides are available for hire, and there is wide green area for  picnicking, cycling and ball games, showering, changing rooms, fast food stalls and a small  train for a complete tour around Al Mamzar Beach and Park. All of these facilities add to the  beauty of the place.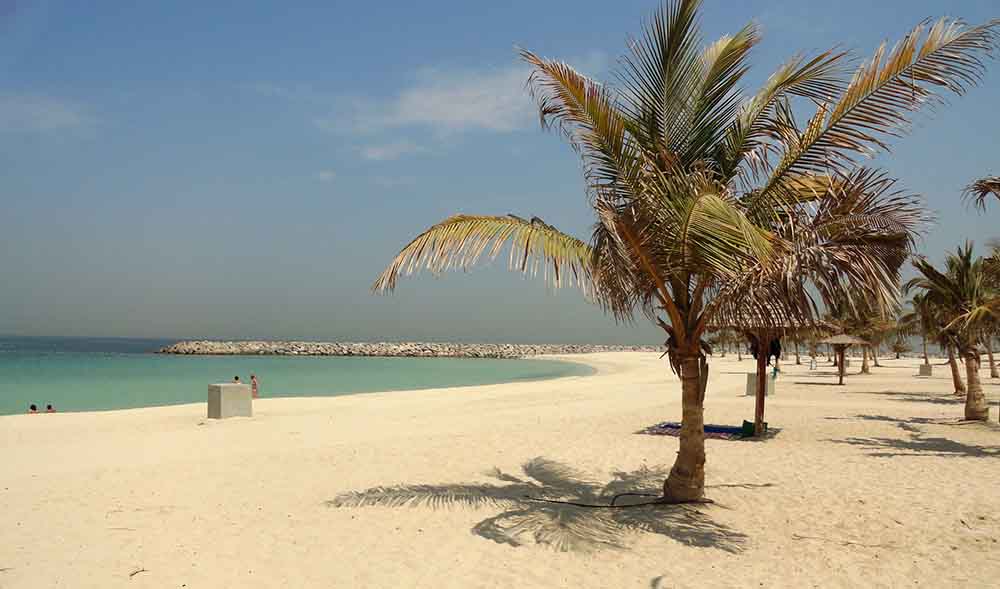 6- Dubai Ladies Club Beach 
It is considered one of the most beautiful private beaches in Dubai for women in Dubai, located on  Jumeirah Beach; it features everything from aquatics to spa treatments, art galleries, fashion  shows and cooking events 
Dubai Ladies Club Beach provides plenty of activities to please the mind and body and one of  the most active beaches in Dubai. Enjoy the sun while standing on a paddle – these popular  aquatics are great for strengthening muscles and enjoying the sea.
There is also a health center which offers a wide range of classes to keep you energized, such  as zumba, body boot camp, pilates and yoga. And when you're done, you can enjoy a  meditative massage. 
Culture and creativity also feed your curiosity at the Art Gallery. Visit this place to see art from  all over the world. You can also check out exclusive exhibitions and take part in a show with  the Middle East Youth Orchestra. 
Ladies club beach overlooks the golden sands of the beautiful Jumeirah coastline, Dubai  Ladies Club provides you with a unique escape from calm and relaxation. To ensure that every  woman's needs are catered for, the Dubai Ladies Club offers a range of modern, world-class  facilities and services, such as fully-equipped fitness center and swimming pools, which are  inspired from the Morocco, Sheba.  
The club also provides access to a private beach and outdoor jogging tracks and sports fields,  and hosts a variety of attractive events and activities throughout the year. 
The Dubai Ladies Club, which is considered the most popular and the best beach in Dubai for  families in terms of delicious food to many restaurants and cafes, and members can also enjoy  shopping in a wide range of renowned shops in the club.