Best 15 parks in Dubai – pictures \ timing\ tickets price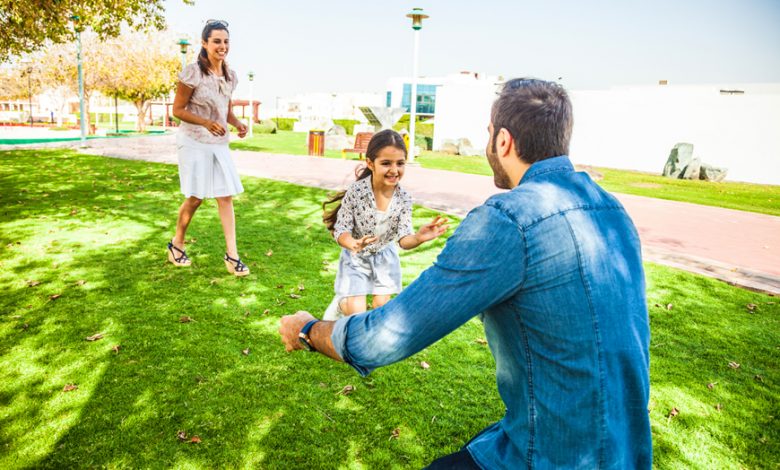 Parks are one of the most popular landmarks in Dubai, as they have given a natural outlet  for the city from technology and modernity. So taking a tour of Dubai's parks is something  that every tourist in Dubai should experience. There are many parks with different  characteristics, and each has its own beauty.
The most beautiful parks in Dubai
Parks in Dubai are vary from public to entertaining parks. You mustn't miss the Dubai  flower park (Miracle Garden), Dubai Butterfly Garden and Dubai Garden Glow. As the  name suggests, all three of them have a trait of their own. The flower garden in Dubai  features with incredibly beautiful shapes made of flowers entirely in addition to fountains  surrounded by colorful flowers that will fill your heart with happiness. 
Tourists in Dubai have to visit the Dubai Butterfly Garden to see these beautiful  butterflies along with the colorful flowers.  
Unlike the other two parks, Dubai Garden Glow offers mesmerizing lighting at night,  making it a must-visit. Visiting Dubai's parks provides beauty and an opportunity to spend  pleasant time in a relaxing environment. In this blog, we present a list of parks in Dubai.
Best parks in Dubai
1- Dubai Miracle Garden\ flower Park 
Planting 45 million flowers in the desert a miracle! But nothing is difficult for Dubai. The  Miracle Garden is like an oasis in this bustling city. 
It's the largest natural flower garden in the world and is one of the best parks in Dubai. It  is home to 45 different types of flowers that have been carved into gorgeous and colorful  designs. 
It is one of the most popular parks and is a great place to wander around. There will be a  beautiful display of colors wherever you turn. The most creative model there is the giant  replica of the Emirates A380. It is the largest anthropomorphic plant in the world and is  
covered with more than 500,000 live flowers and plants. This amazing figure includes  even the engine fans and the smallest detail. 
Miracle Garden is botanical garden more than a park, so there are rules to protect the  flowers in this region. For example, you cannot bring food from outside, sit on the grass,  or ride a bike. 
The Miracle Garden is located in the Dubai land area, along Umm Suqeim Road. It is  approximately 20 minutes drive from Emirates Mall. To get there at the best price, the  Route 105 bus will take you directly from Emirates Mall to the Miracle garden in Dubai  for just 5 AED. 
Timing  
The Miracle garden opens at 9:00 am and closes at 9:00 pm on weekdays and 11:00 pm on  weekends. 
Entrance Tickets Price 
Tickets cost 40 AED for adults and 30 AED for children between 3 – 12 years old.  
Buy tickets only from the official counter as tickets purchased from outside sellers are not  valid.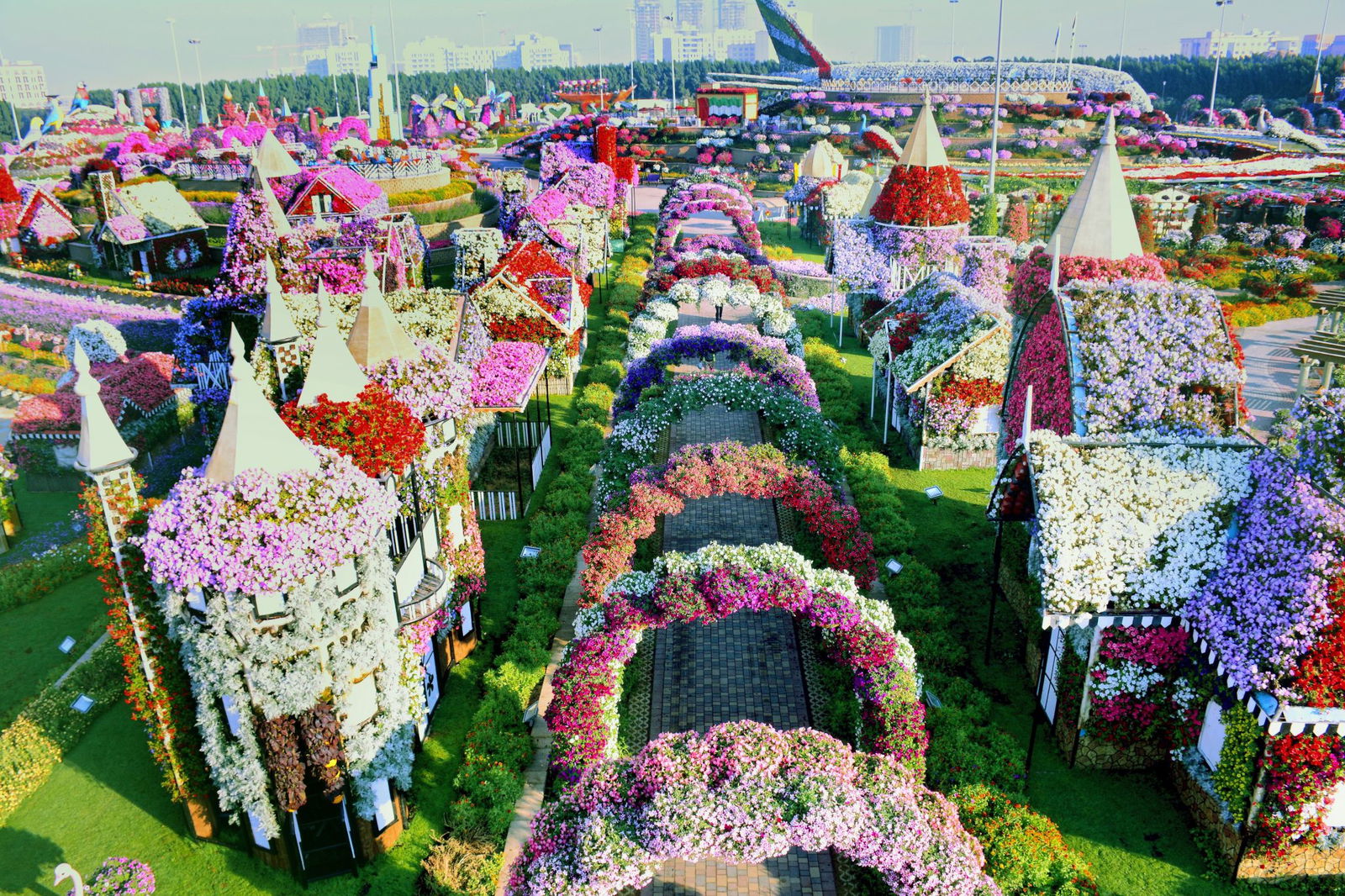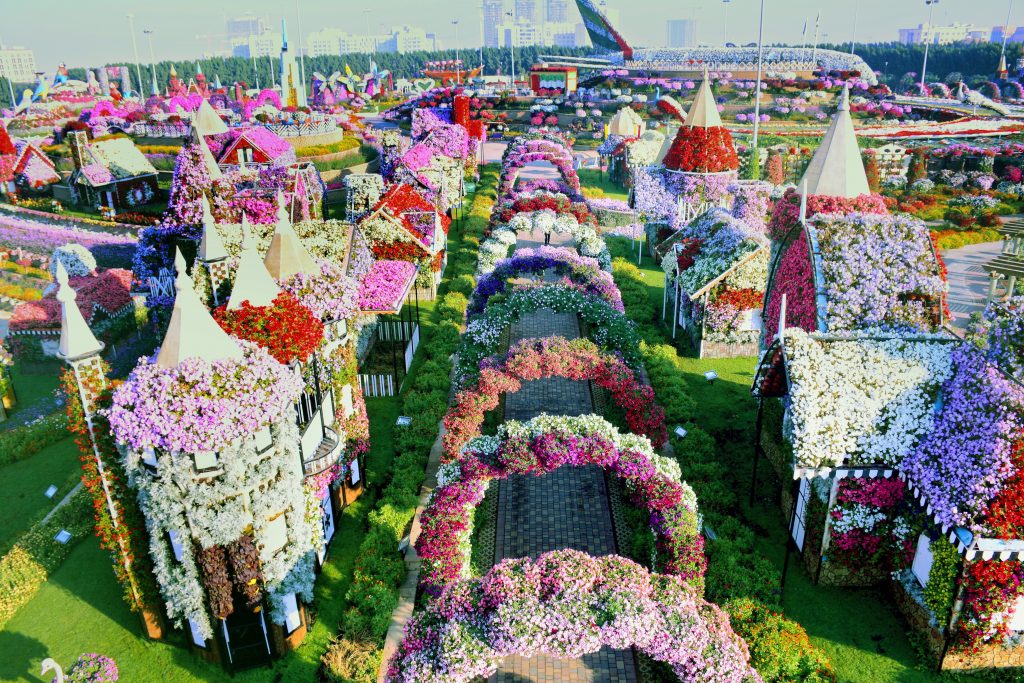 2- Zabeel Park 
Zabeel Park in Dubai is not only one of the most beautiful parks in Dubai, but it is also  one of the first green areas depends upon technology in the Gulf. 
Zabeel Park is the equivalent of 45 football fields, this quiet area in the city center, it is  famous for its entertainment complex and a large educational center for children, and it is  also home to the most modern attraction center in the city, the Dubai Frame (Dubai  Frame), where visitors can enjoy wonderful views For both old and new Dubai. 
You can explore three different areas to find a wide range of activities for yourself and  your family: the Alternative Energy District, the Communications District, and the Tech  Zone which are all technology-based and include educational and interactive exhibits.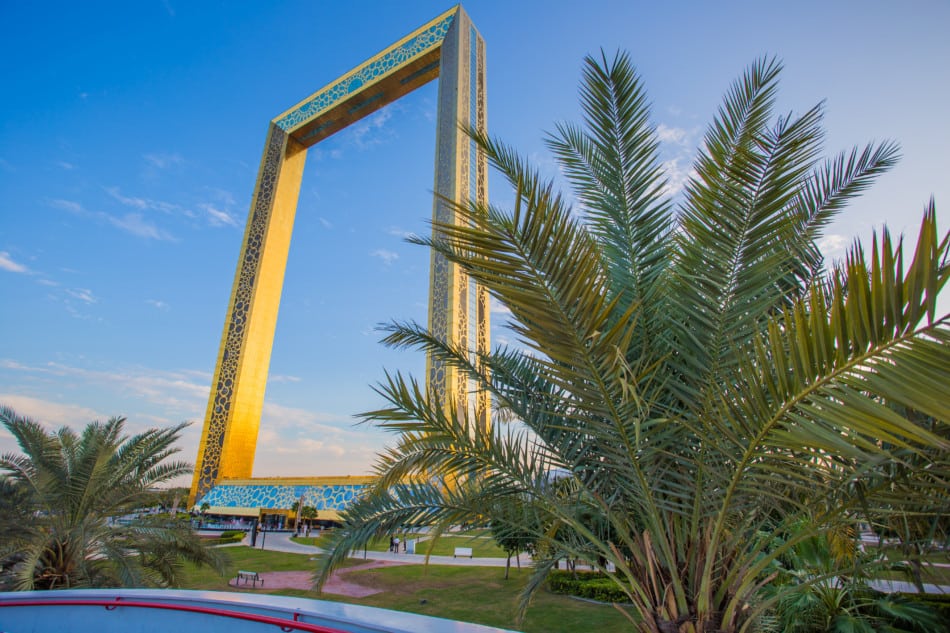 On the most entertainment Parks in Dubai 
The park, which is considered one of the most famous theme parks in Dubai, also offers  music displays, barbecue and picnic areas, restaurants and boating opportunities. It also  hosts large exhibitions such as the Dubai Garden Glow during the coolest months. Also,  there are plenty of facilities throughout the year to enjoy, such as exhibits and sculptures. 
You'll also find plenty of sports options, as well as a pedestrian path, jogging track and  fitness center. You can also play mini golf, cricket, skateboarding, ice skating and cycling.
3- Al Mamzar Park 
It's one of the most popular parks in Dubai and one of the largest beachfront parks. It  includes beaches and hectares of lush green field. Al Mamzar Park, which is considered  the hidden gem of Dubai, is loved by all, with five long beaches open to the public. 
Visitors can take a leisurely walk in one of Dubai's most beautiful public parks. They can  also swim, skate in water games, or stroll in the surrounding parks which provide  hundreds of options for entertainment and fun for the crowd. 
You can also visit all stops in this beautiful park or hop on the famous iconic train. This  park is a great opportunity for all water lovers, families, beach trips and people looking for  some fun and joy. 
It is an ideal place for all fitness lovers, too. This place will help you to taste delicious and  healthy dishes, as this place includes many restaurants and barbecue areas and also  provides comfortable tables and chairs for sitting in public places. 
With more than 55000 square meters of green fields, 300 coconut trees, 1500 palm trees  and many kinds of planted green spaces, this landscape pulses with life and nature. 
Al Mamzar Park covers an area of 106 hectares. You can also find private chalets,  sheltered beaches, food stalls, and children's play areas. Pre-recorded music is played  through the loudspeakers in the venue throughout the day, which making it one of the  most beautiful parks in Dubai. 
This park is located only five kilometers from the side road of Hamriyah Port and has a  large area that accommodates thousands of people at one time. Its white sandy beaches  and unique location make it absolutely wonderful and loved by tourists and residents of  Dubai.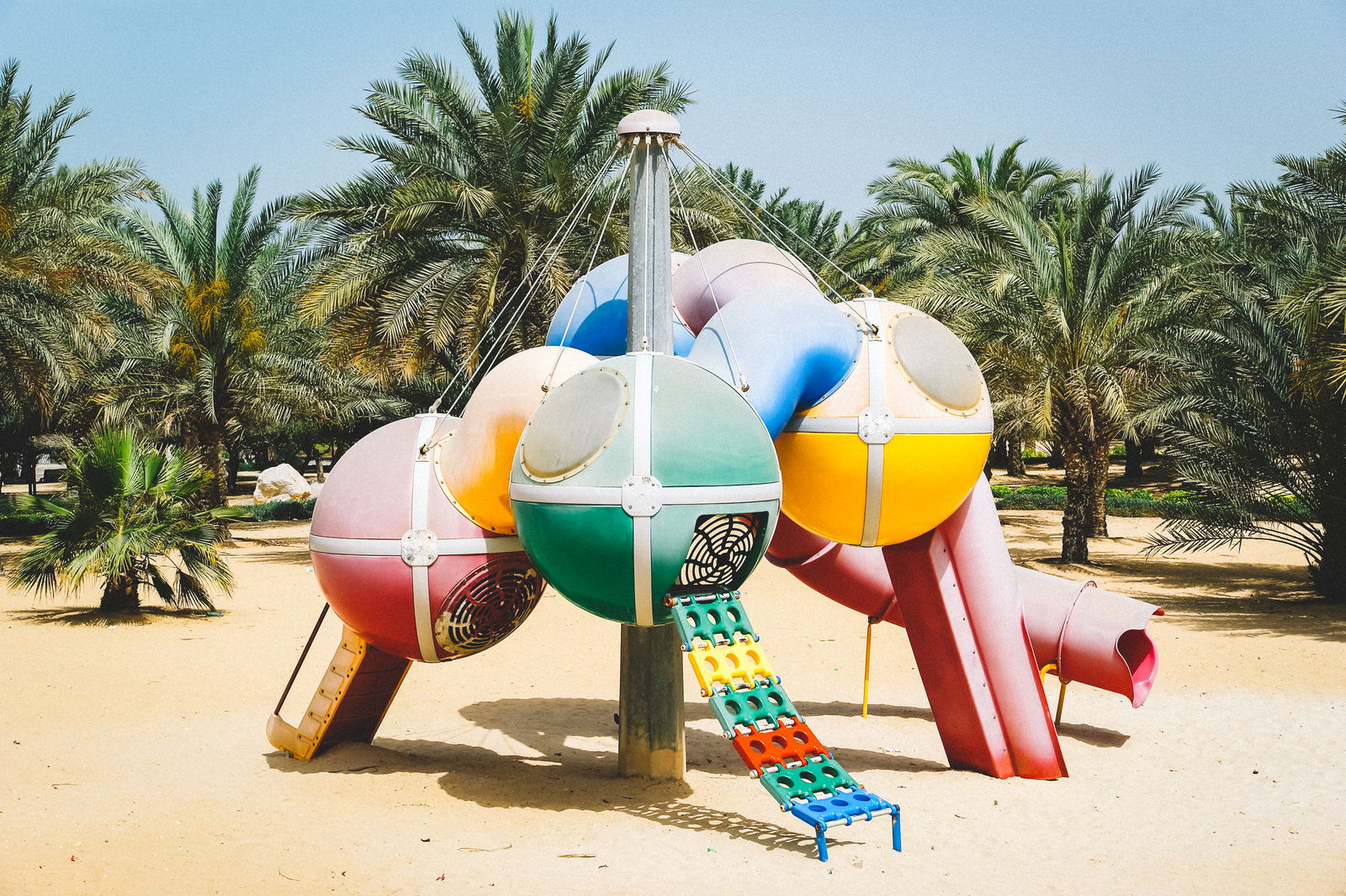 4- MUSHRIF PARK 
Dubai Mushrif Park was opened to the public in 1982 by the Dubai Municipality. It  extends over an area of 5.25 square kilometers in the eastern part of Dubai in the Deira  area and is considered one of the largest parks in Dubai. It is 15 km from Dubai city center  on the airport road leading to Al Khawaneej area. 
When it comes to open parks in Dubai, Mushrif Park dominates in size and age. Mushrif Park, which is one of the best parks in Dubai in terms of the quality of visitors, contains  an international village with 13 examples of Arabic and English houses. It also includes  entertainment services such as electronic games, barbecue areas, excursions, billiard  
services, children's play areas, sports field (including basketball, volleyball and handball),  walking paths and bicycles, making it one of Dubai's theme parks and it also contains  prayer halls, green areas and restaurants. In addition to horseback riding services, camel 
rides, a park theater, and facilities for disabled people, it is also one of the best places to  hold outdoor barbecues in Dubai. 
The horse and camel riding areas offer visitors a traditional lifestyle, with camels, horses,  Bedouin tents, goats, etc. Visitors can ride camels and horses to learn about the Bedouin  lifestyle, while enjoying a picnic. The park theater can accommodate 500 people as  concerts are performed during holidays and other special events. 
Mushrif Park is the largest park in Dubai that you can even drive in. It's the best place for  those who like walking in outdoor spaces, away from the hustle and bustle of cities. As  you walk, you can discover different types of birds and desert plants.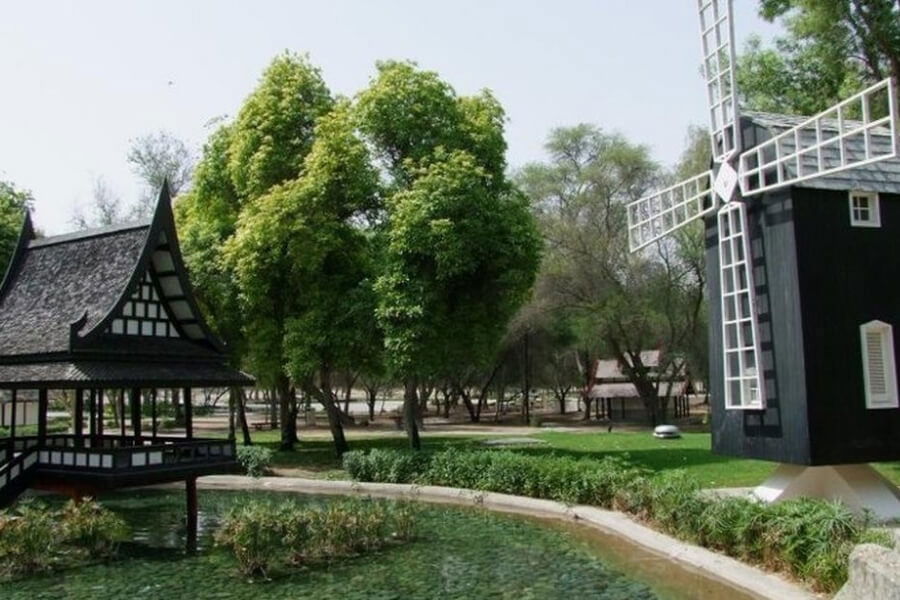 5- Crocodile Park in Dubai 
Crocodile Park in Dubai was developed according to the crocodile gardens in France, as  this park extends over an area of more than 20000 square meters, and an exceptionally  safe natural reserve has been created for hundreds of crocodiles. 
It is an integrated facility to house and conserve threatened crocodile species. Not only  will you be able to see alligators here swimming and diving, but you will also get to know  them in detail. From spawning, incubation and hatchery to breeding and family life, you  will be intrigued to learn some amazing facts about the full life cycle of these giant  reptiles. 
Apart from this, the most commendable aspect is that the Dubai Crocodile Park which is  considered one of the most beautiful parks of Dubai has implemented a wonderful strategy  to develop its diverse regions, thanks to the rational use of natural resources and  renewable energy, along with the smart deployment of waste treatment. 
From creating a natural river basin to the seamless integration of beautiful landscapes and  safe paths, the park ensures – overall – a harmless, sustainable and environmentally  friendly habitat for crocodiles to live and breed. After all this, this project adheres  efficiently to the International Trade Agreement for Endangered Plant and Animal  Species…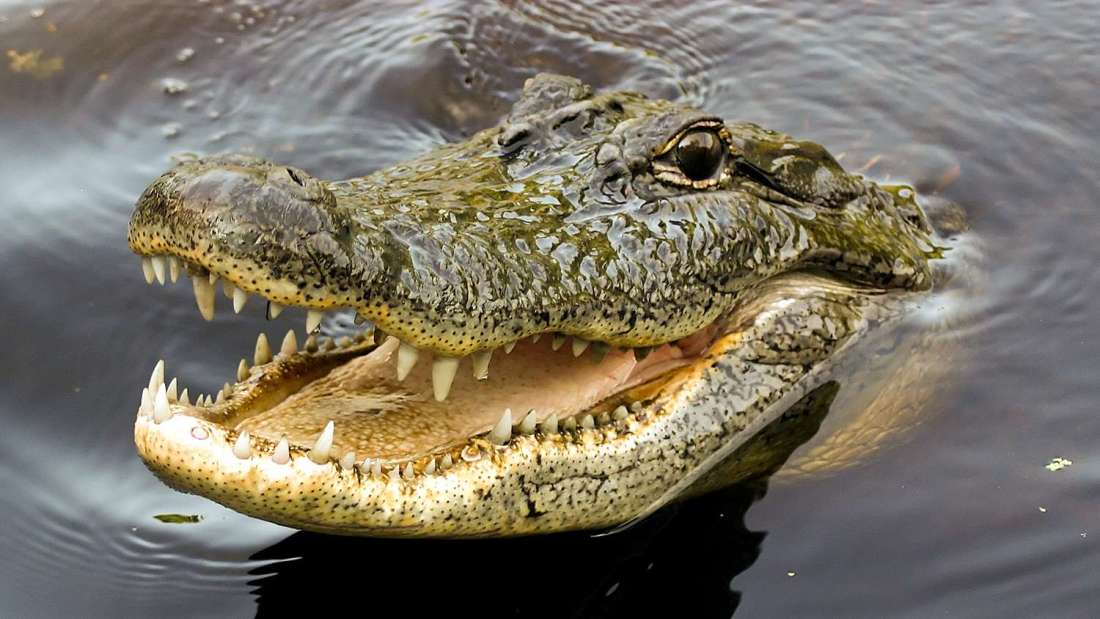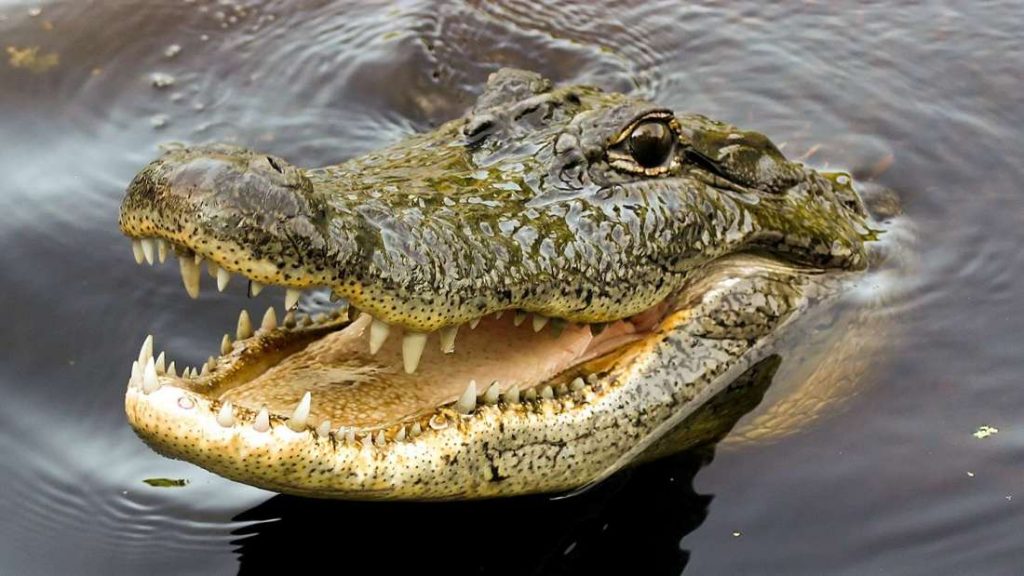 6- Dubai Garden Glow
Dubai Garden Glow, which is located in Zabeel Park, is opened in December 2015. Dubai  Garden Glow has many wonderful features where you will find glowing trees, flowers,  animals and structures inspired by various landmarks around the world.
The Dubai Garden Glow, one of the best in Dubai, includes hundreds of glamorous  displays designed by artists from all over the world, using millions of colored lights. 
What makes this sparkling garden even more impressive is the recycling of used  materials. People not only come here to entertain, but also to educate. The park aims to  enhance awareness of the issue of global warming and carbon footprints. 
The living aquatic composition is filled with giant jellyfish fish that sparkle in the sky  with their reflection shimmering in the lake, life-size characters for Dinosaur Park take you to Jurassic Park. 
Fast food is served in trucks and stalls throughout the park, including hot sausages, pizza  and ice cream. Bring it up alongside witches buildings and glowing flowers everywhere,  as well as acrobatic performances to make the night more vibrant. 
Dubai Garden Glow is one of the best parks in Dubai for children and an ideal place to  spend an evening, by yourself or with your family. The park is filled with many  landmarks, all of which have their own character.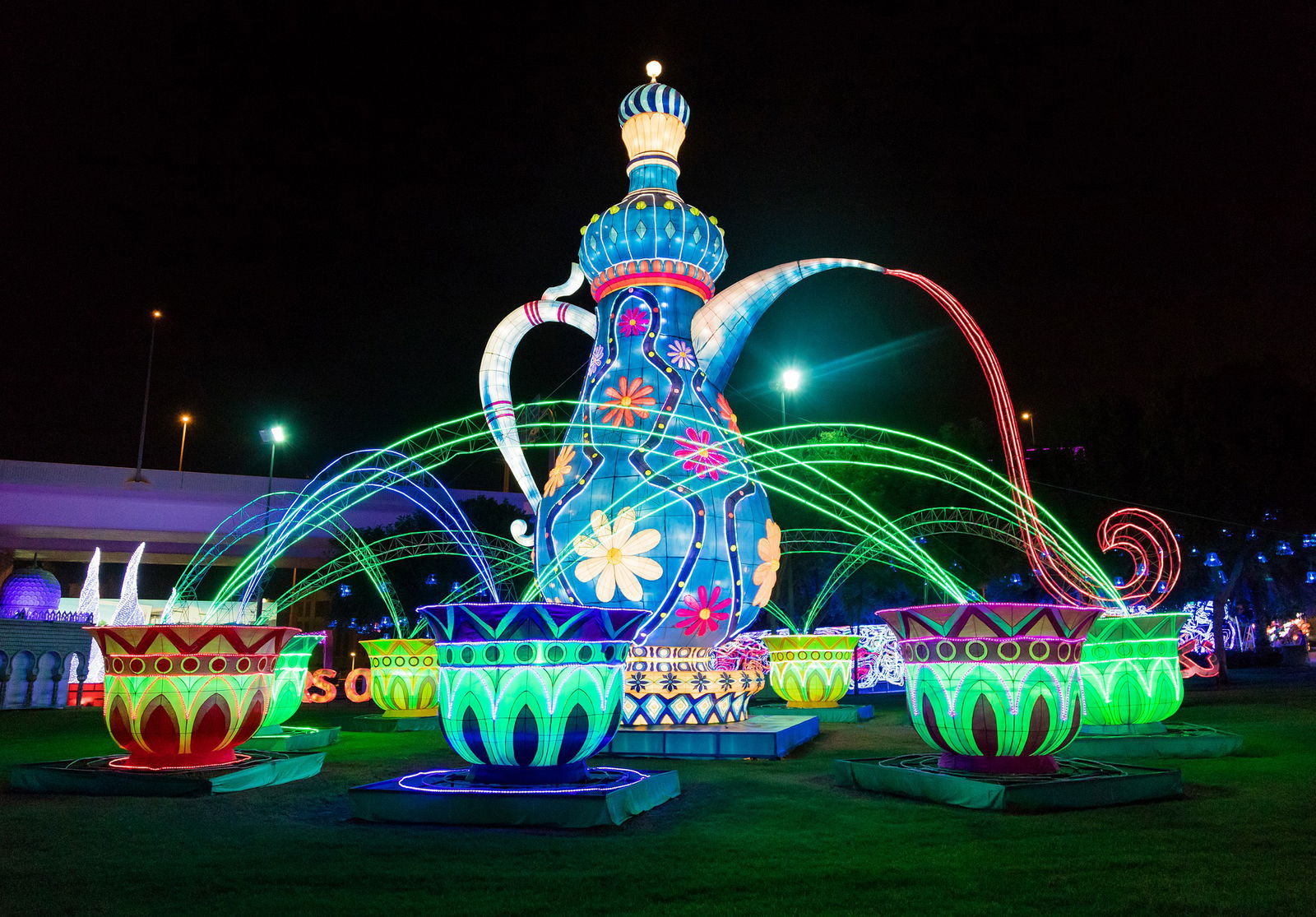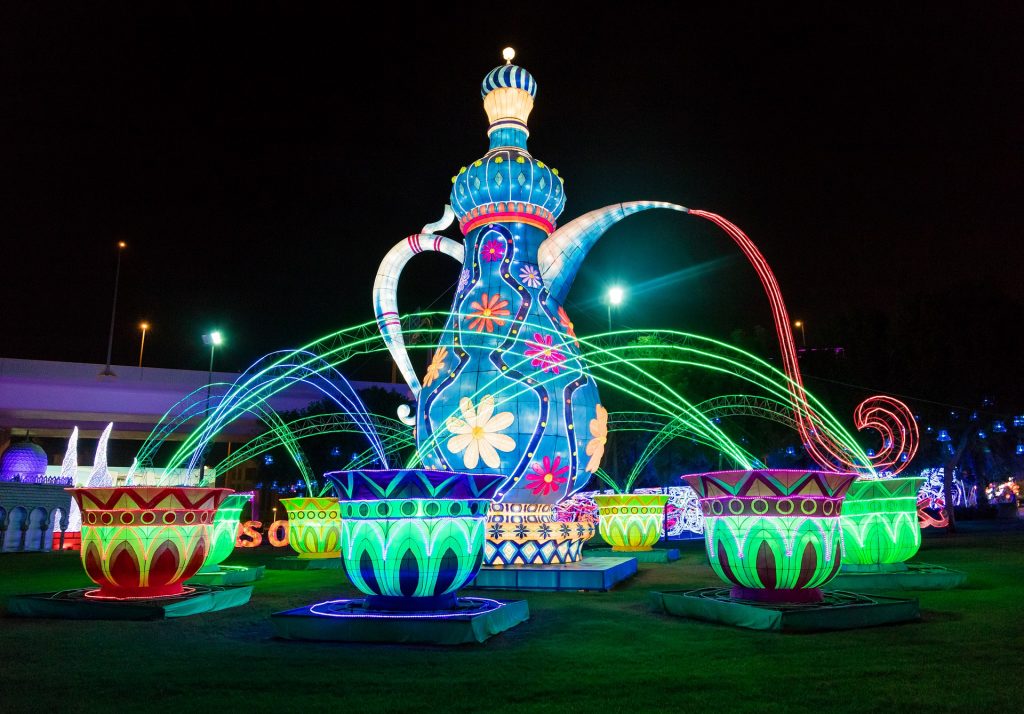 7- Dubai Safari Park  
Dubai Safari Park is an environmentally friendly area that contains green spaces and  gardens inhabited by 2,500 animals of 250 different species and it is considered one of the  most famous parks in Dubai. 
The park is located in Al Warqaa near Dragon Mart in Dubai, and can be accessed via  highways; also, it is linked to Dubai's public transport lines. To get to the park, tourists  need to use their own cars or take taxis. 
On reaching the park, you will find a large parking area. The entrance ticket to the park  costs 85 AED for adults, and 30 AED for children in a package that includes a visit to the  Safari Village, called the Combo Package. 
Entrance tickets price to the park excluding entry to the Safari Village are 50 AED for  adults and 20 AED for children.  
Children under 3 years old are given free entry to Dubai Safari Park, as well as elderly  people over 60 years old and disabled.  
The park opens at 9:00 am and closes at 5:00 pm. It usually takes half a day to wander  around the entire area, so it is better to get to the park early in the morning.  
The park is divided into three different sections, each of which reflects an authentic  cultural theme from all over the world. Where we find the Asian village, the Arabian  village, the African village, as well as the safari village. 
Take notice that combo ticket holders have access to all sections. 
Each village is equipped to deliver a true sense of its origin that offers authentic  environmental ingredients brought from the relevant area as well as fauna.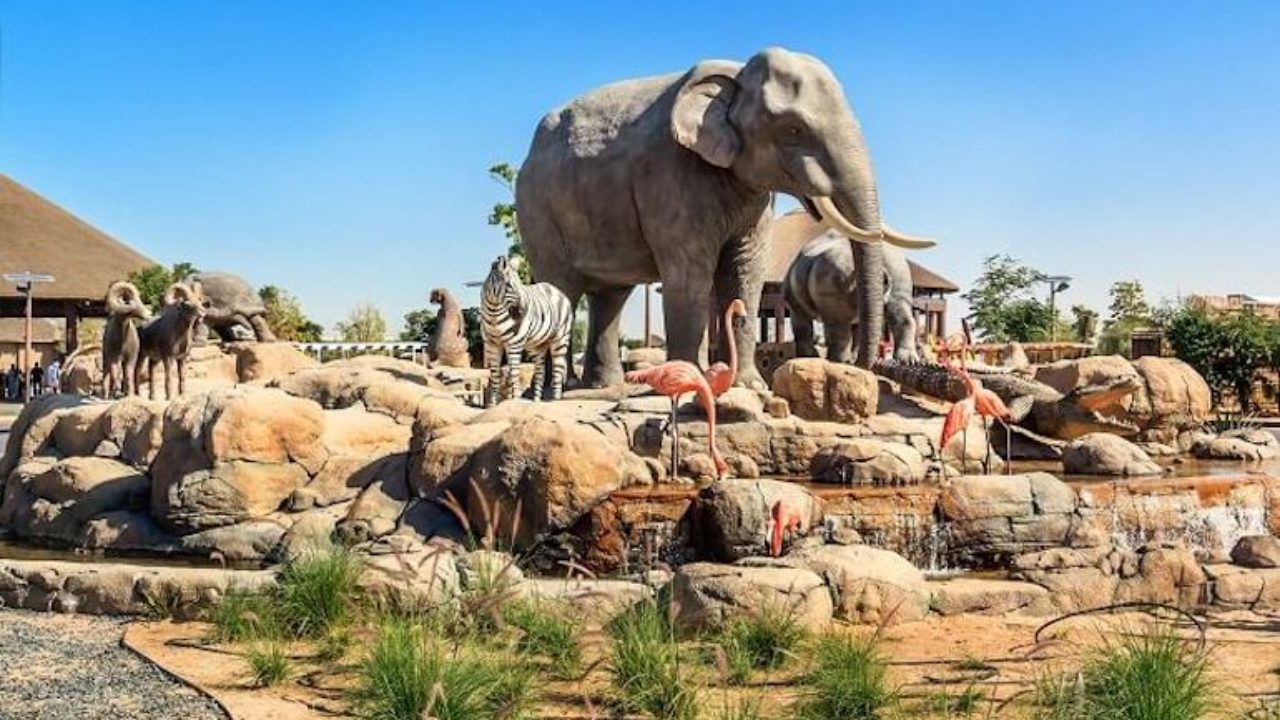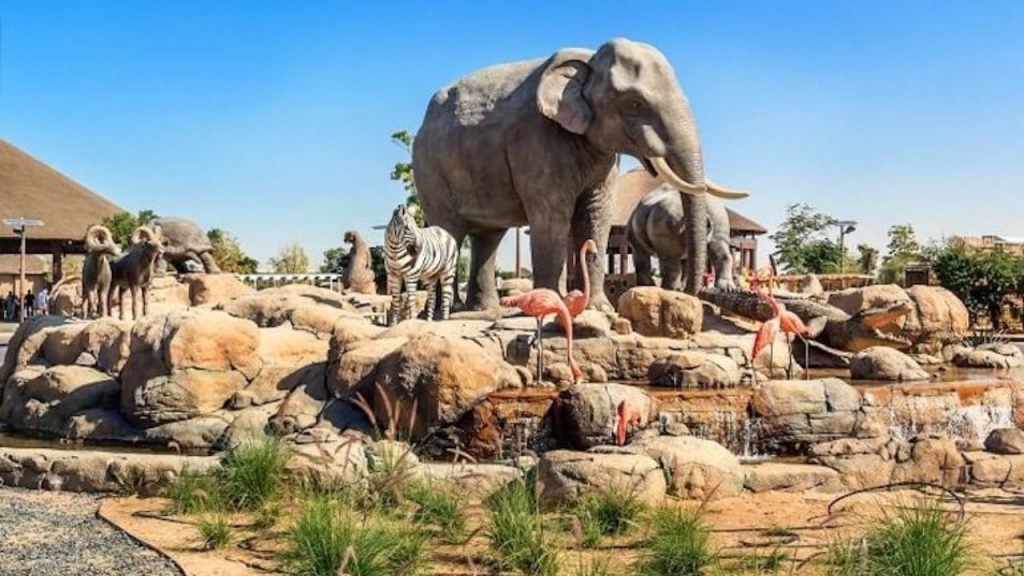 8- Dubai Butterfly Garden  
The "Butterfly Garden" in Dubai opened in April of 2013. It is home to more than 15,000  butterflies from all over the world from 26 different species that have now grown to 40. 
The "Butterfly Garden" is an indoor garden with ten impressive domes which are  costumed to control climate. This park gives you the opportunity to see beautiful  butterflies and gives you an insight into their world. Here you will learn about how  butterflies evolve at each stage of her life, so it is a good educational opportunity for  everyone. There are also assistants to help you interact with butterflies and take beautiful  pictures with them. If you are with your family and children, this Park is a must-visit. 
The "Butterfly Garden" in Dubai is the largest Dubai covered garden in the world,  covering an area of 4,500 square meters with 10 domes which are specially built with a  unique system to control the climate, a butterfly museum, and a butterfly flower park. 
At the entrance you will find the wonderful Museum of Butterflies and Insects, with  thousands of perfectly preserved butterflies. As you enter the domes you'll be surrounded  by an abundance of different colored species, all flying and settling confidently on your  head and arms and landing on flowers and plants. 
Each dome is decorated with displays of flowers and nectar plants to feed the butterflies,  and the Butterfly Glasshouse will give you an opportunity to watch the miraculous life  cycle of butterfly species as they go through metamorphosis. 
The "Butterfly Garden" is considered the most beautiful garden in Dubai at all, and it is  open to visitors daily from 9 am to 6 pm.  
Entrance tickets price is 50 AED per person, and entrance is free for the disabled and  children under two years old.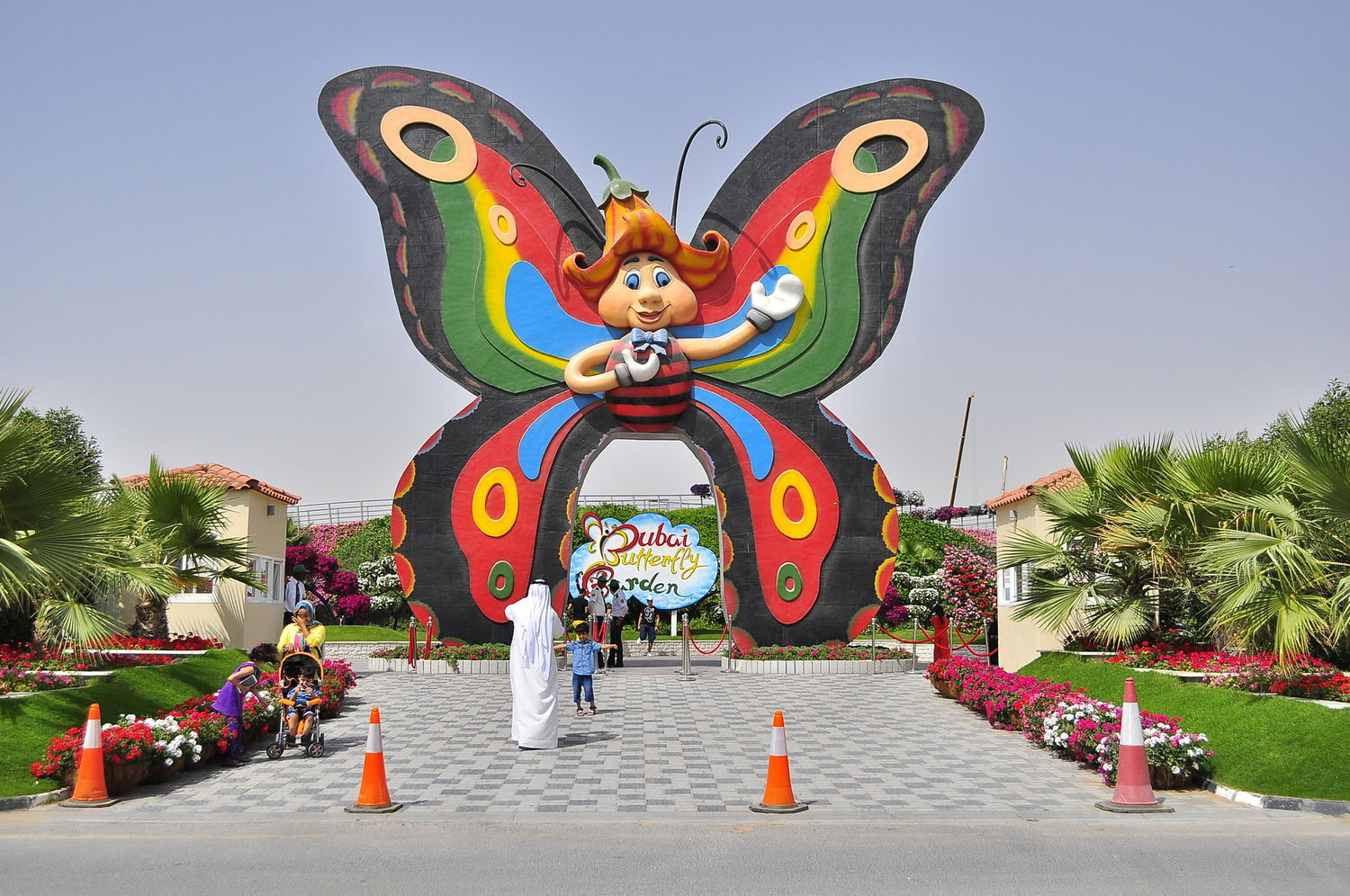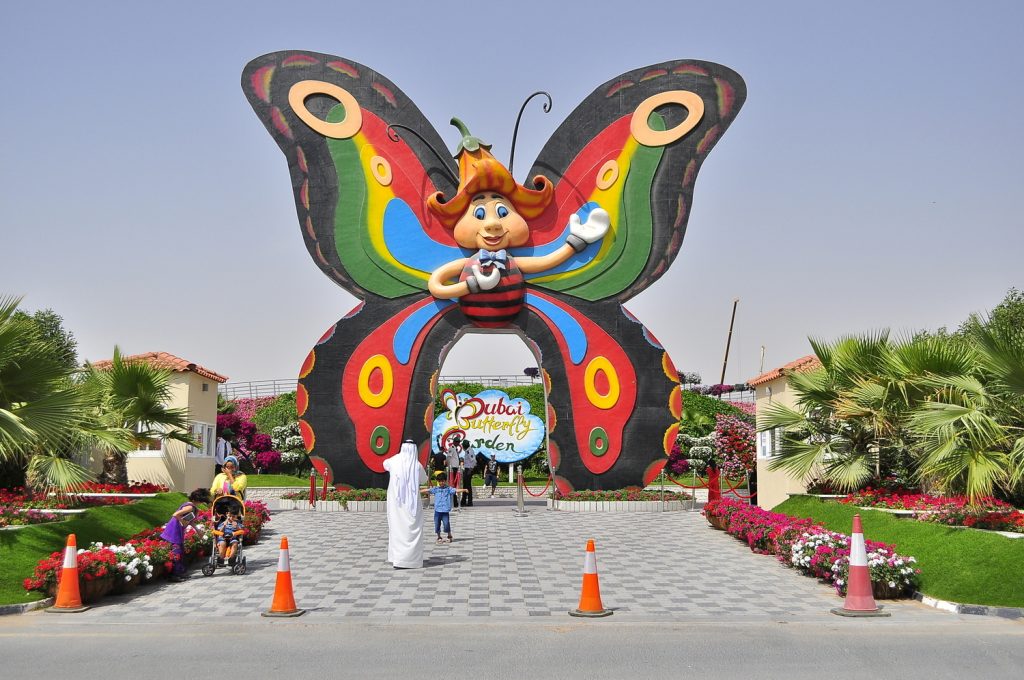 9- Al Barsha Pond Park  
Al Barsha Pond Park in Dubai is a small park with a lake in Al Barsha area and is  considered one of the public parks in Dubai 
It is located next to Al Barsha Mall. It was unveiled as part of the Dubai Bond Parks  greening project, which includes walking and jogging tracks, as well as bike rental, tennis  courts, football fields, fitness machines and basketball courts.
The project also includes children's playing areas and designated areas for relaxation and  refreshments. In the evening, floodlights under the palm trees brighten the garden,  creating the perfect atmosphere for a relaxing evening in the garden. 
The park is spread over 162 hectares of lush greenery and fresh palm trees, in addition to  variety of trees and flowers for public use, a few kids rides and a lovely fountain, too.  
Serenity and tranquility surrounds this wide green area at Al Barsha Pond Park. This  peaceful garden is located around the perimeter of a large man-made pond with activities  for the whole family and is considered one of the most beautiful parks in Dubai. 
The park offers cycling and jogging in an area of 50 acres of wonderful greenery. Let the  kids enjoy playing the castle jumping game, or playing basketball at one of Dubai's parks.  Adults benefit from a few minutes of relaxation on park benches.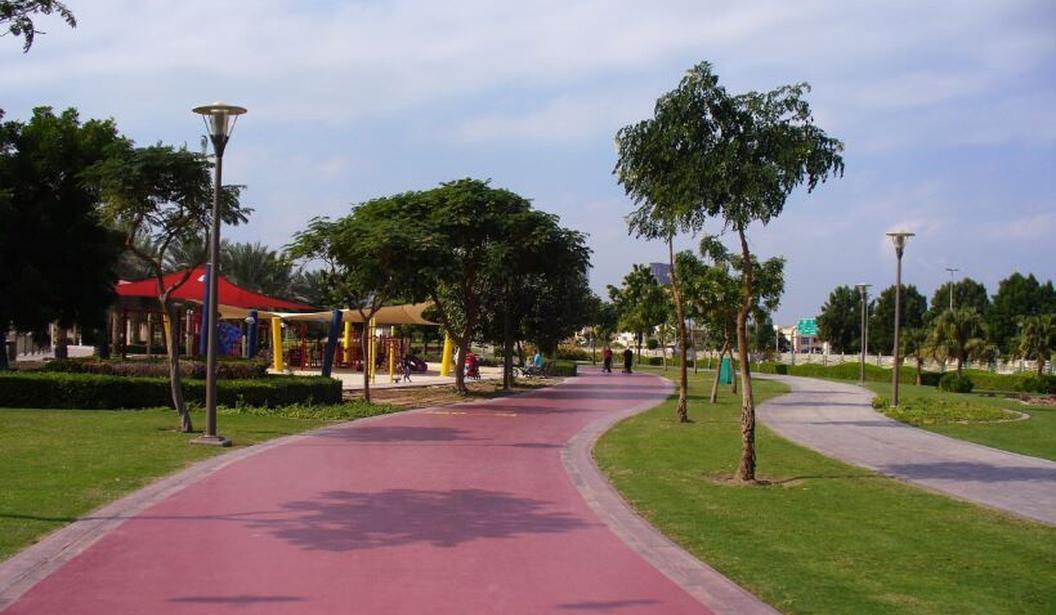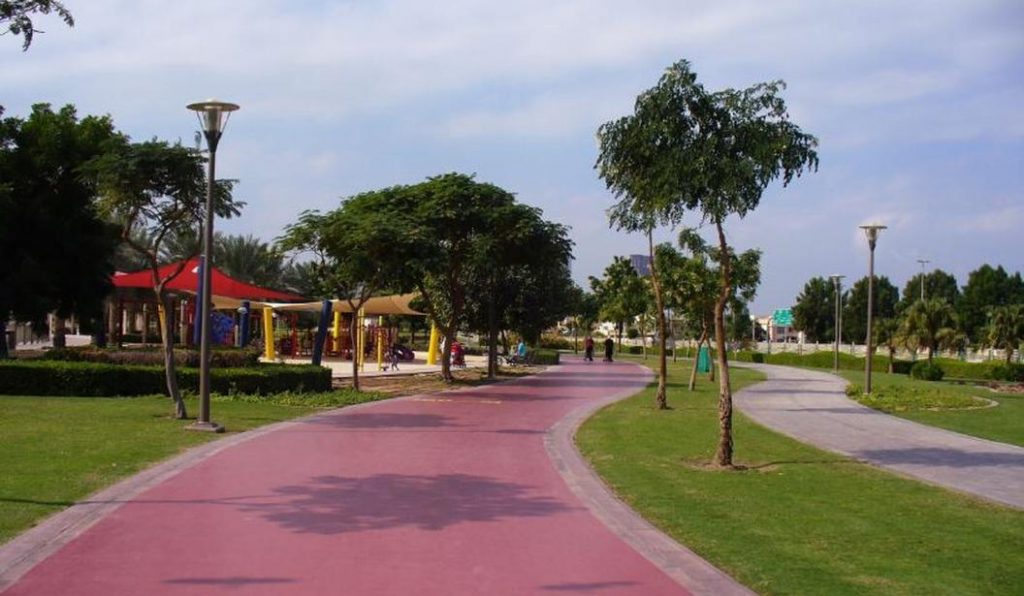 10- Al Quoz Pond Park  
While you are looking for some inspiration about the place that you will spend your  weekend, try one of the new Dubai parks which is Al Quoz Park in Dubai. With a range of  playgrounds for children, a jogging track around the Pond and lawns for picnics, there is  something for everyone here. 
The area of the Pond is 45,000 square meters, which is just one third of the total area of  the park. Take a fun stroll around the sparkling pond, and enjoy the skyline views. If you  are looking for some sporty fun, there are options for that as well. If not, you can enjoy  some relaxation in the grassy areas and watch your kids on the playground. 
Entrance is free with sufficient parking for everyone and a water fountain providing free  drinking water. 
11- Dubai Creek Park 
Just as the name suggests, Creek Park is located on the edge of Dubai Creek – making it  truly outstanding place than the other green spaces in the city. 
Dubai Creek Park, which is one of the oldest parks in Dubai, is also the second largest  park in Dubai and one of the most beautiful Dubai theme parks, as it features vast areas of  lawns, botanical gardens and children's playing areas. Although it is located in the city  center, you can enjoy sprawling lawns and endless views of the creek. 
You can stroll along the paved corniche, watch sailboats bobble in the water, or enjoy a  show in the theater. You can even explore the park by renting a bike for just few amount  of money.
Dubai Creek Park is popular among hikers. There are plenty of barbecues spread  throughout the park as well as many free facilities that you can enjoy. Families will  especially appreciate the mini golf, the kart track, and the many playgrounds designed to  keep children happy. 
In addition to all these facilities, Dubai Creek Park is also home to the Dubai  Dolphinarium, where families can enjoy a fun-filled program of dolphin tricks and stunts.  When the dolphin show ends, head to Children's City, which is a great indoor learning  center for kids. 
The park is particularly suitable for disabled, referred to as "People of Determination" in  the United Arab Emirates. 
Dubai Creek Park provides free entrance to the park, as well as easy access to most of the  landmarks. Thoughtfully designed walkways, parking spaces, playing areas and facilities  make this park easy to navigate and relax for all.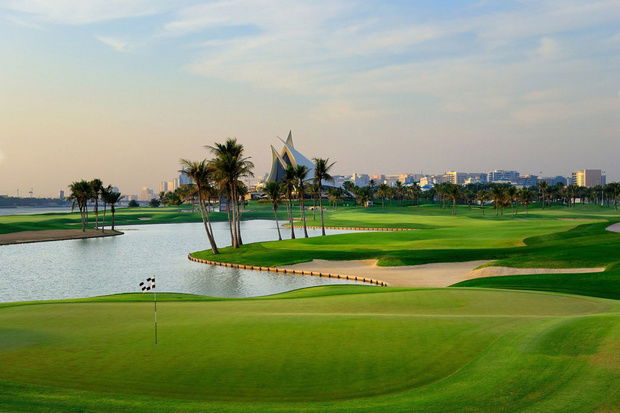 12- Jumeirah Beach Park 
Jumeirah Beach Park is ideal for weekend family outings. It has muddy sand and large  green areas, and the mixed beach garden includes public toilets, dressing rooms, a  swimming pool, volleyball courts and parking. It is a favorite weekend spot for many  residents. 
Jumeirah Beach Park spans 12 hectares with children's playing areas, picnic tables,  barbecue area, volleyball playing area, shower sprinklers, food stalls, and a pier area in  front of the beach with lifeguards. 
It is a great painting for landscapes and environmental coordination. Looking at the  garden from the plane, you'll think of the architectural symmetry mixed with a beautiful  contrast of colors, as blue bay water floats on a golden beach followed by artistically  designed green spaces. 
Jumeirah Beach Park was opened in Dubai in 1989 as the first beach park directly  overlooking the Arabian Gulf in the residential area of Jumeirah. Jumeirah Beach Park is  among the most beautiful parks in Dubai, as it forms a group of green hills that include  entertainment and playing areas. 
It provides a lot of facilities and services for disabled; it has been specially designed to  provide service to this category of society, taking into account all the services,  installations and facilities that serve them. 
Moreover, special parking spaces have been designated disabled near the park entry gates  to make their movement easier and smoother on the walkways. In addition, special toilets  are designed for people them.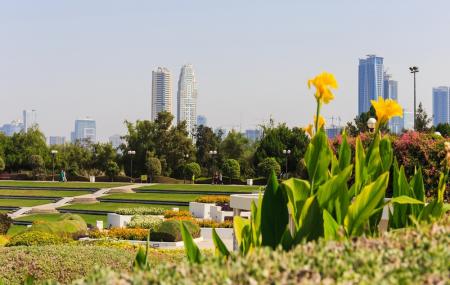 13- Safa Park 
Al Safa Park in Dubai is a large civilian park of 64 hectares located off the second road  junction on Sheikh Zayed Road and is one of the oldest parks in Dubai, bordered by Al  Wasl Road and Al Hadiqa Street. Since its inception in 1975, Al Safa Park has remained  one of the oldest parks in Dubai. 
The park includes three lakes, more than 200 species of birds, and more than 16,000  species of trees and plants. There are green grass meadows that cover 80 percent of the  park, except for forests and small hills. 
Dubai Safa Park has plenty of picnic and sports areas, including enough space to play  tennis and football. For those who love the water, there are waterfalls, a fountain, and  boats for rides. 
The park has four entrances, one from each road bordering it. Safa Park in Dubai is  popular for jogging and walking due to the panoramic view the park provides. This large  green garden is divided into sections and playing areas. In fact, the park resembles a small  town, complete with small roads, traffic lights, and signs for children. 
There are many facilities within the park including a lake with a fountain, waterfall,  boating facilities, tennis, basketball, volleyball and soccer fields. There is a video game  hall for teens, along with bumper cars and a big wheel. 
There are barbecue sites and ponds that offer boats for hire, train rides, a jogging track  around the perimeter of the park, and bike paths. Parking is free except on Thursday and  Friday nights. An entry fee of a minimum of 3 AED per person will be charged in addition  to fees for using the tennis courts.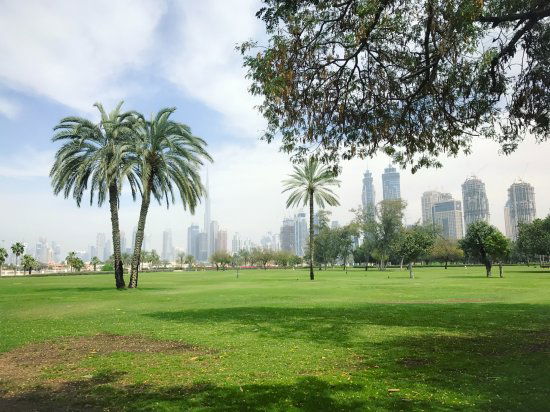 14- Burj Park 
Burj Park in Dubai extends over an area of 29,000 square meters at the base of Burj  Khalifa, along the Dubai Fountain Lake. It is also known by the names of "Burj Dubai  Park", "Dubai Tower Park", "Burj Island Park", etc…..  
It is a good place to catch a glimpse of the Dubai Fountain, especially at night, when the  park is beautifully lit by specially designed light cubes. . 
The park is easily accessible via the bridges of the Downtown of Dubai which is  surrounded by a 33-foot-wide corniche. Burj Park is an ideal place for a stroll and  relaxation in the stunning natural landscape, which is among the distinctive and famous  Dubai parks.
The park is one of the most wonderful Dubai theme parks in Downtown Dubai, the mega  project developed by Emaar Company. There are a few restaurants and cafes near the  park, although there are more restaurants and cafes on nearby Emaar Street. 
There are many unique aspects for Burj Dubai Park such as free entrance, opens 24 hours  and has no fences. Also, there is an underground car park near Emaar Street. 
One of Dubai's finest parks sometimes hosts elegant events, such as luxury product  launches, exclusive concerts, fashion shows, dinner parties and corporate jobs. It also  provides unparalleled views of Burj Khalifa, the Dubai Fountain, the Old City and the  surrounding areas. Burj Park in Dubai also has good green areas and includes large seating  areas, and it is undoubtedly one of the most beautiful parks in Dubai.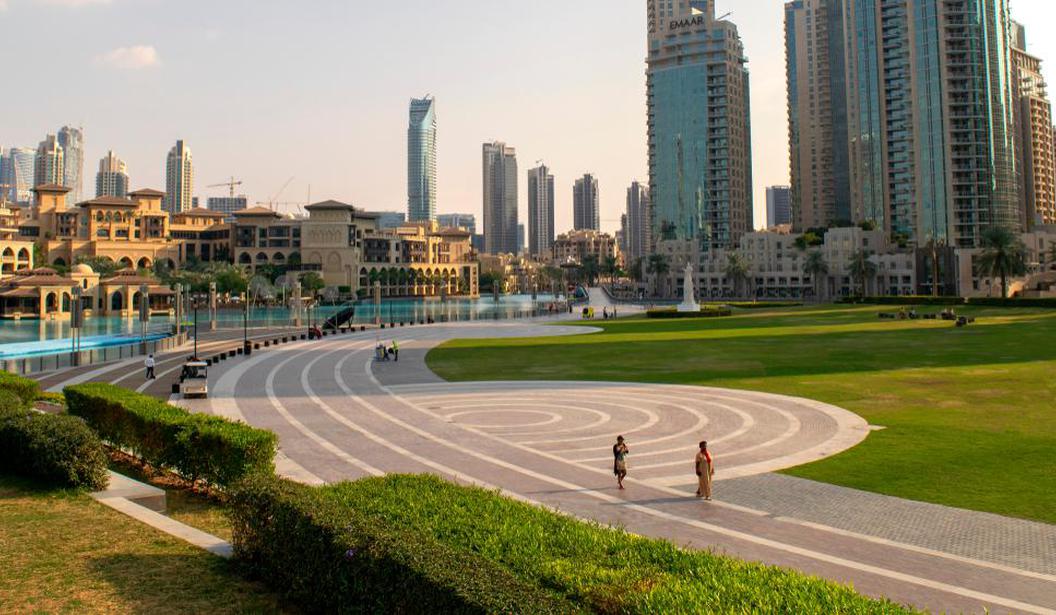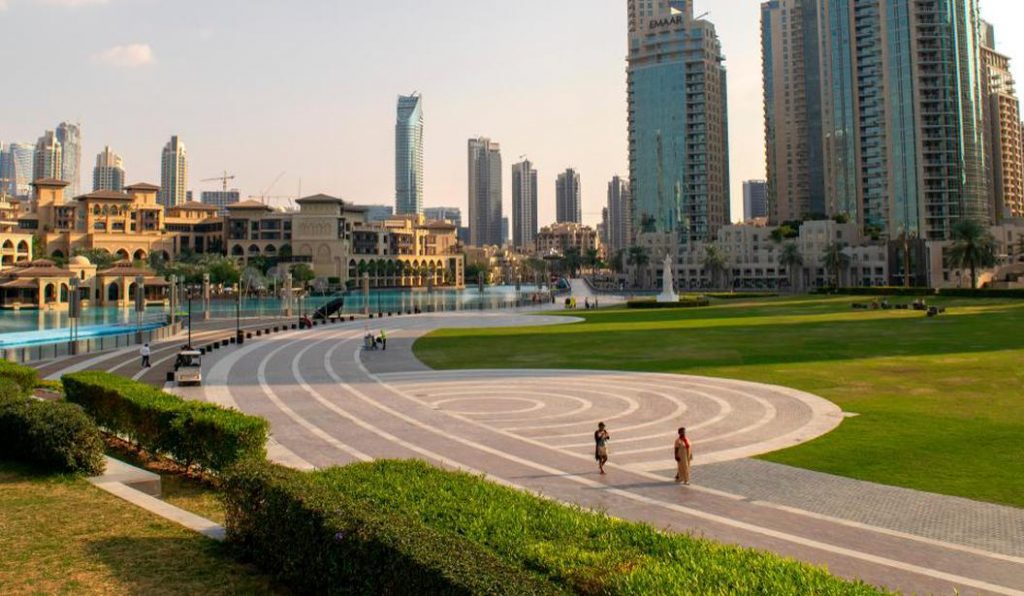 15- The Quranic Park  
The Quranic Park in Dubai is one of the most prominent free gardens in Dubai and  includes 54 types of plants mentioned in the Holy Qur'an such as figs, pomegranates,  olives, grapes and others, in addition to the Cave of Miracles which is designated to  display the stories and miracles of the prophets. 
The Quranic Garden, which is located in the Al Khawaneej area in the Emirate of Dubai,  includes paths for walking and cycling, children's playing areas, and shaded seating areas,  in addition to a Wi-Fi network and a lake to learn about the miracle of the Prophet Musa,  peace be upon him.