Legoland Dubai Waterpark – activities – ticket prices – location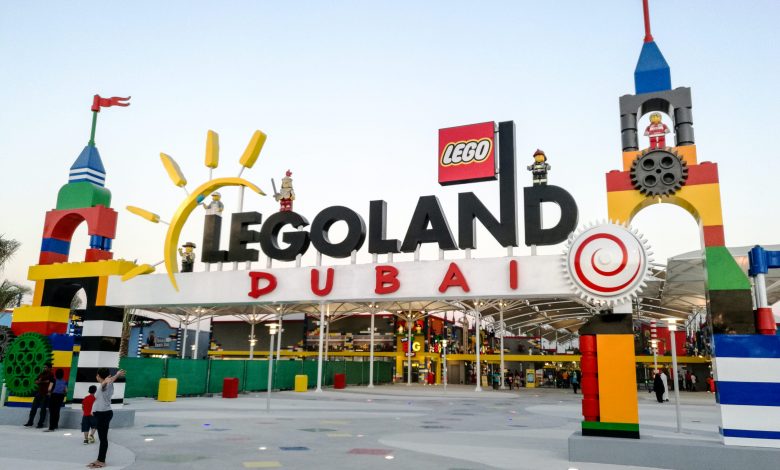 Legoland Dubai Waterpark is one of the most famous landmarks in Dubai and one of the best  places for tourism in Dubai, as it is part of the Dubai Parks and Resorts project, which  includes two other theme parks, Motiongate Dubai and Bollywood Parks. 
Legoland Dubai is divided into the Legoland theme park and the Legoland Dubai waterpark,  and it has more than 40 interactive games that attract kids from 2 to 12 years old. 
Legoland offers several kids play areas, and other areas for families that include the most  famous shops and restaurants. In addition to 15,000 innovative structures made especially for  the city, over 60 million LEGO bricks. 
All this childlike charm suggests that it's time to get out and have fun in a space of more than  three million square feet, where a veritable LEGO factory of all shapes and sizes has been  established, and the Middle East's largest retail LEGO toy and parts store called The Big  Shop. 
Legoland Dubai games 
Inside LEGOLAND, it has six entertainment zones, Legoland Dubai offers everything  that can amaze you: 
∙
Lego City: 
The most entertaining place in Dubai, it is actually an integrated city with its vital facilities.  Give your kid, aged 6 to 12 years, the opportunity to learn the basics of driving and obtain a  Legoland driving license at a driving school, and if he is between 3 and 6 years old, he can  enjoy the driving school for youngsters. 
If he is a year old and loves boats, take him to the boating school across a long, slow-flowing  river. 
Or, put him into the role of a police officer by visiting a simulated model of a real police  department with a number of realistic LEGO police cars and equipment. 
In the port, he can satisfy his passion for dealing directly with ships, ships and boats of the  Coast Guard, as well as giant cargo ships, while getting to know the cruise lines. 
In the kids' safe area of Legoland park Dubai, the Duplo Express, the little ones can board a  train that will take them on a journey around a model zoo featuring 3D realistic models of  many animals. Duplo Express is one of the best rides in Legoland Dubai. Your kids can take  a ride around Duplo Playtown aboard a train- Duplo Express
In another exciting activity, youngsters can enter the rescue school and embody the role of a  firefighter in his uniform and basic tools for accident rescue and firefighting.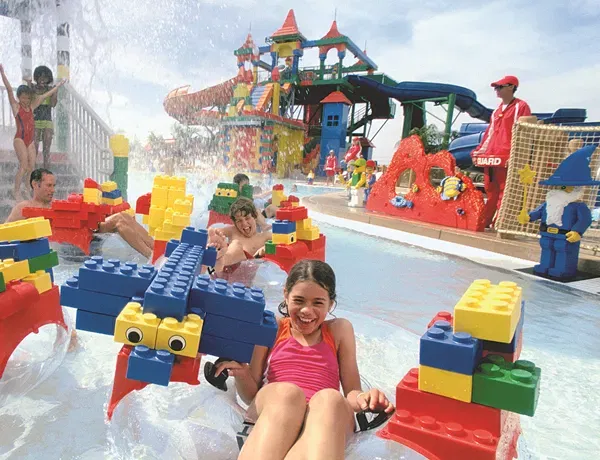 ∙
Fantasy Land 
A fantasy model of LEGOLAND that allows kids to create and build their own  imaginative cars and robots. 
∙
Kingdoms 
Legoland most enchanting section allows you to ride a spinning dragon rollercoaster  that travels at 60 km/h and 6 meters high through a life-size castle made of giant Lego bricks. Kingdom is one of the must-visit attractions in Legoland Dubai. 
∙
Adventure Land: 
One of the best activities for kids at Legoland, a trip for kids and families looking for thrill  and adventure through surfing and submarine rides to cross the ruins of an ancient temple in  order to search for the lost Pharaonic treasure.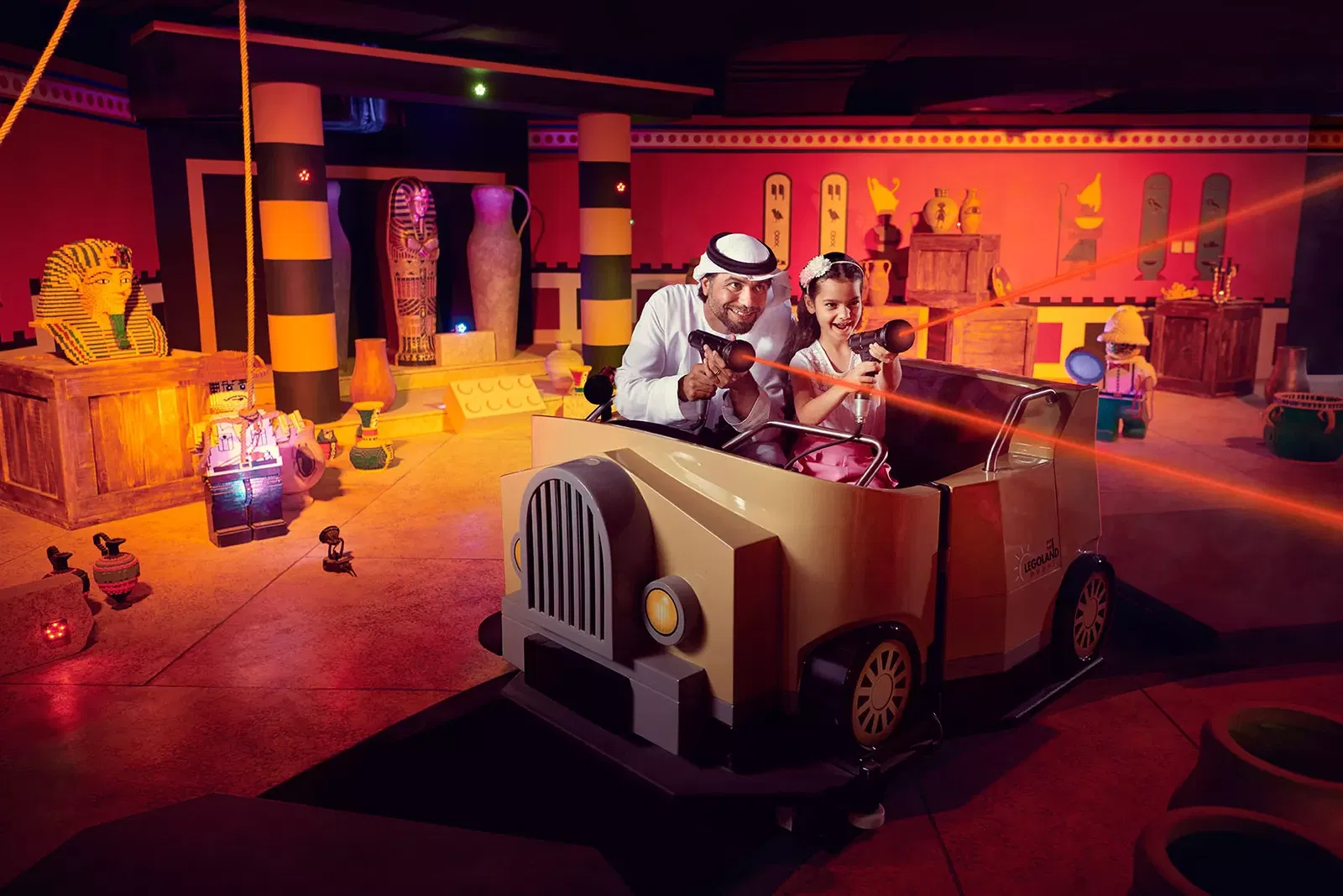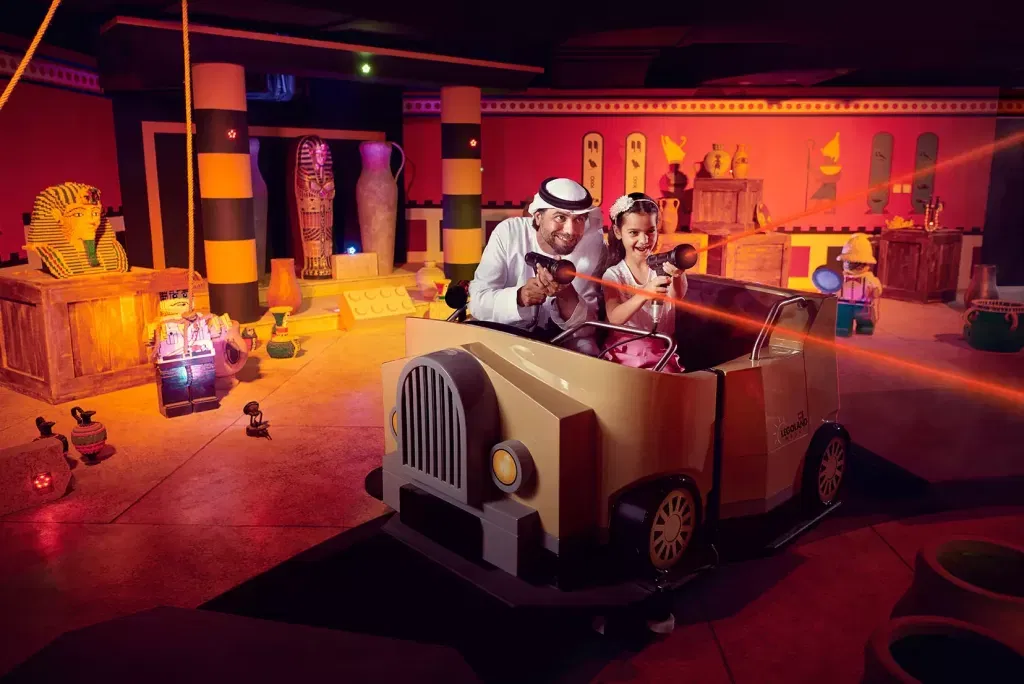 ∙
Mini Land: 
It is one of the most popular attractions of this zone in Legoland. LEGOLAND Dubai  presents a miniature city of the real city of Dubai, this model includes its most famous  landmarks and buildings in real dimensions but in LEGO, the most important of which is Burj Khalifa, and children can unleash their imagination and build their own LEGO city. It is  the best Legoland Dubai rides 
∙
Factory
: 
It gives the child and the family familiarization with the mechanism of making Lego blocks  of different sizes, and they also have the possibility to take some pieces home as souvenirs. 
∙
Imagination 
Offering some of the best rides at Legoland Dubai, Imagination is a zone that has something  for everyone. If you are willing to give it a try, check out some of its rides and attractions.
LEGOLAND Dubai Waterpark 
It contains many water slides of different sizes to suit all age groups, and not only that, for  more excitement, the water city was designed with structures that simulate the most important  and famous landmarks around the world.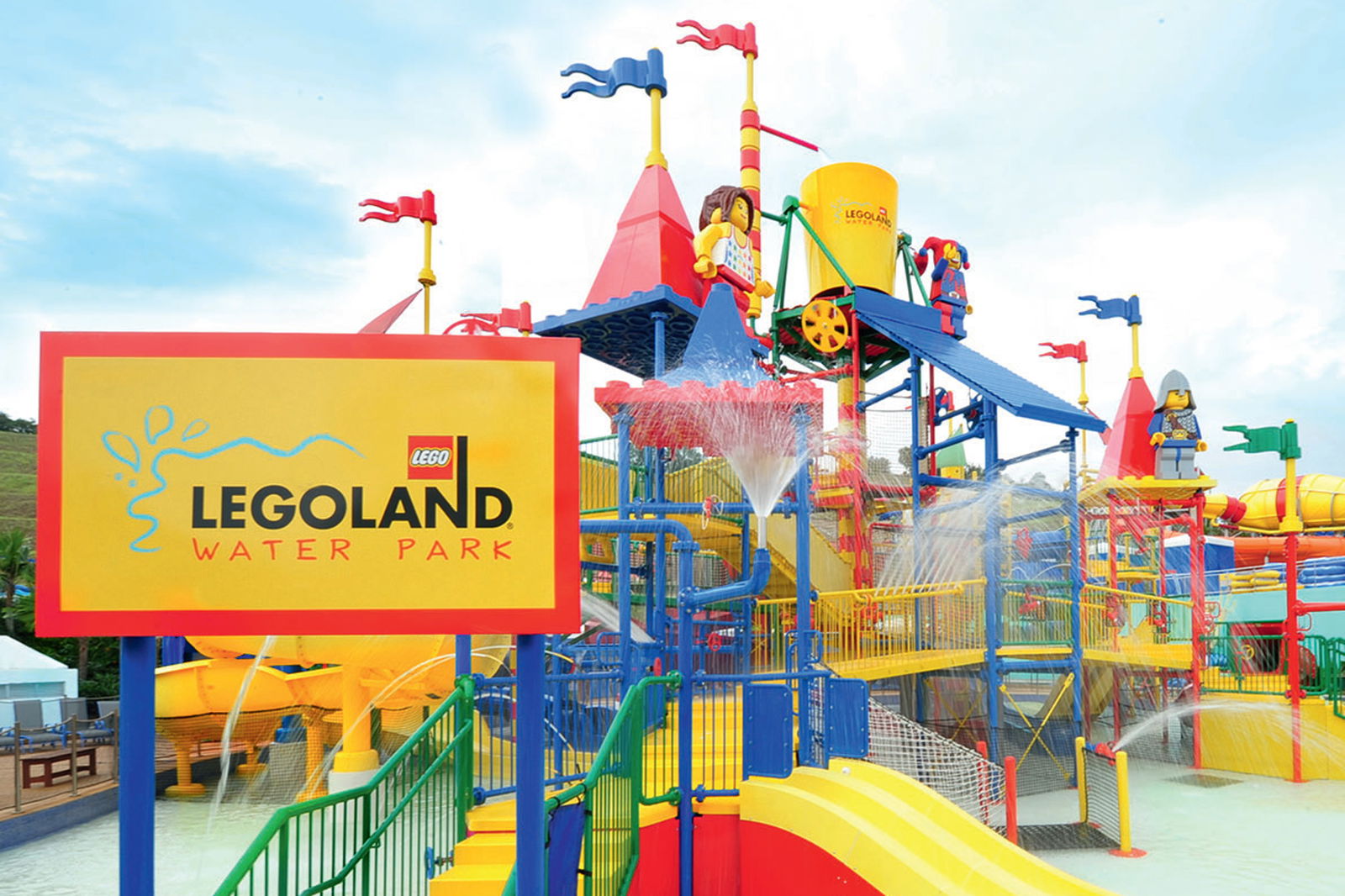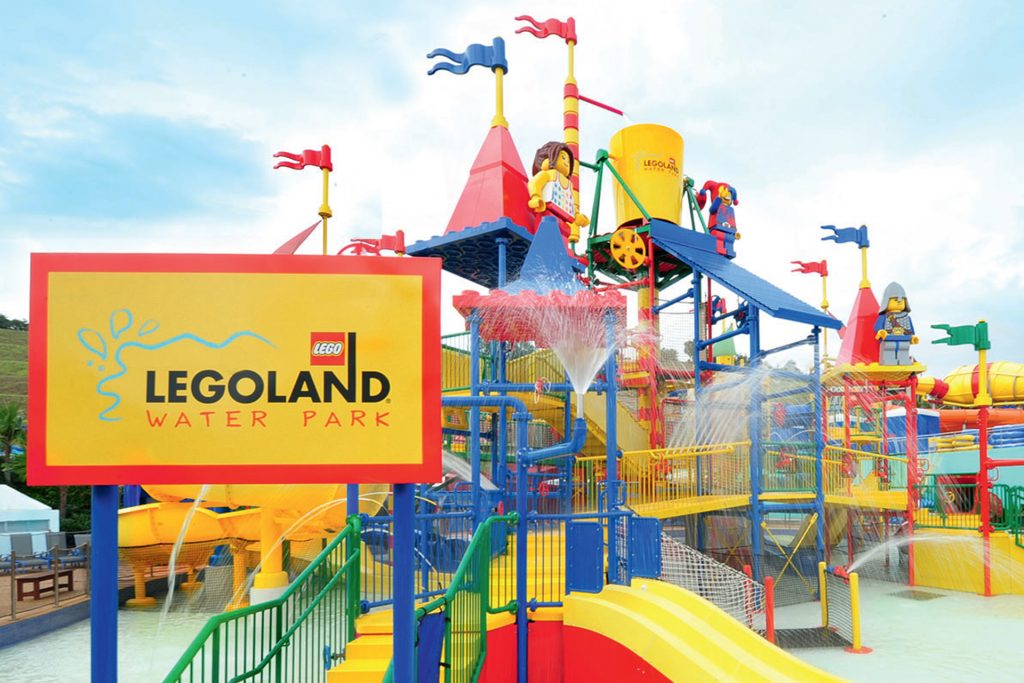 Legoland Hotel Dubai opening  
LEGOLAND Dubai is on its way to open LEGOLAND hotel Dubai, a brand of  LEGOLAND, whose designs and decorations are inspired by the shapes of the wonderful  Lego cubes, and thus is the first of its kind in the Middle East and the seventh in the world. 
LEGOLAND water park Dubai ticket price 
LEGOLAND tickets prices 
LEGOLAND Water Park Dubai will reduce tickets for Legoland Dubai for 2021, ranging  between 275 and 295 AED per person.  
Entry LEGOLAND Dubai ticket price may increase on holidays and seasons.  
You can visit the LEGOLAND theme park website and find out about the changing  prices of LEGOLAND from the Legoland Dubai official website. 
LEGOLAND Dubai Timings  
Thursdays and Fridays from 10:00am to 8:00pm. 
Saturdays to Wednesdays from 10:00am to 6:00pm. 
Hurry up to visit the park to enjoy a classy picnic. 
LEGOLAND location  
Legoland Dubai Waterpark is located on Sheikh Zayed Road in Dubai, just a 29-minute drive  from Tent Jumeirah Restaurant, one of the closest and best restaurants in Legoland Dubai.