What do you know about La Mer Dubai, the new tourist destination?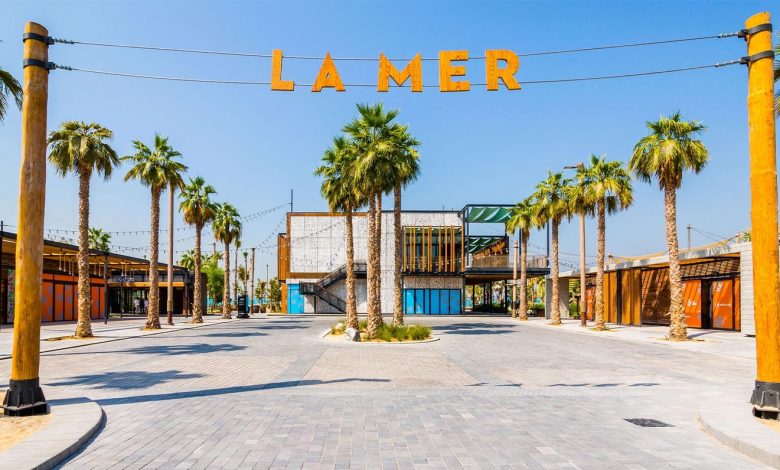 La Mer Dubai is a beach area, developed in Dubai by Meraas Real Estate Company. La Mer  Dubai Beach is located in Jumeirah 1 Area and extends to the sea and provides people with a  great destination for relaxation. 
The beach is lined with palm trees, arts and murals, and there are plenty of dining and  entertainment activities, and La Mer has recently become one of Dubai's most important  beaches. It is a one of the must visit places in Dubai
La Mer Dubai consists of 4 areas: Beach, Entertainment Center, North Island and South Island. 
As a beach front, La Mer Dubai Jumeirah is a developed and urban area. You can visit it with  your family, friend and lover; enjoy the sunshine and a quiet day at the sea. La Mer is  considered one of the most important landmarks in Dubai and shows the promising  commitment that Dubai has towards the vision of tourism. There are many things to enjoy in  La Mer Dubai that will leave you amazed. 
La Mer Dubai Beach stretches along the sea covered with a wonderful view of the Arabian  Gulf and the Dubai skyline. If you're planning a full day relaxation, head to La Mer Beach and  soak up the sun, lie on golden sands or on a swing. 
If you are an art lover, you will surely notice the graffiti and murals that beautifully blend  simple and contemporary design together. The wooden walkways, streets of palm trees and the  boardwalk are filled with many restaurants, shopping stores and ice cream stalls that add a  special charm to the place. 
There is also a wonderful seaside water park "Laguna Waterpark La Mer Dubai", which is  perfect for children as well as adults. This water park in La Mer Dubai offers a lot of fun and  excitement with artificial waves and water games. 
With its many facilities and services, visitors to La Mer Dubai will surely find the beach area  attractive and a great location to explore and enjoy. The perfect place is La Mer Dubai night &  day to spend great time.  
La Mer Dubai location
La Mer beach Dubai United Arab Emirates is located in the Jumeirah 1 Area, directly  overlooking the shore of the Arabian Gulf, providing great views of the beachfront, and is  easily accessible by riding public transportation in Dubai and the United Arab Emirates. The  total area of the project is about 13 million square meters, and the first phase of the project was  opened at the end of 2017.
La Mer Dubai Opening Schedule  
La Mer Beach timings: 
From Sunday to Wednesday: from 10.00 am to 10.00 pm 

From Thursday to Saturday: from 10.00 am to 12.00 am. 
How to reach Dubai La Mer: 
If you are wondering how to go to La Mer Dubai beach, we have the answer. La Mer is located in Jumeirah 1 in Dubai and exactly on 2A Street. La Mer Dubai beachfront is located between  Pearl Jumeirah and Jumeirah Beach on an area of 13.4 million square feet. It is easy to get to  the area either by a car or taking a bus. 
By car: 
If you're coming to the beach from downtown, just head northwest to Al Safa Street and 77B  Street. 
If you are driving to Jumeirah area on the side of Jebel Ali, drive through the Dubai Canal and  Mercato Mall and turn left around the old zoo. 
If you are driving towards Al Rashidiya, head towards Etihad Museum and Jumeirah Mosque  and turn right to reach La Mer Dubai. 
La Mer Dubai parking includes outdoor and underground parking, and costs around 20 AED  per hour. VIP valet parking costs 100 AED. 
By bus: 
If you plan to go to La Mer Beach by bus, there are RTA buses that stop at Beach Center 2,  Center Plaza 1 and 2, as well as Jumeirah Centre.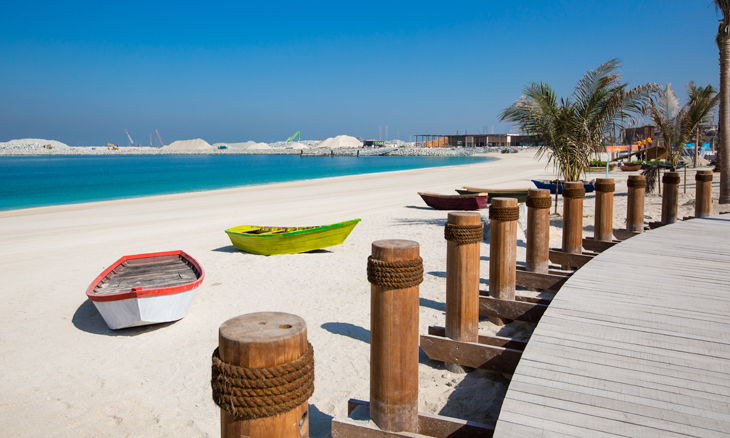 La Mer Beach Dubai 
La Mer Dubai includes many entertainment facilities for families and children, in addition to  water games and various activities such as the "Hawa Hawa" playground, which provides fun  through the peaks designed in the form of sand dunes. The project also includes La Mer Beach  Dubai, which extends 2.5 km in length, places to shower after swimming, charging points for  phones and free internet.
La Mer Dubai design: 
The design of La Mer Dubai impresses and surprises visitors, where you will notice many  things. The beach name "La Mer" refers to the laid-back French towns on the coast. The beach  is decorated with wide wooden boardwalks lined with beautiful palm trees with dancing lights  above the beautiful light-coloured beach huts. 
Surfboards, wrecked boats anchored in the sand, rusty anchors and barrels, ropes and driftwood  along with cheerful banners add to the aesthetic style of the venue. As well as the swings that  sway in the breeze, which add a soft touch to the site. The water park at La Mer Dubai is  inspired by a colorful region in Argentina called "La Boca". This urban beach front, combined  with turquoise waters, golden sands and a vibrant general atmosphere, shows how much the  building company has taken care of every detail.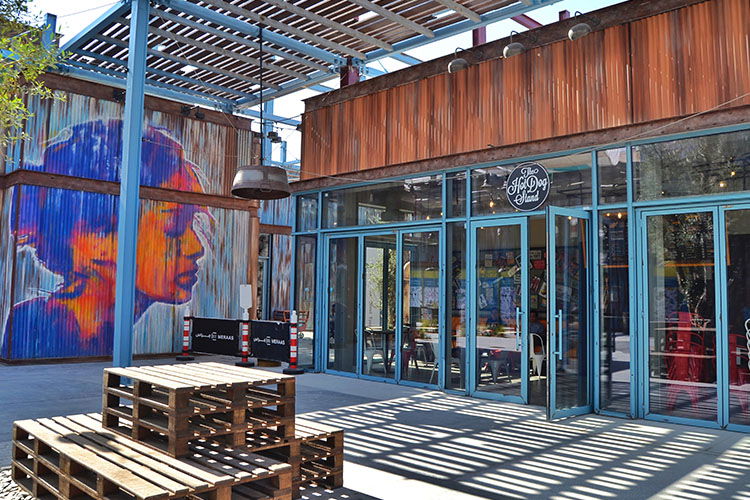 Best activities at La Mer Dubai: 
1- Hawa Hawa Playground: 
Hwa Hwa is a new inflatable playground for kids, teens and adults who don't like to be active – or who just want to jump for joy. The concept of artificial sand dunes dates back to Japan,  where it has been installed in public parks and other open spaces. 
Hawa Hawa Playground is the first of its kind outside of East Asia, with two unique dunes and  seven peaks where families and friends can share fun on the high-intensity trampoline. Hawa  Hawa sand dunes are made of double stretched leather and all-weather tested, it is imported  directly from Japan, there are small and large dunes ensuring that different age groups can play  side by side. 
2- Laguna Waterpark by Meraas La Mer Dubai: 
This water park in Dubai is built in the style of a colorful Argentinean village called "La Boca"  and is an ideal activity for children. The park includes 5 water slides that provide an exciting  ride for children. It also offers family boating and exciting water games for entertainment.  Relax in little cabins called 'Cabanas' or go surfing with the Wave OZ 180 Flowrider. Laguna  La Mer Water park Dubai is a great place to spend some quality time with your family or  friends.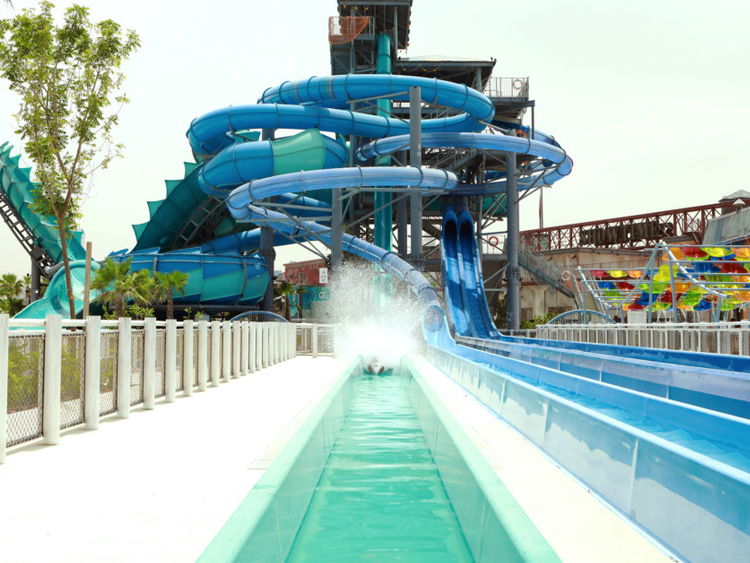 3- Sea Breeze: 
Nothing compares to spending a day at the beach. If you prefer swimming, or sunbathing, Sea  Breeze offers you an opportunity to relax on your own or with the family. To spend quality  time in the sun, you can rent a bed or lie down inside the comfortable 'Cabanas'. Sea Breeze 
also provides the possibility to participate in some wonderful water sports such as water skiing  and plane rides. 
Renting a bed costs 60 AED 
Renting a cabin for 4 people is 600 AED. 
4- Cinemas at La Mer Dubai 
Roxy Cinemas opened in January 2017, Roxy Cinema is an entertainment concept developed  by Meraas in Dubai as well as City Walk, Kite Beach and Box Park. It is located on the beach  opposite Jumeirah Beach, City Walk, Box Park and La Mer Beach.
Roxy Cinemas presents the  latest blockbusters, art films, documentaries and special events; it features a variety of seating  levels to suit all audiences' tastes. Roxy Cinemas is featured by its prime locations and  enchanting atmosphere especially with the launch of the La Mer Dubai branch, Roxy Cinemas  continues to invest in a unique guest-centric experience, combining state-of-the-art technology  with an intimate environment surrounded by all the excitement and fun of La Mer on the  beachfront. 
5- Watersports: 
Dive into the warm Arabian Gulf water, which is full of water sports provided by the "First  Yacht" company. Located in the stunning La Mer Beach, this company offers fun, safe and  supervised water activities that the whole family will enjoy. From kayaking to water-skiing,  
water biking, boating, windsurfing, and more, there's a sea-going activity for the whole family,  from kids to grown-ups. 
Dubai La Mer for kids 
Fun activities for children vary around La Mer Dubai, and there are even facilities created  especially for them such as the Hawa Hawa Playground, inspired by the Japanese gardens, which provides your children with the opportunity to jump and run over trampolines. Then we  find Laguna La Mer Park, which has a package of water games for children such as slides,  small boats, and others… 
The Sea Breeze area in Dubai La Mer Gardens Beach is also a beautiful and entertaining area  for children with the family where they can swim, play in the sand and participate in the water  games provided by the beach.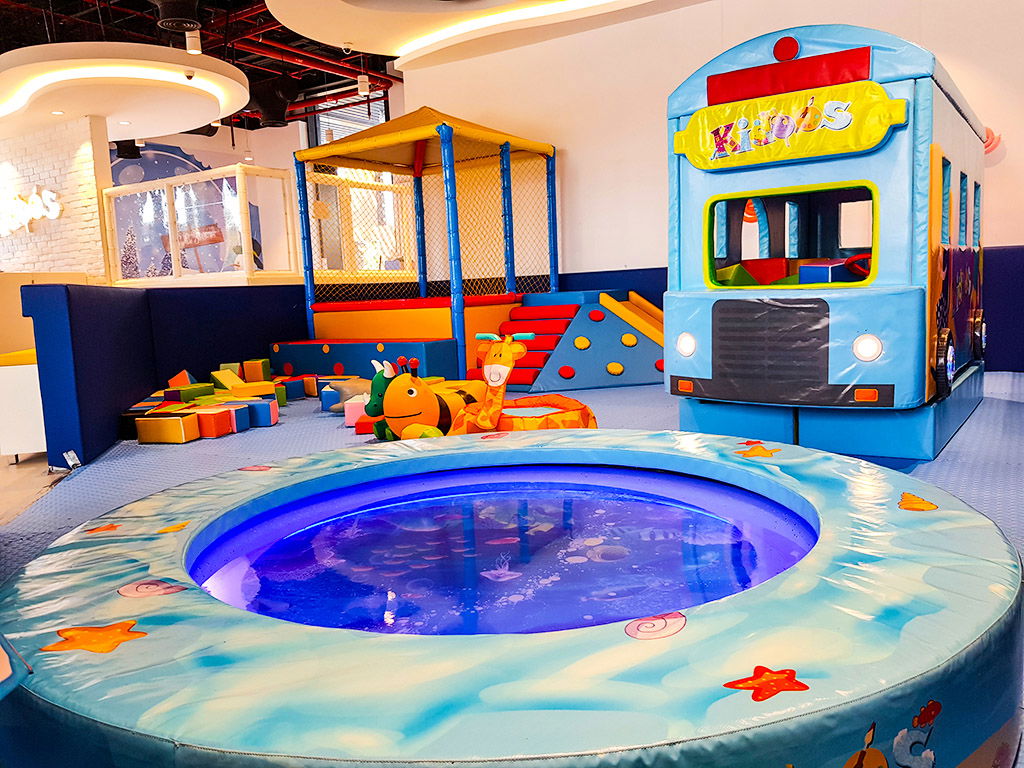 The latest addition to Port de La Mer Dubai is coming soon! 
The latest addition to Port de La Mer in the sea of Jumeirah, is coming soon. Pre-register your  interest today and be amongst the privileged ones to own a freehold apartment on the edge of  Dubai's pristine coastline. Be sure theyou have your Passport & Emirates ID to secure your  unit of choice, as Port de La Mer is in high demand.  
Best restaurants in La mer Dubai 
There are many classic restaurants in La Mer Dubai on the beachfront that will serve you many  delicious cuisines with many flavors and different international dishes. Let's take a look at La  Mer Dubai restaurants for pizza, burgers, seafood, Lebanese and Turkish, in addition to the  healthy La Mer restaurants Dubai that you can visit: 
Amorino Gelato Café:
If you prefer sweet food, this is the place for you. This café features by serving sweet  delicacies dishes that satisfy sugar cravings. All the foods here are made with organic products  so you can enjoy your dishes without any worries. 
Bareburger La Mer Dubai Restaurant:
This burger restaurant in La Mer Beach Dubai Jumeirah focuses on preparing organic burgers  for beach visitors. The prepared burgers are completely free of any kind of preservatives or  additives, but even in the absence of all those other things, the burgers here are just as tasty and  juicy as the regular burgers. 
Levee Café & Lounge:
This café is very elegant in the beach lounge. The elegant ambiance of the place will make you  at ease. Grab a coffee in the café, then grab a hearty meal and enjoy the scenery in front of  your eyes while relaxing near the beach. 
Makan Restaurant:
This is another restaurant that serves delicious Middle Eastern dishes to you. All dishes served  are authentic and absolutely delicious, and will surely relax there after a long day at the beach.
Salt La Mer Dubai
From the original food truck on Kite Beach in Dubai to the new branch at La Mer, taste the  finest Burger with your friends and family and enjoy a simpler lifestyle. The truck had long  lines and attracted large crowds wherever it appeared. 
La Mer Dubai Cafes: 
The Duchess Café:
Dubai's most modern La Mer Waterfront Café welcomes you to experience the comfort by the  interior design that inspired from the living room, elegant and contemporary. The Duchess is  where contemporary dishes are savored in a stunning space overlooking some of the best views  of Dubai's La Mer Beach. 
Maison de Juliette Café:
The Maison de Juliette Café brings art of living to a glamorous city with a charming, modern  and contemporary space. The menu is rich and varied, with highly artisanal dishes and desserts. 
From the moment you enter the Maison de Juliette, touches of femininity are undeniable with  the pink color filling the space, contemporary textures and furniture, creative patterns and  twinkling lamps. 
Maison de Juliette is where you will meet old friends for a cup of traditional coffee. It is a  place where businessmen hold meetings and discuss their goals for the future. 
Cupagahwa Café:
Cupagahwa is a world class coffee shop chain with a local Arabic flavor. La Mer branch offers  high quality coffee, tea and cocoa in addition to a carefully selected group of delicious, healthy  foods and desserts, each of which offers a special and unique touch in the best cafes of La Mer  Dubai. 
Entry fee for La Mer Dubai 
Entry to this wonderful tourist destination is free and there are car parks available for visitors at  low prices, all you have to do is enjoy and relax at La Mer Dubai and take pictures next to the  wooden boats. 
To know more about the activities in the beachfront of La Mer Dubai, visit the official website.
Shops in La Mer 
There are many local and international brands that offer the latest fashions of unique clothing  and shoes:- 
∙

Bayt Al Saboun Alloubnani 

∙

Beach Bunny: Beachwear 

∙

98 Coast Av.Beachwear 

∙

Ibn Sina Pharmacy 

∙

FRANBERRY: Serves a variety of household and everyday needs 

∙

Virgin Megastore 

∙

Trina Turk 

∙

Via Rodeo 

∙

Vicens 

∙

Tarsam oddities 

∙

Swives 

∙

Sun Eye Optical 

∙

Sephora 

∙

SevenFriday Dubai 

∙

Marching tea 

∙

Neo Noir Beauty Center 

∙

Pain de Sucre 

∙

OptiFashion 

∙

Glasing 

∙

I Love Dubai 

∙

Cushion Caps 
La Mer Jumeirah Services 
There are many services available in la Mer Dubai for visitors and tourists such as:- • ATMs 
Vehicle locating devices on the parking floors 

Smart Police Station 

Free tour buses 

Free Wi-Fi
The second phase of La Mer Project 
Meraas expects to open the second phase of the La Mer Jumeirah project during the year 2019,  and revealed that the second phase, which was called "The Wharf", will include a water park  that includes a huge ski hall, a cinema, hotels, additional stores and a restaurant. 
Hotel near La Mer Dubai: 
Luxury hotels:
∙ Bulgari Resort Hotel: Bulgari Hotel & Resorts is located in Dubai on Jumeirah Bay and  is one of the most luxurious hotels in Dubai. It is an island carved in the shape of a  seahorse, bordered by a 300-meter-long bridge to the coast of central Dubai. The views  from the hotel are incomparable over the sea. The resort offers 101 rooms and suites, as  well as 20 Bulgarian villas with a pool, garden and sea view. 
∙ Address Boulevard: With direct indoor access to the Dubai Mall, Fashion Street and  metro station, Address Boulevard is the perfect place to stay for anyone coming to Dubai  for leisure, business or shopping. It offers 3 swimming pools with amazing views of Burj  Khalifa and Downtown Dubai and is only 2.4 miles from La Mer Dubai. 
∙ Armani Hotel Dubai: Symbolizing the global brand Giorgio Armani, this hotel has a  private entrance and occupies 11 floors of Dubai's famous skyscraper, Burj Khalifa. It  has a luxurious spa and has direct access to the Dubai Mall. 
Mid-cost hotels:
∙ Jumeirah Emirates Tower: This hotel is located on the bustling Sheikh Zayed Road, just  minutes' drive from the Dubai Mall. The hotel offers unlimited access to the Wild Wadi  Waterpark and access to the beach that embraces Dubai's La Mer in Jumeirah. Jumeirah  Emirates Towers has 400 rooms and suites and is home to 13 dining venues, including  
multi-award winning restaurants. 
∙ Rove La Mer Dubai: Discover the heart of La Mer, it is designed by Meraas,. Rove La  Mer has 366 rooms, the design is inspired by its local environment each room features sofa beds, coffee makers, and free bottled water. 49-inch Smart TVs, free WiFi,  bathrooms offer rainfall showers and hair dryers. Other amenities include laptop compatible safes, phones, and desks. It is a 5-minute walk of Rove La Mer Beach,  Mercato Shopping Mall are within a mile (2 km). There is also a bar, restaurants, private 
beach, a water park, an outdoor pool, free parking, and an airport shuttle (available 24  hours) for AED 150 per vehicle 
∙ Ascott Park Place Hotel: Located on Dubai's famous Sheikh Zayed Road, near the Dubai  International Convention and Exhibition Centre, Ascott Park Place Dubai offers  spacious and luxurious apartments within the 60-storey Park Place tower. 
∙ Sea View Hotel: This elegant 4-star hotel overlooks Dubai Harbor and offers a free  shuttle service to Jumeirah Beach. It features a spa, fitness centre and a rooftop terrace  with far-reaching views. 
Cheap hotels:
∙ Rose Rayhaan by Rotana Hotel: The hotel is the benchmark for comfort and elegance in  Dubai, with a height of 333 meters and 72 floors, and is the third tallest hotel in the  world. This hotel is located on Sheikh Zayed Road, 3 minutes from the Dubai  International Financial Centre (DIFC) and a step away from the Financial Centre metro  station. 
∙ Gevora Hotel: The hotel includes 528 rooms from deluxe rooms to spacious two bedroom suites with all amenities to suit traveler's needs, whether for business or  leisure. 
∙ Towers Rotana: The Towers Rotana is a luxury 4-star hotel located on the prominent  Sheikh Zayed Road in Dubai, next to Burj Khalifa (the tallest building in the world) and  10 minutes from the Dubai Mall, Dubai International Financial Centre and Jumeirah  Beach