Dubai Mall Aquarium & UNDERWATER ZOO: Ticket prices – opening hours – activities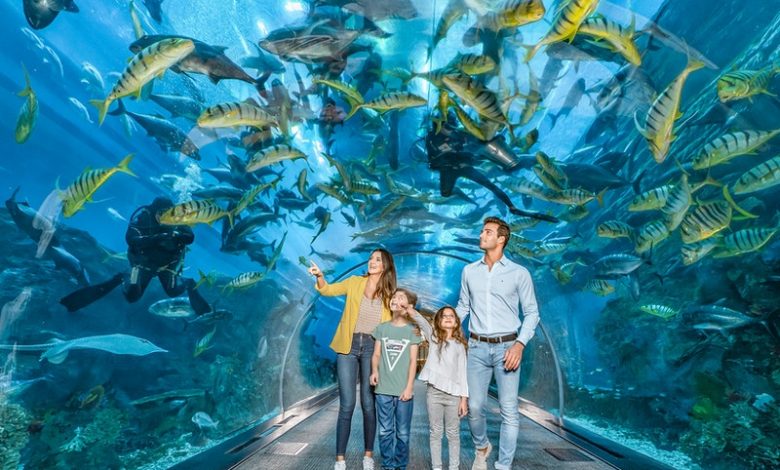 The Dubai Mall Aquarium is the largest indoor aquarium in the world, and is considered one of  the best places for tourism in Dubai, with a size of 51 x 20 x 11 meters, with a capacity to  accommodate 10 million liters of water. Located on the ground floor of The Dubai Mall, The  Dubai Mall Aquarium houses more than 33,000 aquatic animals of more than 200 species, such  as sharks and stingrays. 
All you need to know about the Underwater World of Dubai Aquarium 
The most important things to know about Dubai Aquarium & Underwater Zoo 
Dubai Aquarium is one of the most important attractions in Dubai that attracts tourists from  young and old, and it includes more than 140 species and includes about 400 sharks, where you  can see a rare group of tiger sharks that will make you feel amazed. 
Walking through the Dubai Aquarium's 48-meter tunnel gives you wonderful 270-degree views  of the giant Aquarium; you can also enjoy seeing many of the rare marine species that in Dubai  Aquarium, which includes sea otters, piranhas, penguins and many other interesting animals In  the Dubai Aquarium. 
The Dubai Aquarium rises to the third floor of the Dubai Mall, which contains many retail stores  and a wide range of international and local restaurants and cafes. 
Best activities in Dubai Aquarium & Underwater Zoo 
Free diving with sharks, accessible to all, Dubai Aquarium also offers specialized diving  programs exclusively for PADI-certified visitors to help them explore the underwater  wonders of the Dubai Aquarium and Underwater Zoo.  
Cage Snorkelling which is considered one of the best activities to do in Dubai Mall Aquarium &  Underwater Zoo that can only be obtained in the Dubai Aquarium Park, it is the safe option  to enjoy close encounters with thousands of aquatic animals at once. You just need to wear  snorkelling gear, get into a cage and dive into an aquarium full of different species of  

aquatic animals including sharks and rays, clown fish, caiman, and swim with mighty  whale sharks in the salt water. 

Dubai Aquarium visitors of all ages can do all of these activities but they have to wear  diving equipment and follow the coach's instruction.

Ride the glass-bottom boats, and this is another way to get an unforgettable experience of  watching the marine life closely, as well as feeding the marine creatures in the Dubai Mall Aquarium, where the beautifully designed glass boat will take you on an enchanting  journey with these rare fish, and the boat accommodates up to 10 People that take them along the 10 million liter water tank for about 15 to 20 minutes. 

Try the backyard facilities in the Dubai Aquarium & underwater zoo, in which visitors are  taken on a tour, where they can learn about the efforts made to care for the aquarium and  the marine life in it, as well as feeding the baby sharks, and learning about the shark  breeding program at the Dubai Aquarium. 

Dubai Mall Aquarium has a Shark exhibition that takes you to come face to face with sharks,  those commonly misunderstood creatures, which are usually marine predators but  experience will prove to you that the nature of predation is only one aspect of the life of  these wonderful creature, which play an essential role in the marine ecosystem. 

Dedicated programs to Little Aquarist, there are countless programs designed especially to  entertain and educate kids of different age groups at The Dubai Mall Aquarium&  underwater zoo, most notably the Johnny Aquarist programs for kids aged 5-7, and the  large Aquarist program designed for kids from 8 years old and above, which is presented in  the Dubai Aquarium regularly. 

Enjoy watching the forests in the VR zoo experience, in which you experience the real  excitement of wild animals up close with the most amazing animals in the world, chosen  from all over the world from their natural habitats to live in Dubai Aquarium, where we see  families of gorillas that were originally in Uganda's Impenetrable Forest, you can also track South African elephants across the lush savannah. 

Dubai Aquarium's Shark Walker, if you are not too thrilled about getting your hair soaked,  yet wants to experience the underwater world of the Dubai Mall Aquarium. You can experience  close encounters with sharks, rays and many other aquatic species just by signing in for the  Shark Walker experience. To experience this you are required to wear a white custom  made helmet, which primarily helps to breathe comfortably underwater and at the same  time keeps your hair dry. Get ready to spend 25 thrilling minutes immersed in the  underwater paradise. See thousands of fishes from a close distance and enjoy unique  underwater encounters. 

Shark Dives. If you are a good diver then you have to experience the unforgettable thrilling  adventures. In the Dubai Aquarium, all you need to do is to dive into the depths of 10- million litre aquarium tank. You will come face-to-face with the world's largest collection  of Sharks in one of the most popular attractions in Dubai Mall Aquarium & Underwater Zoo. 

You don't have to be a certified diver. Anyone in Dubai and from all over the world can  dive in without any certificate. 

Aquarium shop Dubai / fish Aquarium Dubai 
The Aquarium shop offers a wide selection of products relating to the Aquatic wonderland.  Want to take something that will remind you of the wonderful aquatic wonderland  experience? Stop by!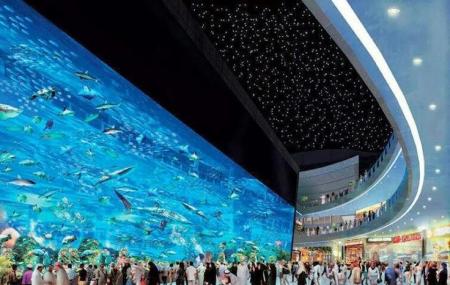 Dubai Aquarium & Underwater Zoo Timings  
∙ Dubai Aquarium & Underwater Zoo working hours from 10:00am to 12:00am  ∙ In Ramadan working hours from 10:00am to 2:00pm 
For more information about the Dubai Mall Aquarium & Underwater Zoo, please visit the official  website. 
Ticket prices for Dubai Aquarium and Underwater Zoo 
Here are the prices of Dubai Aquarium tickets: 
Dubai Aquarium ticket price is 235 AED. The ticket gives you the possibility to enjoy all  the facilities of the Aquarium  

Diving in Dubai Aquarium coasts 595 AED, and for training in diving coasts more than  900 AED. 

For more information about Dubai Mall Aquarium ticket prices, visit the official website.
Best hotels near Dubai Mall Aquarium & Underwater Zoo.  
Swissôtel Al Murooj \ Roda Al Murooj Hotel Dubai 
The five-star Roda Al Murooj Hotel is one of the most famous hotels in Dubai because of its  location near Burj Khalifa, Dubai Mall, Dubai Aquarium and many of Dubai's attractions. 
The hotel contains many famous Dubai restaurants such as the Lebanese Mawal Restaurant and  Pergolas Restaurant, which serves international cuisine.
Vida Downtown Hotel Dubai 
Vida Hotel is one of the most distinguished hotels in Dubai because of its design inspired by  Arab architecture. 
The hotel contains a health centre and a beauty salon that meets the diverse needs of guests, in  addition to it is close to many tourist attractions, including the Dubai Mall Aquarium, Burj Khalifa,  Dubai Mall, Souk Al Bahar, and Dubai Fountain.