Top 7 activities at Souk Madinat Jumeirah Dubai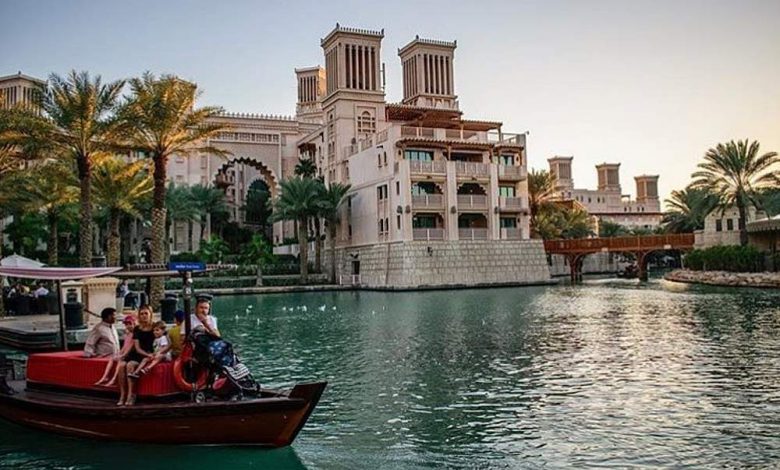 Where is Souk Madinat Jumeirah Dubai located? 
Souk Madinat Jumeirah Dubai is one of the exceptional architectural landmarks in the  charming city, Dubai, as it is a distinctive civilized and archaeological area, as one of the most  famous tourist attraction in Dubai. It is unique with its picturesque facilities of a contemporary  tourist style with luxurious designs, and this grand architectural edifice is very similar to the  city of Andalusia and the amphitheaters of Spain. 
Although Souk Madinat Jumeirah Dubai was established in 2004 AD, it impresses its visitors,  especially with the sessions that the Souk has hosted, and it is open to the alleys and cafes in  the city center, so you should not miss visiting the famous Souk Madinat Jumeirah Dubai. 
Here is a guide about the Souk Madinat Jumeirah Dubai, if you have the opportunity to visit  Souk Madinat Jumeirah, and enjoy its picturesque view, modern environment, and the  romantic nature of the Souk at night, as it is located on the sea line of luxury hotel resorts in  Dubai, which is a strategic location 
Souk Madinat Jumeirah Dubai 
Souk Madinat Jumeirah comes at the top of the list of Dubai's fun and dazzling Souks, as  you find it in the form of several shopping complexes in the form of an old Souk inspired by heritage, in which products are displayed on the doors of shops and  platforms, these shops offer customers all the products that may come to your mind. 

It is recommended to visit Souk Madinat Jumeirah for the unique experience that you  will have there, it is one of the traditional Souks with a unique modern touch, it is an  integral part of Madinat Jumeirah, as it is a witness to the entire history of the Emirate of  Dubai 

There are plenty of things to do in Souk Madinat Jumeirah, and one them is wandering through its corridors, which carry dazzling aromatic scents, as well as enjoy bright fabrics colors, and the bright lights of it, a calm and fun atmosphere that gives you  

pleasure while shopping in Souk Madinat Jumeirah, as well as theatrical performances  In the city theater and exciting nights. 

Do not miss the opportunity of buying some souvenirs from the exhibits at Souk  Madinat Jumeirah Souk, where you can buy some handicrafts such as jewelry and  ornaments and antiques, and you can also buy some antique pieces of art, which mix  between authentic Arab design and contemporary artistic modernity.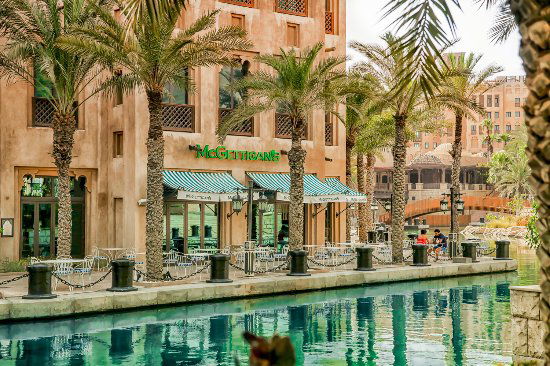 Madinat Jumeirah Souk in the Emirate of Dubai 
Shops in Souk Madinat Jumeirah are unique in offering all the goods, handicrafts and  products that visitors accept to buy, such as woven wool shawls, and handicrafts such as  elegant bedspreads, in addition to selling locally produced dates in Dubai, coffee  utensils, silver and copper swords, as well as Persian carpets and rugs 

Souk Madinat Jumeirah Dubai is home for a wide range of restaurants and cafes, up to  about 20 cafes and restaurants at the front side, which provide you with a suitable  environment to relax and enjoy your time, in addition to the waterway at Souk Madinat  Jumeirah, which you can move Through it, by taking the Abra boats, until you reach the  hotels next to Madinat Jumeirah Souk.  
Hotels close to Souk Madinat Jumeirah, Dubai 
Jumeirah Al Qasr Hotel 
Jumeirah Al Qasr Hotel is one of the best Dubai hotels near the luxurious Souk Madinat  Jumeirah. It is a five-star hotel. It provides luxurious services for visitors, and also provides  easy transportation to a private beach located only about 2 kilometers away. It features wide  and picturesque gardens inspired by calm nature. 
The hotel rooms are spacious and overlook the Arabian Gulf or the hotel grounds with creative  views. These rooms include private balconies, an elegant dressing area, as well as a rain  shower cabin, and unique-style furnishings, and there is also the hotel's restaurant that serves  various seafood dishes.  
Dining in Souk Madinat Jumeirah  
There are several dining options in Souk Madinat Jumeirah restaurants, which serve plenty of international cuisines that will satisfy every individual's appetite. The historical atmosphere  seamlessly blends modernity with tradition, and provides a charming background to these  dining restaurants.  
Restaurants in Souk Madinat Jumeirah 
Trattoria Toscana Restaurant 
Visit Trattoria Toscana restaurant and enjoy authentic Italian cuisine that is prepared with a  Mediterranean touch.
Times of Arabia Restaurant 
This restaurant attracts visitors for the Middle Eastern cuisine and its flavorful shisha. 
Pai Thai Restaurant  
While taking in the views of the serene waterways, you can relish fresh seafood delicacies at  the romantic setting of Pierchic or experience fragrant curries and full-flavoured bites at Pai  Thai. 
Publique Restaurant 
For laid-back, you can relax on the chalet-style terrace at Publique with friends and enjoy  dishes and crafted drinks in a fuss-free atmosphere. 
Souk Madinat Jumeirah Timings  
Souk Madinat Jumeirah opening times of the shops from 10:00 am to 11:00 pm, while the  restaurants stay open from 08:00 am to 02:00 am. 
How to get to Souk Madinat Jumeirah? 
Although there are cars parking in the basement of Souk Madinat Jumeirah, it is recommended  to consider public transportation instead of your car since finding a parking space can be a  challenge especially during weekends and holidays, you can take a taxi or bus 8, 81, F55A and  X28 lines that stop at one of the nearest stations on a 10-minute walk away.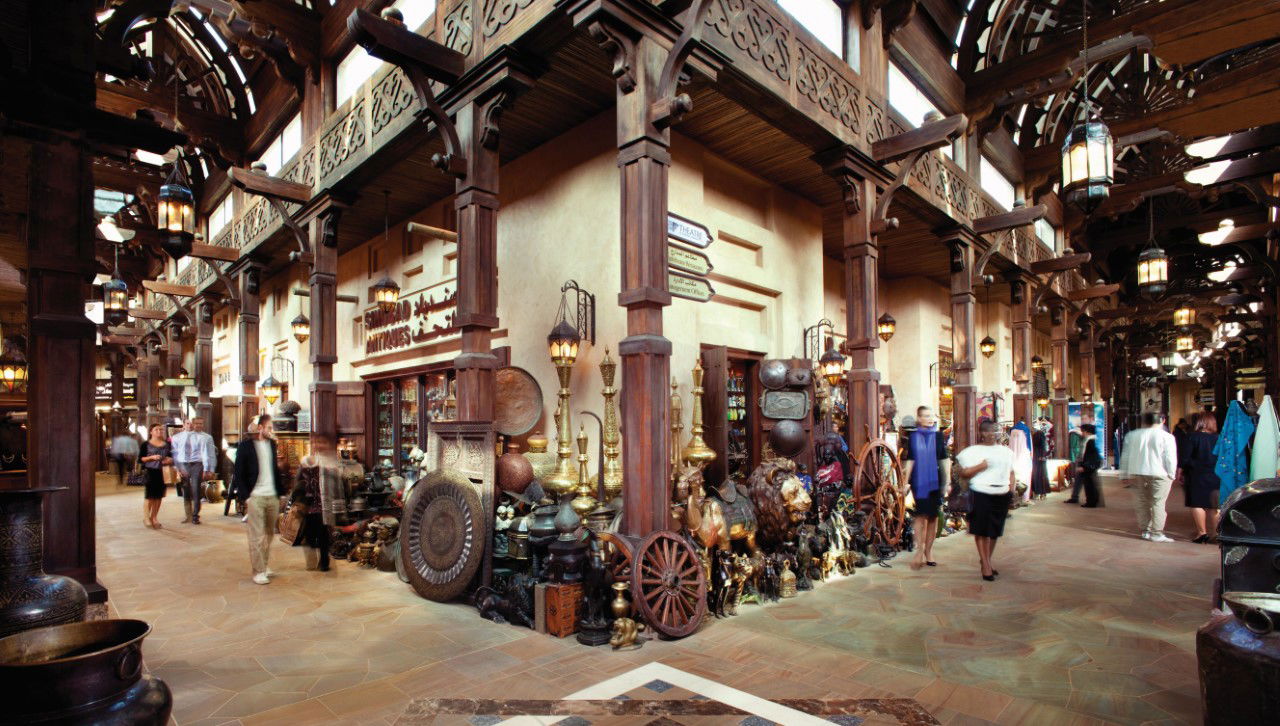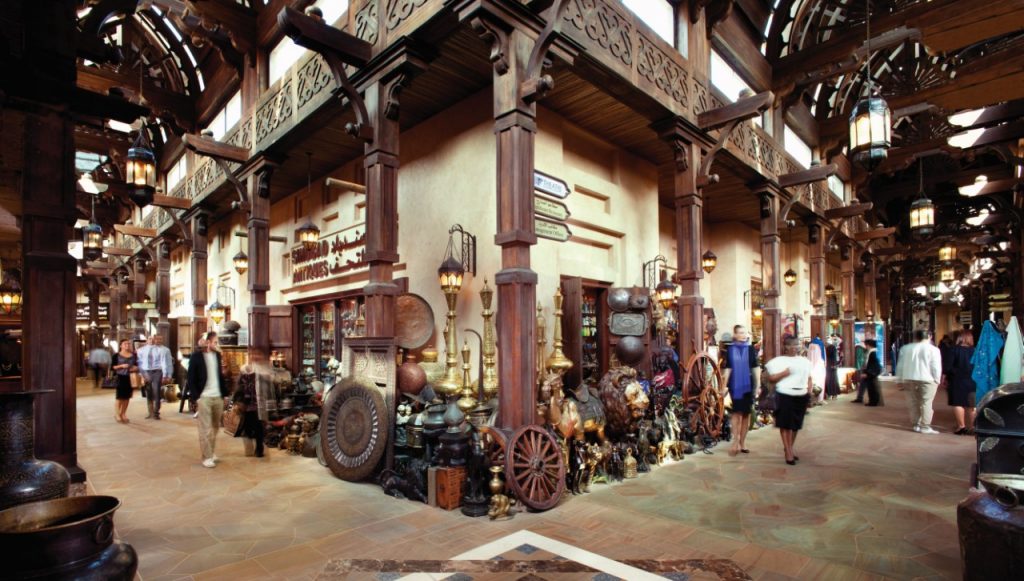 Souk Madinat Jumeirah location  
Souk Madinat Jumeirah Dubai is located in Madinat Jumeirah Umm Suqeim, Emirate of  Dubai, United Arab Emirates, through it you can reach downtown Dubai, its lively  streets, and there various attractions in Souk Madinat Jumeirah.  

Souk Madinat Jumeirah also provides free car parking services, in addition to that Souk  Madinat Jumeirah is equipped to serve disabilities, paralyzed and wheelchair users,  making it easier for them to move between the Souk's corridors. 
Souk Madinat Jumeirah location