Best places to rent a jet ski in Dubai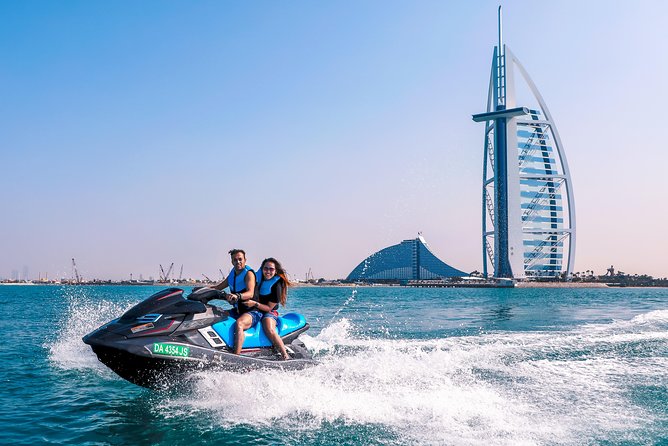 Dubai as a coastal city with its distinctive beaches, warm Arabian ocean and incredible architectural backdrop which make it one of the best and most ideal places to Jet Ski in the world. See the sites of Dubai from the water on this Jet Ski tour Dubai along the city's waterfront. You can stop in front of the Burj Al Arab, Atlantis, Palm, Burj Khalifa and many famous landmarks. If you are a fan of this sport, follow this list.
There are three main areas to have ride in Dubai Jet Ski, Jumeirah Beach Residence,  La Mer Beach and Umm Suqeim Fishing Harbour.
Here are the best rental companies for jet ski in Dubai.
Jumeirah Open Beach
JBR is a unique area for an unforgettable water experience. If you are looking for jet ski rentals in Dubai near JBR we recommend:
Sea Breeze
As it is considered one of the best places Which offers best jet ski tour in Dubai, in addition to other water sports.
    Jet Ski Dubai price by Sea Breeze
Jet Ski price for 15 min 210 AED per passenger
Jet Ski price for 30 min 375 AED per passenger
Jet Ski price for 60 min 700 AED per passenger
Hydro Water Sports
It is located on The Walk at Jumeirah Beach Residence. Renting a jet ski from here allows you to capture the natural coastline featuring the many fantastic hotels and Bluewaters Island which features the largest Ferris wheel in the world, plus the Palm Jumeirah can be seen from here. Also it is particularly impressive at night where the jetpacks light up the water. Hydro Water Sports don't offer tours like most of the rest but are still one of the best places to rent a jet ski in Dubai.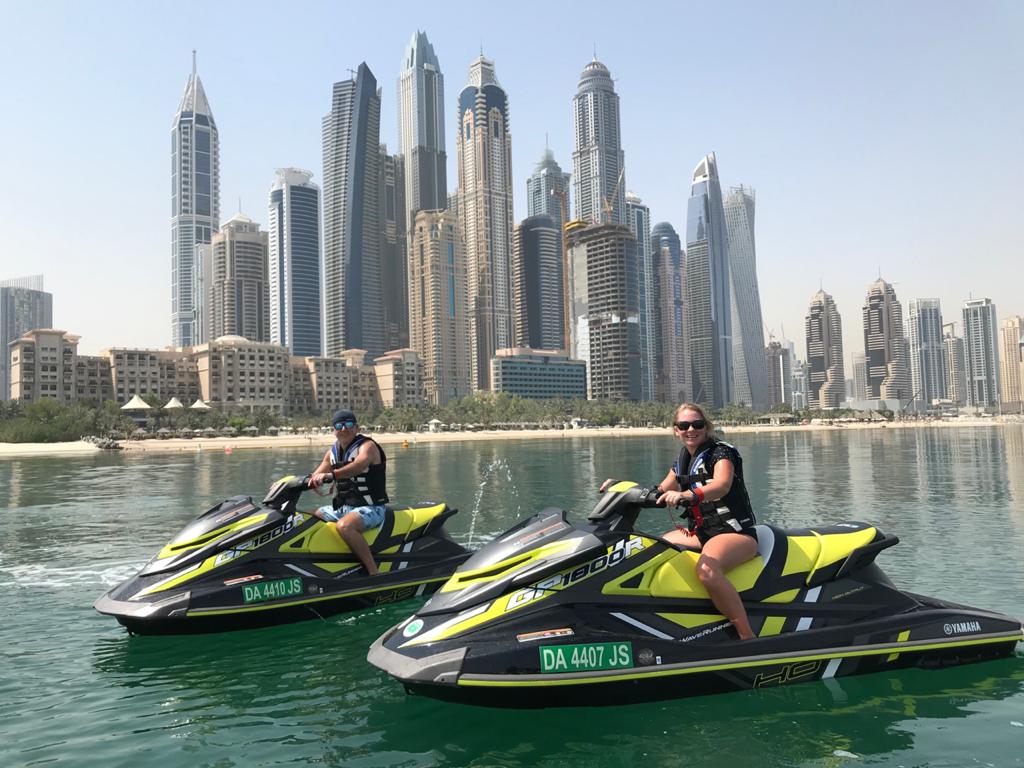 Jet Ski Dubai Adventures
Jet Ski Dubai Adventures is located near Jumeirah Beach Residences. It is next door to the Marina Byblos Hotel.Here you can choose between Jet Skiing in Dubai Marina or out in the Arabian Sea of Jumeirah Beach.
The jet ski tours features views of The Atlantis Hotel, Burj Al Arab and other luxury landmarks on the Dubai coastline.
Jet Ski Dubai price by Jet Ski Dubai adventures: 
Prices are per Jet Ski and allow either 1 or 2 passengers  start at 380 AED for the sea tours and 630 AED for the Marina Tour. Prices increase according to the time that you want; either 30,60 or 90 minutes.
The La Mer Beach 
La Mer Beach is one of the distinctive beaches in Dubai, as it includes many hotels, restaurants, and entertainment facilities. Jet Ski rental companies on La Mer Beach is one of these facilities:
First Yacht
Water Sports by First Yacht at La Mer is the best option to have a thrilling jet ski experience. It offers various water activities as well including kayaking, paddle boarding, surfing and fly boarding.
Jet Ski Prices at La Mer Beach Dubai Jet Ski (up to 2 persons):
195 AED for 15 minutes
350 AED for 30 minutes
580 AED for one hour
Jet Ski tour (up to 2 persons):
810 AED for 1 hour and 30 minutes (from 09:30 am to 11:00 am)
670 AED for one hour (from 11:20 am to 12:20 pm)
590 AED for 50 minutes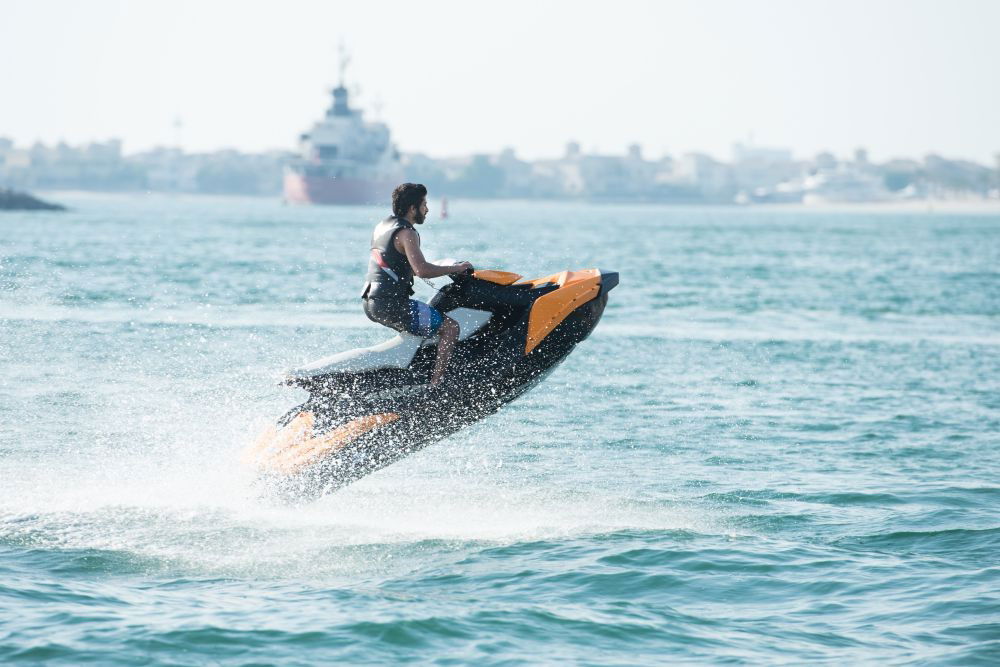 Umm Suqeim
Umm Suqeim is a bustling area known for surf beaches, here are the best jet ski rental companies
Sun and Fun Water Sports
It is located near to Fishing harbour Umm Suqeim 2. This company provider offers better tour guides and prices and packages here are a little different as you can have one of three tours.jet ski tour Burj al Arab, jet ski Dubai Marina or jet ski Atlantis Hotel and The Palm Island.
Popeye Jetski Rental
Experience Dubai from a different perspective, Popeye Jetski Introduces you to the pleasure of jet skiing with the latest model of overpowering jet ski you can take a picture of you at the foot of the iconic most luxurious hotel in the world. Burj Al Arab. Also there are all the facilities that you may need.
Nemo Watersports
Which is one of the best jet ski rental Dubai companies, where you can have a unique holiday with best marine activities in Dubai. You can have a jet ski tour family, as a couple, with friends or solo. The tour is all around Dubai's top attractions, skyscrapers, and iconic buildings such as the luxurious hotel the Burj Al Arab, you have the option to ride further, to Jumeirah Beach Residence JBR, Dubai Marina Skyline, the Palm Jumeirah, Atlantis hotel, and Burj Khalifa,
Sea Ride Dubai
If you are looking for a cheap jet ski Dubai, then Sea Ride Dubai is the best choice. As it considered cheaper than those of the previous The packages here are similar to the other companies but you can save your money. The only difference is, due to location but you can do a tour of the Burj Khalifa which is worth it.  Jet ski Dubai price:
30 Minute Burj Khalifa Tour – 315AED
60 Minute Burj Al Arab – 525AED
2 Hours Atlantis 840AED