Top activities at Kite Beach Dubai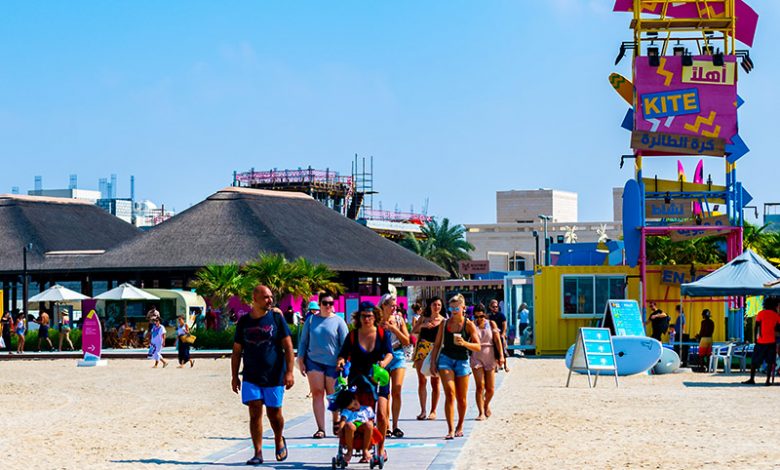 Where is Kite Beach Dubai located ? Dubai's beaches are one of the mainstays of tourism in  Dubai, due to imaginary, most beautiful and picturesque waterfronts that it has, making it a  destination for receiving tourist from many countries around the world. 
Kite Jumeirah Beach embraces many water recreational activities. Kite Beach Dubai provides  the highest level of beach services for its goers, and gives its visitors unlimited luxury,  recreation and fun, especially with the events hosted by Kite Beach Dubai, suitable for all age  groups. 
Here is the most important things to know about Kite Beach Dubai, one of the most famous  and most interesting public beaches in Dubai for visitors and suitable for a family, as well as  youthful ones due to its various water sports. If you are a fan of water sports, we advise you to  visit Kite Beach during your next vacation. 
Kite Beach Jumeirah 
As soon as you visit Kite Beach Dubai, you will feel that you are on a date with fun and  pleasure, as it is time to embark on an interesting journey of entertainment mixed with  relaxation and recreation. Beach atmosphere is suitable for all ages, as it is suitable for family  members. 
Kite Beach Jumeirah provides a golden opportunity for everyone, to enjoy all kinds of water  sports; you can rent the necessary equipment from the beach, so that you can show your  amazing skills. 
You can also enjoy sitting on the white sands and have a sunbath. 
To make things easier for visitors, Kite Beach has a range of facilities to offer as shower  facilities, restrooms, umbrella rentals, beach lounge chair rentals, towel rentals, public and  private all-day parking. Everything you need for a comfortable beachside experience.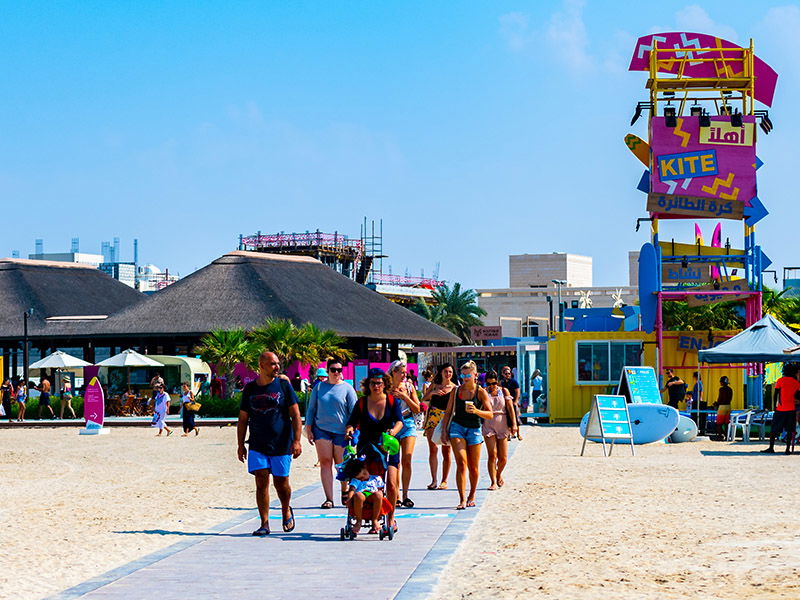 The name and awards of Jumeirah Kite Beach Dubai 
Jumeirah Kite Beach was able to win several awards, the most important one the award for the  best beach for family and field trips, based on the assessment of the Sassi Mama International  Center for Tourism in 2016. 
The name of "Kite Beach" came from the kites that fly in its sky at most times of the day, as it  considered an attraction for kids on Kite Beach as it for youth too. Have fun while enjoying  the emerald green waves of the Arabian Gulf.
In the middle of the day, do not miss watching the challenges of kitesurfing in the water,  where the air speed increases to a large extent, and then the waves follow it to announce the  readiness to confront the lovers of water skiing 
Kite Beach Dubai Activities and Events 
Kite Beach Dubai embraces a variety of sports that give visitors a new experience of  adventure, challenge and excitement, especially with all the facilities that allow  enjoying all beach sports activities and events. 

There is a bike path where you can cycle, that path extends along the Beach, which  starts directly after the Kite Beach Dubai Hotel, and you should try this fun activity to  wander around the beach in search of more fun. 

Water games at Kite Beach Dubai have the highest levels of safety, the most important  of which are jet skiing, kayaking, windsurfing and parasailing. 

You can enjoy playing volleyball with friends or football on the soft white sand, as well  as playing outdoors under the golden sun.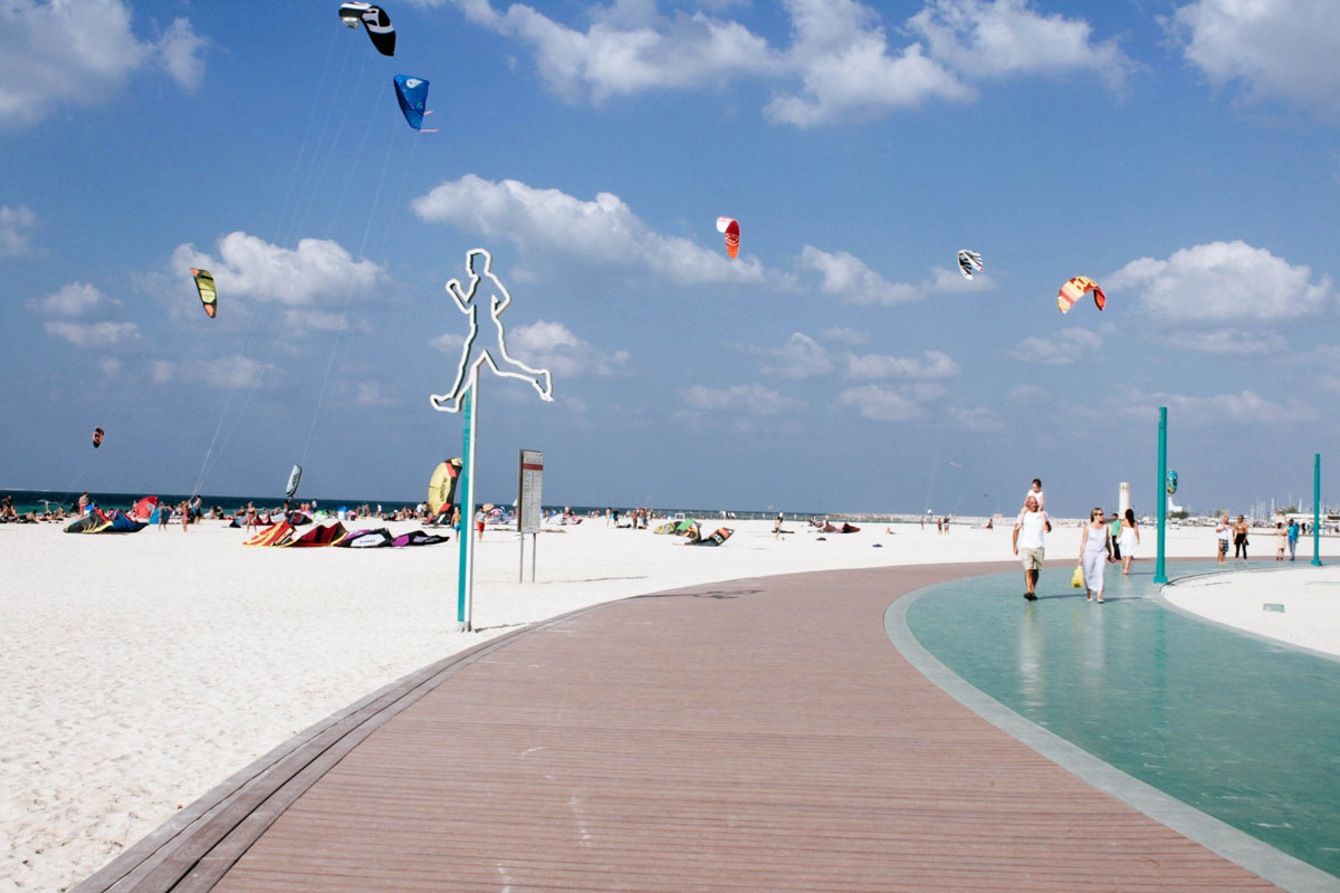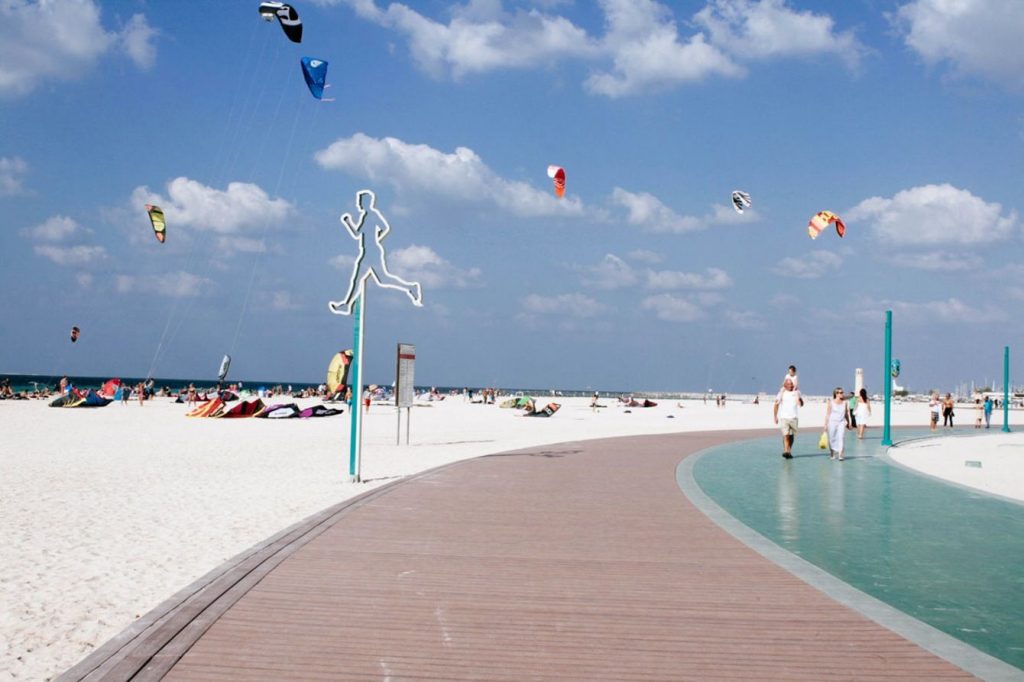 Attractions for Kids on Kite Beach 
There are many attractions for kids such as Waterpark and Wire World where kids can  have their own adventures. Wire World features everything from a giant trampoline to  an obstacle course. There is also a cool bungee swing which can launch adults and  children aged over 10, high up in the air. For smaller kids, there is the Accrobranche  Junior. 
Opening hours: 09:00 am to 09:00 pm 
Another fun kid-friendly attraction worth visiting is XPark Jr — a forest style playscape  located right of Kite Beach, where children can climb wooden forts, cook in a mud  kitchen and cross streams. An interactive learning experience that improve the love of  Nature. 
Opening hours: 08:00 am to 08:00 pm 
Cafes in Kite Beach Dubai, restaurants and stalls 
You can get the finest services in Kite Beach Dubai restaurants, which offer a variety of  delicious meals that you will not forget their unique taste; also the cafes at Kite Beach are  unique in offering a selection of the best refreshments and ice cream with distinct and elegant  sittings.
Bob's Fish & Chips Restaurant 
It is located in the form of a truck that serves the most delicious meals of fish with French  fries, in the way of traditional British cuisine, serving meals well and neatly. 
Wanna Banana  
This stall offers a unique experience in the world of ice cream, where you can choose from  frozen banana ice cream, or frozen banana pieces, with the ability to choose some added  flavors, such as cinnamon, chocolate, peanut butter and others. 
Bone and Hill Café 
This café is in the form of a small kiosk, serves some sweetened juices, along with a delicious  snack that you can eat while wandering on the Beach, and it is distinguished by its charming  aroma coffee. 
Lola Beach Cafe 
One of the most elegant cafes in Kite Beach Dubai, it was recently opened to offer elegant  sittings over the picturesque Beach view, especially from the second floor, serving various  drinks and very delicious breakfasts. 
Parking  
Kite Beach parking Dubai: You will not face any problem in parking there, there's public and private parking all-day.  
Best Time to visit Kite Beach Dubai 
Dubai's beaches shine brightly in summers; so it is always favorable to visit Kite Beach  during summers to enjoy all the beach water sport activities, sunbathing and recreational  activities under sky to make your summer vacations great.  
Kite Beach Dubai Timings  
It is open 24 hours. But swimming is allowed only until sundown.
Entry Ticket for Kite Beach Dubai 
Entry is free to Kite Beach Dubai  
Kite Beach Dubai Location  
Kite Beach Jumeirah is located across from the picturesque Jumeirah Corniche, at the  intersection between Al Manara Street and Jumeirah Street, in Dubai, United Arab Emirates.