The best activities at Dubai Gold Souk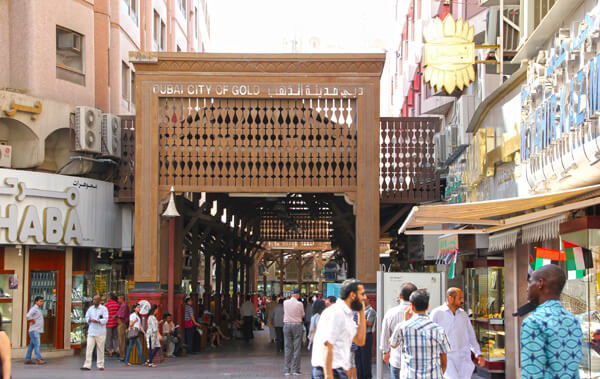 Dubai is one of the most important tourist destinations in the world. Tourists from various  countries are keen to visit it, enjoy its diverse cultural landmarks, and various recreational  activities, in which you can spend a good time, whether with your family or friends. 
Besides that Dubai is the shopping capital of the Middle East, because it embraces the largest  group of international malls and the most famous Souks in Dubai that visitors come from various  parts for them such as Naif Souk, Madinat Jumeirah Souk and Dubai Spice Market…etc, One  such famous and popular souk is the Deira Gold Souk, which is located in Deira, Dubai district,  and it is one of the tourist attractions in Dubai, also has a long history and an authentic  civilization. 
We offer you the most important things to know about Dubai Gold Souk, until you have the  opportunity to have a visit to Gold Souk Deira, Dubai while spending your vacation in charming  Dubai, and we also list the most important and best hotels in Dubai near Dubai Gold Souk, so  you can enjoy a luxurious stay just steps away from it.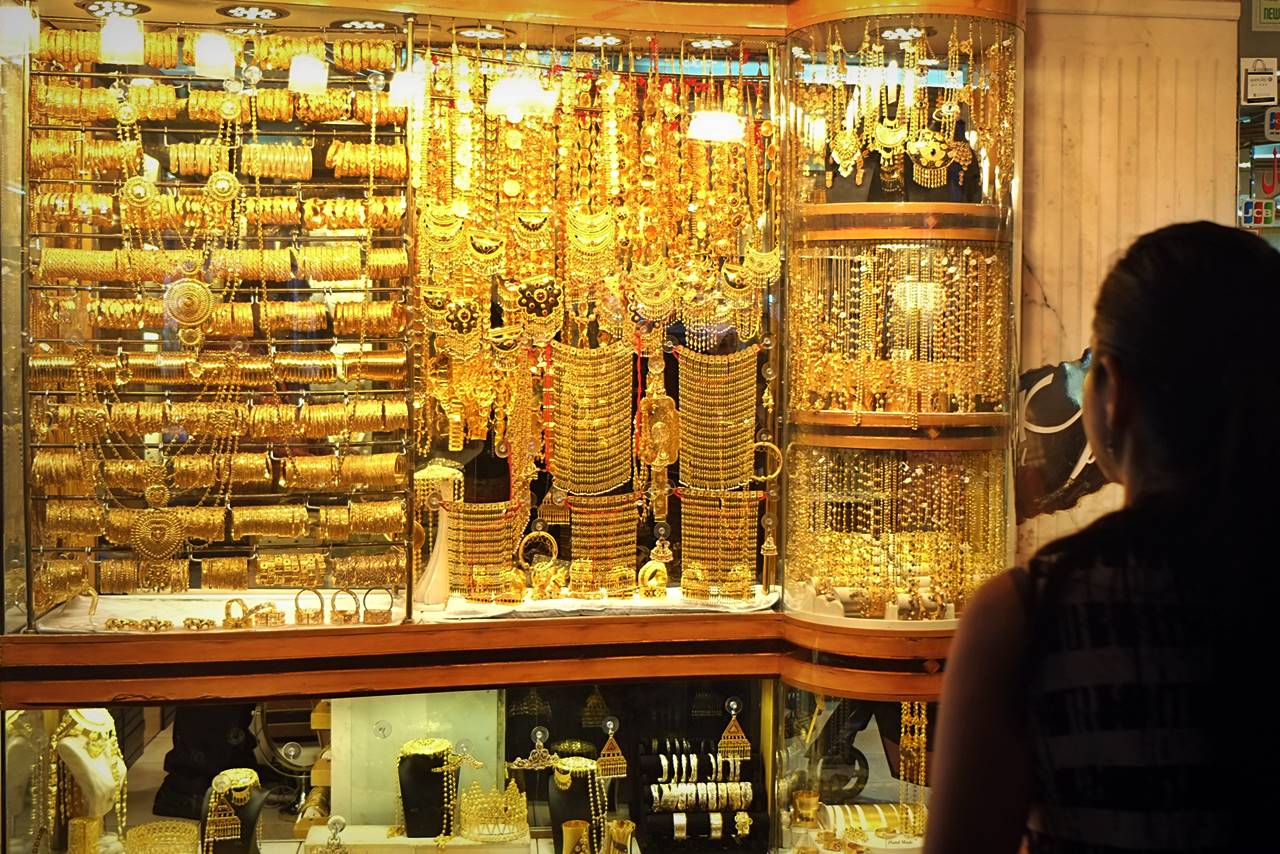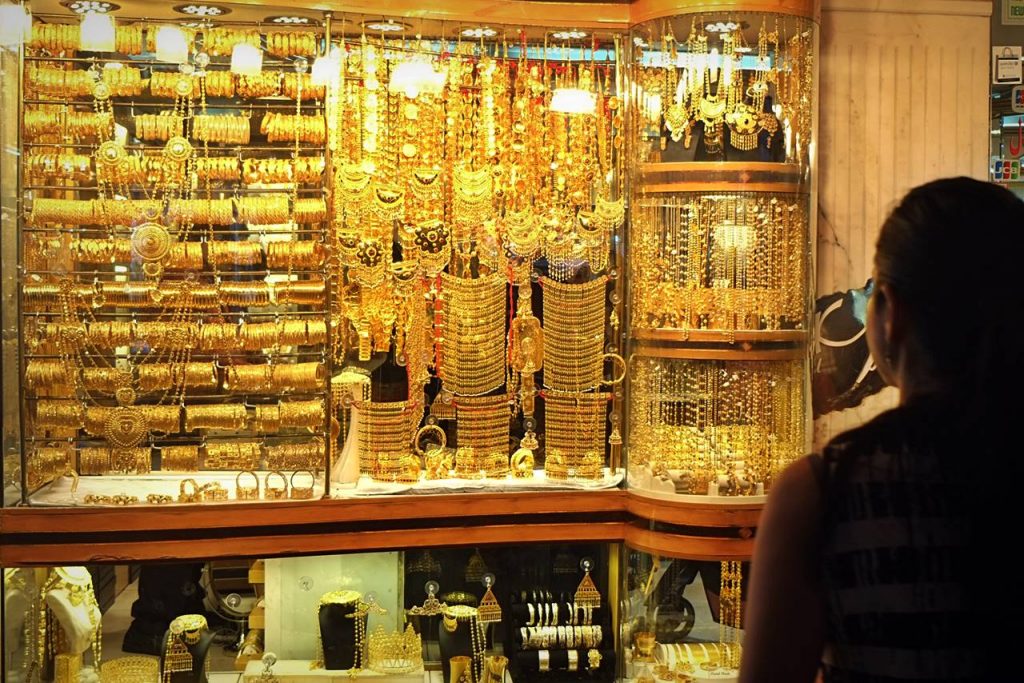 Dubai Gold Souk 
Dubai Gold Souk is one of the most wonderful Souks in the world, and it is the most  famous and most visited Souk in Dubai. You can see it from afar due to the brilliant shine  of gold of various shapes and designs, and the jewellery that shines behind the windows of  the shops there. 

Deira Gold Souk includes the largest collections of gold and jewellery to suit all tastes of all  countries of the world, and it also offers its products at competitive prices that you will not  find in any other souks specialised in selling gold in all its forms, where you find bracelets,  rings, earrings, necklaces, pins, and other gold jewellery. 

Deira Gold Souk is one of the old Souks in Dubai, as it was established in 1940, as began  with a group of traders coming from Iran and India, who established their shops at that  region, which later turned into the largest and most famous Souk for selling gold not only  in the Emirate of Dubai, but also all over the world. 

When you visit Gold Souk in Deira, you will find it is designed in the form of a network of  streets, which embraces a group of stores, lined up next to each other, and each store has a  glass front and an electronic panel that displays the daily prices of gold trading, allowing  visitors to know gold price in advance before buying. 

Even if you do not intend to buy gold pieces or jewellery, you can only visit Deira Gold  Souk to enjoy wandering among its corridors, as it takes you to feel comfortable while  wandering among the gold shops that combine originality, heritage, modernity and  sophistication in the wonderful designs of gold jewellery.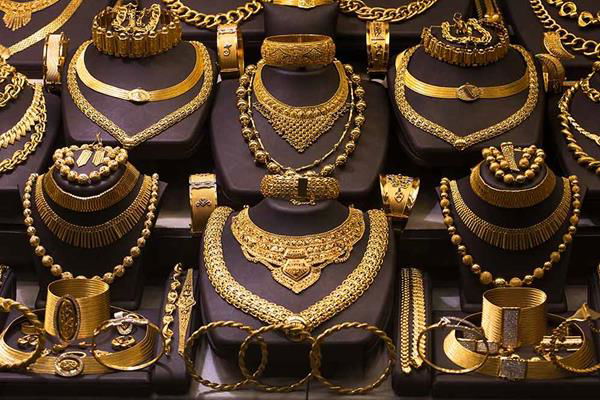 Gold Souk, Deira Market Timings  
Do not miss visiting Dubai Gold Souk on the days from Saturday to Thursday, as Gold  Souk Market opens from 10:00am to 10:00 pm. 

On Friday, Dubai Gold Souk Market opens from 4:00 pm to 10:00 pm. 
Best activities in Dubai Gold Souk 
Shopping at Deira Gold Souk will be charming for its various stores, which offer different  shapes and types of gold jewelry, which vary between 18 and 24 karats, as well as a  distinguished group of gold jewelry studded with pearls, diamonds and silver. 

If you want to buy a gold piece, you can buy it from Dubai Gold Souk at reasonable and  excellent price, prices there are not comparable to any other Gold Global stores. Among  the most famous stores at Deira Gold Souk are Shyam jewelry store, Damas store and Joy  Alukkas store, in addition to a group of other stores. 
Hotels near Dubai Gold Souk 
There are many hotels near Dubai Gold Souk that provide visitors with luxurious  accommodation, and they are very close to the rest of the famous Souks in Dubai. Here are some  of the best hotels near Deira Gold Souk so that you have the opportunity to choose the most  suitable for you among them. 
Radisson Blu Hotel 
Radisson Blu Hotel is one of the most luxurious hotels near the Dubai Gold Souk. It is  located in Deira district of Dubai, in a prime location near the bus and metro stations. The  hotel is only 7 km from Dubai International Airport. The hotel also provides its visitors  with a fitness center and business center, as well as free internet services.

The hotel is a five-star luxury hotel. Its rooms and suites include a private balcony and all  visitors' supplies, the most important of which are coffee and tea bar, and a flat-screen TV.  The hotel also provides 9 dining venues, including a pastry shop and an international  restaurant serving delicious dishes 24 hours a day. 
Hyatt Place Dubai Baniyas Square 
Hyatt Place Dubai is on the list of hotels near Dubai Gold Souk, located in Al Nasser  Square, Dubai, on the eastern side of Dubai Creek, and it also guarantees its visitors easy  access to several landmarks in Dubai, and the hotel provides guests with a restaurant open  around the clock with a free breakfast every morning. 

The hotel rooms are designed in an elegant style, and include all the service facilities that  visitors need. The rooms have flat-screen TVs with satellite channels, and free Wi-Fi, and free parking as well, and the reception works throughout the day. 
How to go to Deira Gold Souk?  
You can reach Dubai Gold Souk easily, through the metro, or take the bus from the Al Ras  station, or take a taxi. If you are looking for fun, you can take a water taxi at Dubai Creek to reach Deira Gold Souk. It is recommended to use public transportation rather than your own car,  at Deira Gold Souk, parking can often be difficult to find.  
Where is Dubai Gold Souk Located 
Once you decide to visit Gold Souk Deira, you quickly wonder where this Gold Souk is  located in charming city of Dubai. It is simple, as Deira Gold Souk is located in Al Sabkha  Street in Dubai, in the United Arab Emirates, and Dubai Gold Souk is distinguished by its  location near several famous landmarks in Dubai, it is also located near Souk Naif and the  Spice Souk, the most famous Souks in Dubai. 
Dubai Gold Souk Location