Souk Al Bahar Dubai – Restaurants – Shops – Activities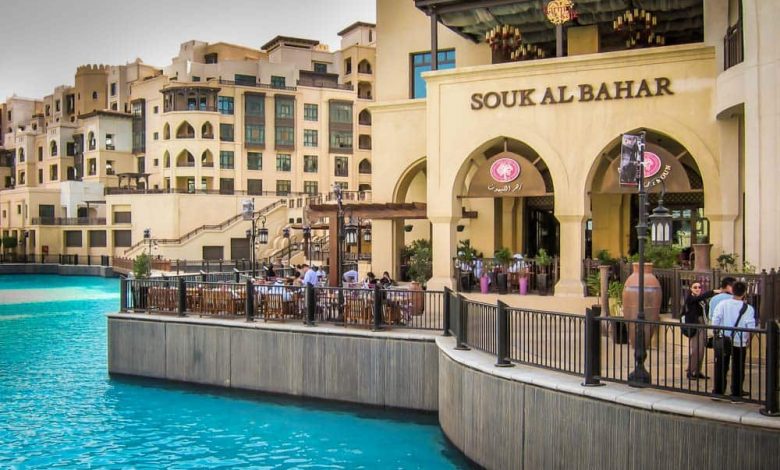 Souk Al Bahar Dubai is one of the traditional Souks of Dubai
Souk Al Bahar Dubai is located in Downtown Dubai, next to The Dubai Mall, Burj Khalifa and Dubai  Fountain. It is home to over 100 shops, 22 restaurants, cafés, and lounges. The most  recognizable feature about Souk Al Bahar is the architecture – natural stone corridors, restrained  lighting and Arabian decor. 
There are over 100 shops and 22 restaurants with views of the captivating waterfront promenade.  Here is a guide for shops, restaurants and activities in Souk Al Bahar that you won't find  anywhere else in the city.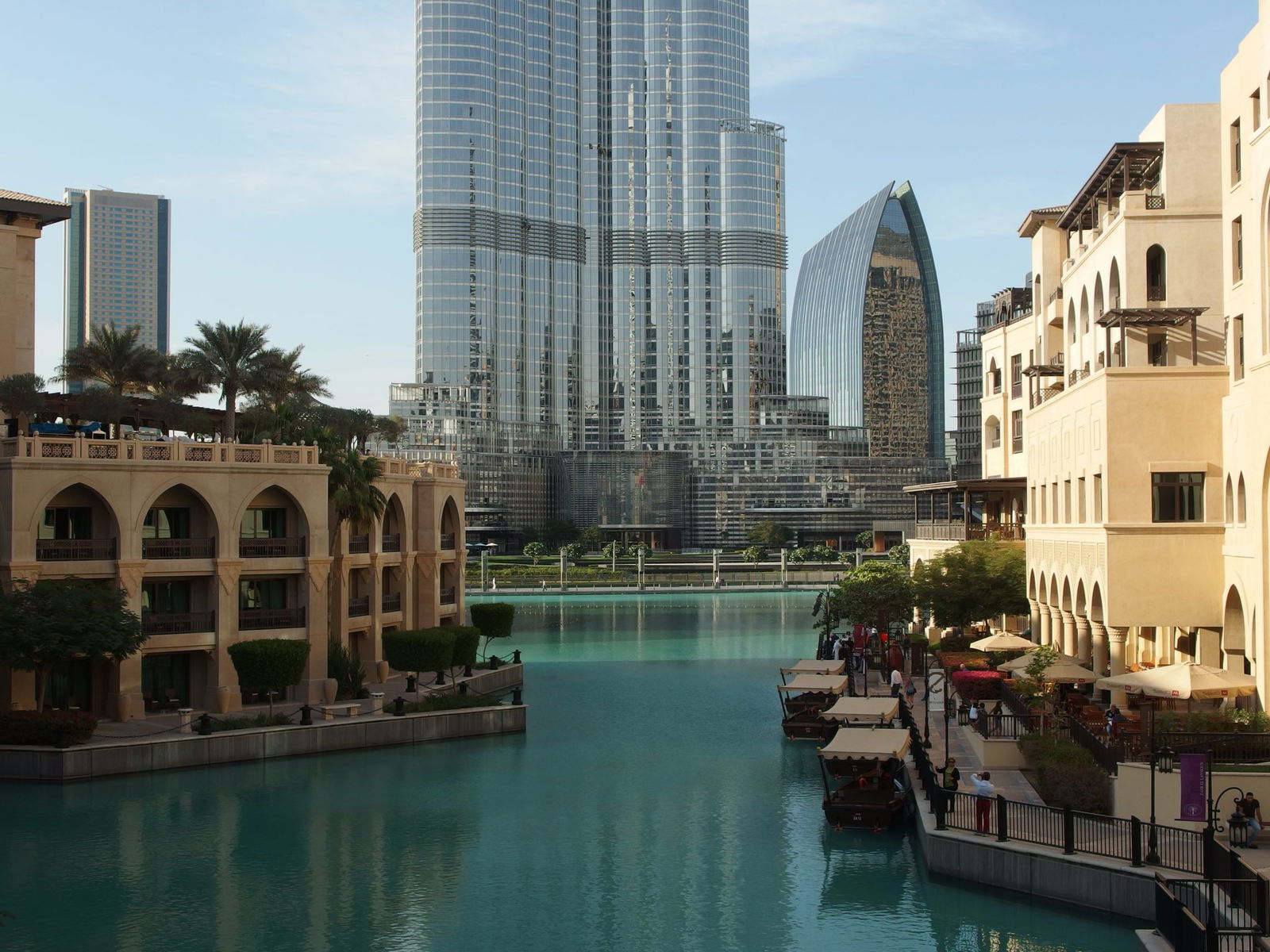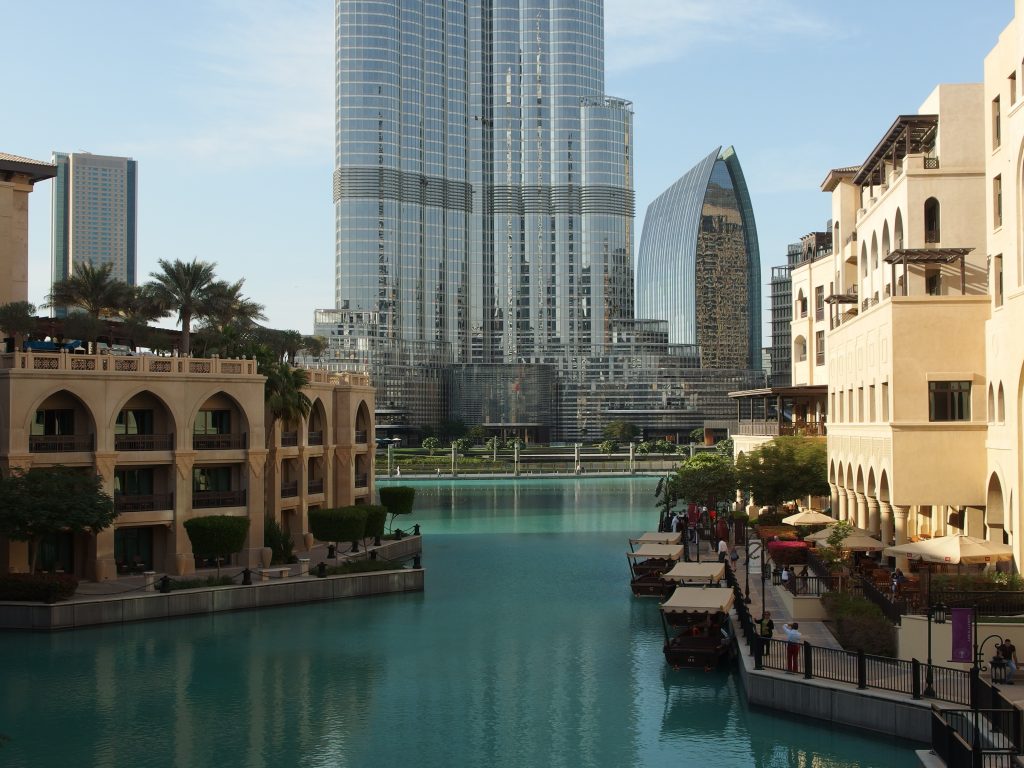 Shops and restaurants in Souk Al Bahar Dubai  
Shops in Souk Al Bahar  
You will spend an amazing time shopping in Souk Al Bahar, with its variety stores and products.  
If you want to buy a traditional gift for your loved ones, this old-style souk in Downtown is the  best place for you. Where you can find plenty of souvenir stores in Souk Al Bahar offering a  diverse range of products, from gold jewellery to hand-woven fabrics, traditional oud perfumes  at reasonable prices.  
There are many popular stores in Souk Al Bahar include Al Jaber Gallery and Camel Company  for gifts and souvenirs, Emad Carpets for oriental carpets, Cashmir for accessories such as  scarfs, shawls and knitwear, Kids Zone, Pride of Kashmir, Primavera Dry Cleaning, The Zou,  The Kastoom Shop, Spence Shop, Milang, Yas Beauty Spa, Yasmin and Selsal. 
Arabian perfume stores in Souk Al Bahar  
Dubai has always been a favourite destination for all perfume lovers. Where Perfume stores are considered tourist attraction in Souk Al Bahar. Here you will find a good variety of Arabian and  international perfumes. The most popular ones are Ajmal, Swiss Arabian, Ne'emah and Amouage. 
Spice stores in Souk Al Bahar  
The spice stores in Souk Al Bahar are known for their high-quality products. Here you will find  a wide range of dried fruits, saffron, organic dates, herbs, rice, nuts, locally-blended teas… etc 
Most popular Souk Al Bahar restaurants 
Dubai's Souk Al Bahar restaurants offer the best and most delicious food, with a view of the  Dubai Fountain, the largest musical fountain in the world.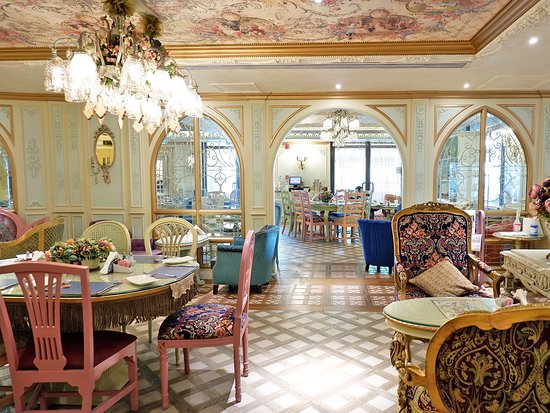 Best restaurants in Souk Al Bahar Dubai 
Zahr El-Laymoun Restaurant  
Zahr El-Laymoun Restaurant is located in Souq Al Bahar, and it is considered one of the best  restaurants in Souq Al Bahar, with its two branches in Souq Al Bahar and Emaar Square Dubai. 
The menu at Zahr El-Laymoun Restaurant is full of Lebanese and Levant dishes, the dishes tend  to be healthy. While other restaurants add fried potato in their meals, this place adds baked or  grilled potatoes. 
Fuego Restaurant is located in Souk Al Bahar in the Downtown area of Dubai, and it is  considered one of the most prominent Mexican Restaurants in Souk Al Bahar Dubai. 
Fuego restaurant offers the original Mexican food: fajitas and "kevich" (fish or certain types of  raw marine animals that are soaked in a special marinade) in addition to chicken flotas with  spicy jalapeno. 
The Meat Co restaurant serves the best and finest Steak in Dubai that cooked with great  craftsmanship. 
In The Meat Co, you will find something different, as you can see the dishes signed by famous  people who ate from there, such as premier League football players, British television guests and  others. 
One of the Souk Al Bahar restaurants overlooking the fountain, the Italian restaurant Serafina  started in New York and then expanded around the world, from Moscow to Mumbai and now in  Dubai.
Serafina Restaurant serves the most delicious Italian cuisine, including main dishes such as pizza  and appetizers prepared using the finest ingredients, and range of desserts and various drinks  options such as tea, coffee and juices in an intimate atmosphere with charming Italian music. 
The Serafina Restaurant, which is located in Souk Al Bahar, has two outdoor terraces, both of  which overlook the Dubai Fountain. 
The service at this restaurant is exceptional, and the staff is hospitable 
Mango Tree Restaurant is located in the Souk Al Bahar Downtown area in Dubai. It is one of the  restaurants in Souk Al Bahar Dubai, which provides the most delicious Thai cuisine with a  stunning view of the charming Dubai Fountain, ensuring an unforgettable dining experience. 
Mango Tree's decor is characterized by artistic touches that combine classic and modern style  together; creating an atmosphere that gives businessmen enough privacy to hold their meetings,  yet the restaurant is a destination with a warm and romantic atmosphere. Moreover, thanks to its  modern and attractive settings, Mango Tree Restaurant offers a complete and unique dining  experience that satisfies all tastes. 
Ewaan Restaurant and Café is located in The Palace Hotel in Downtown Dubai, it is decorated  with a luxurious Arabic theme. 
This restaurant, which is one of the most famous restaurants in Souk Al Bahar, serves a wide  range of delicious Arabic and oriental foods, in addition to delicious sweets, cakes, tea and  coffee. The restaurant also serves shisha of all kinds. 
Ewan Restaurant & Café has an outside terrace overlooking the pool, perfect in nice weather to  enjoy the outdoors 
Vine Kafé is one of the best restaurants in Dubai; it has a terrace overlooking the Dubai Dancing  Fountain and Burj Khalifa, which makes it one of the best places to eat in Dubai. 
Karma Kafé serves many foods such as organic salmon tataki, butter, grilled chicken and many  more, in addition to various drinks and delicious desserts
Abd El Wahab Restaurant has several branches in Dubai, Dubai Mall, Mirdif City Center and  Marina Mall, and the Dubai Mall branch has a wonderful view of the dancing fountain and Burj  Khalifa. 
The menu at Abdel Wahab Restaurant includes the most delicious Lebanese and Levantine  foods, in addition to seafood, which includes head fish dishes, and fresh dried fish with special  lemon and soy sauce. 
Guests are greeted with a smile. After having your meal, you can sit in the main terrace to have sweets, shisha, and enjoy looking at the dancing fountain .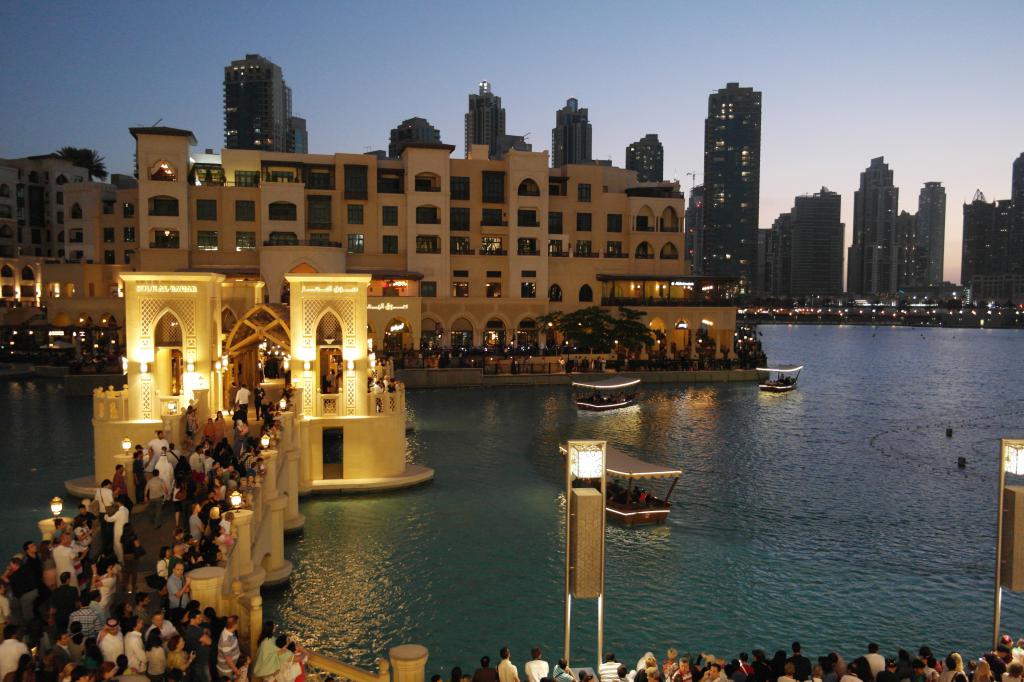 The Argentinean Asado Restaurant is located in the Palace Hotel, and is considered one of the  best souk Al Bahar restaurants in Dubai, which offers the best dishes of Argentine cuisine, as  well as distinguished services. The word Asado is used in the Argentinean language for grills  and barbecues events, and many visitors to the restaurant expressed their love for food there,  satisfaction and admiration in general. 
Asado Restaurant serves many dishes, varied and distinctive, such as Argentine pie with stuffing  chicken, cheese or crab, in addition to steak dishes 
Claw BBQ Restaurant is located in Al Bahar Souk in Dubai. This restaurant features special  steaks, in addition to seafood. 
Claw BBQ is famous for its smoked barbecue cuisine and also serves delicious seafood dishes  that include large quantities of fresh lobster, prawns, clam chowder, and spicy fajitas. 
This restaurant offers many seafood and even hamburgers, but its specialty is the crab "claws"  that served in a large bucket. 
Urbano Italian Food Restaurant is located in Souk Al Bahar in Dubai, and it features a unique  view of Burj Khalifa and the Dubai Fountain, one of Dubai's tourist attractions, making the  dining experience in this restaurant an unforgettable experience. 
The menu at Urbano Restaurant includes many main and side dishes, and the menu written in  Italian is inspired by its originality and identity from the traditional Italian cuisine, and aims to 
surround its core elements of simplicity, and the use of the best fresh seasonal ingredients and  natural flavors 
The restaurant includes a special section for grilled dishes such as "Dragoncello Coda de  Aragosta alla Gringlia", meaning grilled lobster tail with tarragon, zucchini, peppers, mixed  lettuce, grilled baby potatoes, oil and vinegar sauce, and "Costoletti di Agnilo in Crosta de  Mandorl", which is roasted lamb ribs with almonds and potatoes in the form of shells, all dishes  are prepared fresh with the use of Italian ingredients in a way that meets the aspirations of  gourmet customers, which makes it one of the most important options on the menu of Dubai's  Souk Al Bahar restaurants. 
Events and activities in Souk Al Bahar  
It is a must to visit Souk Al Bahar Dubai. This attractive dining and shopping destination also  hosts a number of events and activities. There, both, tourists and residents can enjoy the  celebration of all national and international events and religious festivals. 
Souk Al Bahar Dubai Timings  
Souk Al Bahar opening hours from Saturday to Thursday from 10:00 am to 10:00 pm and on  Fridays at 02:00 pm to 10:00 pm. 
How to get to Souk Al Bahar Dubai? 
You can go to Souk Al Bahar by bus or metro also, there is an underground parking facility that  helps you to enjoy shopping without worrying about your car. 
If you have any suggestions and inquiries about the best restaurants in Souq Al Bahar  Dubai, please send an email to contact@viewdubai.net