Skydive Dubai 2021: ticket prices – location – most important information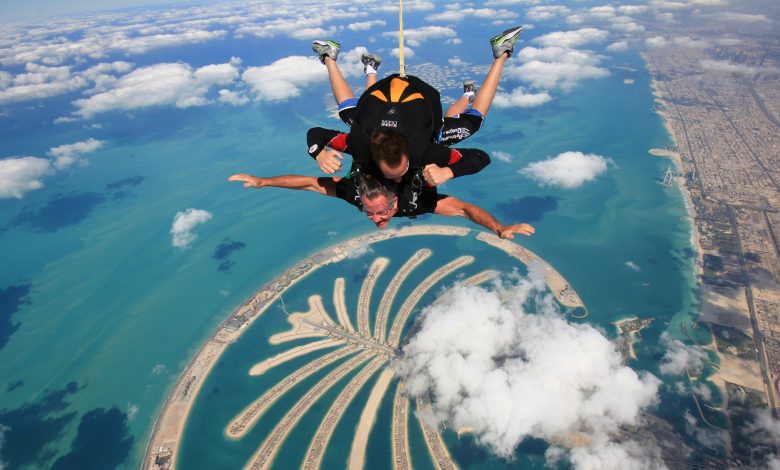 Skydive Dubai was founded in 2010 by Nasser Al Neyadi when Dubai hosted the first  international skydiving championship in the Palm Drop Zone. 
Dubai Skydive today enjoys an excellent reputation for safety and expertise, as Skydive Dubai  is one of the leading skydiving companies in the world and has become one of the most  important places for tourism in Dubai in recent years. 
Skydive Dubai information 
Skydive Dubai is one of the must visit places in Dubai and the first destination for skydiving  enthusiasts in Dubai, in addition to being the largest club offering this sport in the Middle East  within the highest standards of safety and security. 
When you go on a skydiving trip at Skydive Dubai rest assured that you are in safe hands, as  Skydive Dubai has experienced skydivers with thousands of jumps in their possession. They  also hold several Guinness records and have developed two great skydiving sites. 
Skydive Dubai locations 
All skydiving operations in Dubai are managed by Skydive in Dubai. This organization  operates the world's largest outdoor skydiving school in the desert outside Dubai. The jumping  process takes place in two wonderful locations in Dubai: the 'Desert Campus Drop Zone' and  the 'Palm Drop Zone'. 
Skydive Dubai Desert Campus Drop Zone:
The Desert Campus Drop Zone is located outside of Dubai, off the highway that leads from  Dubai to Al Ain. There is also a school at this desert jumping area. While skydiving, you will  see stunning views of the desert dunes leading to the Dubai's skyline. 
Skydive Dubai Palm Drop Zone:
The Palm Drop Zone is the most luxurious jumping area that Skydive Dubai has and the most  popular way to skydive in Dubai. Skydiving in the Palm Drop Zone will offer you an  unforgettable magical experience on the magnificent Palm Jumeirah and the beautiful skyline  of Dubai. Incredible views include Ain Dubai (the world's largest Ferris wheel), Palm  Jumeirah Island, Atlantis Hotel, Burj Al Arab, The World Islands and Dubai Marina.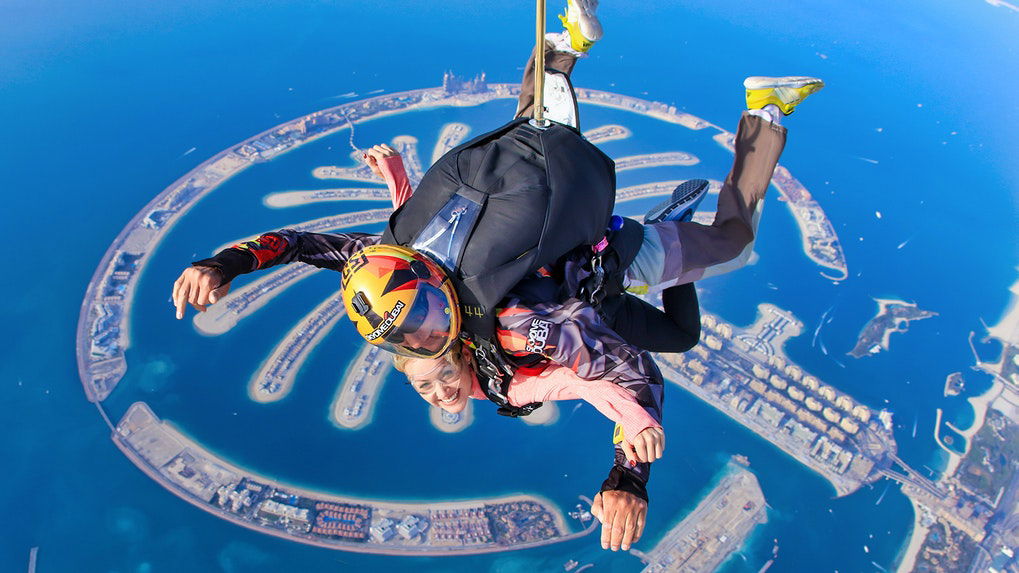 Skydive Dubai price in Dirhams 
Skydive Dubai price for the Desert SkyDay site – Desert Campus Drop Zone – 1699 AED. • The skydive Dubai cost 2199 AED for the Palm Jumeirah SkyDay site – Palm Drop Zone-. 

Dubai Skydive offers skydiving lessons for beginners through the Tandem Skydive system.  For more information and skydive Dubai booking, you can view the dates and prices of  Skydive Dubai on the official website of Skydive Dubai 
Skydive Dubai Timing  
Sky Dive Dubai working hours is daily from 8.00 am to 4.00 pm. except on Sunday, it is  closed. 
What you need to know before you go skydiving in Dubai 
∙ Your experience at Skydive Dubai begins as you arrive, you will be asked to fill out the  necessary documents and you will be subject to a BMI and weight check before the  skydive 
∙ Half an hour before the flight, you will meet with the coach who will brief you on the  sport and provide you with all the necessary instructions. 
∙ Skydive Dubai photographers will conduct a short interview for you before takeoff.  Remember to smile, because the interview will be in your skydiving video. 
∙ In the boarding area, there will be a final equipments check and taking photos. 
∙ As you travel to High Jump, you will be greeted with tremendous views of Dubai, the  Palm Island and the surrounding areas. The total flight time is 20 minutes. This is your  last 20 minutes to cool off before you take the jump. 
∙ Once the plane reaches 13,000 feet, you will be attached to your expert trainer and with  a camera installed, you will exit the plane and free-fall in the air for approximately 60  seconds, reaching a speed of 120 miles per hour! 
∙ At 6000 feet, the parachute will be deployed and over the next five minutes, it will  gently descend to the ground, all while enjoying some great views of Dubai.
∙ After landing and post-jump interview, the experiment will end. You can take your  skydiving experiment video and any other souvenirs from the centre's shop. 
∙ Skydive Dubai death: Tandem Skydiving is an Inherently Dangerous activity that can  cause permanent injury or Death, even when done properly, cautiously, and safely.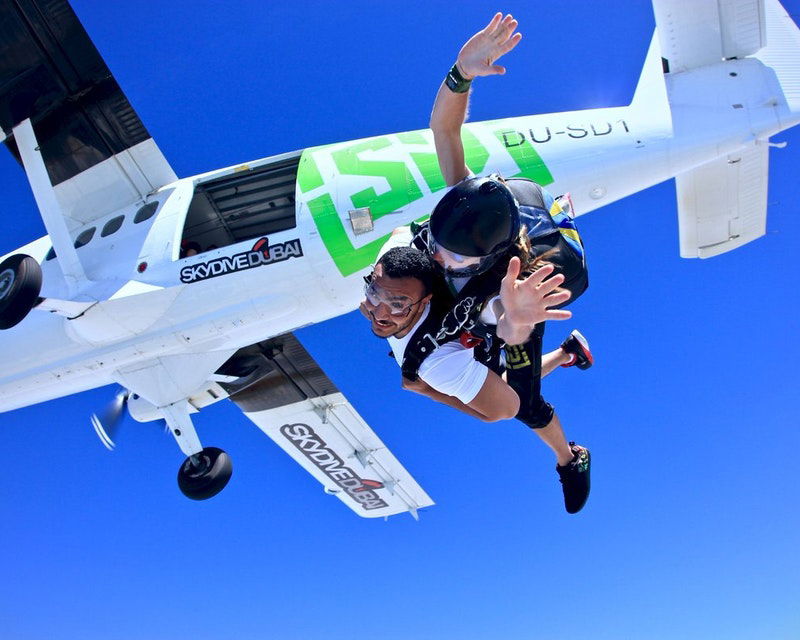 Requirements for skydiving in Dubai 
Rules and Procedures: 
∙ You must be at least 18 years old. 
∙ You must carry your passports or a valid photo ID such as your Emirates ID/driver's  license/government ID card. 
∙ Participants above the age of 70 will need to get a medical certificate prior to  the skydive. 
∙ Skydiving under the influence of alcohol or drugs for the tandem skydives is strictly  prohibited. 
∙ Skydivers must avoid scuba diving at least 24 hours prior to the tandem skydive. ∙ Dress in comfortable sportswear and shoes on the day of the skydive 
∙ You will be subject to a BMI and weight check before the skydive. Those who are over  the weight and BMI limits will not be authorised to participate. For women, it's 90.0  kg/198.0 lbs or less and a maximum 27.5 for BMI. For men, its 100.0 kg/220.5 lbs or  less and a maximum of 30 for BMI. 
Tips for your first skydiving experience: 
∙ Eat a healthy moderate breakfast before you head out for your experiment. You have to  know that skydiving on an empty or full stomach will take away the fun of the  experience. All you have to do is eat a rich meal before jumping in. 
∙ Get a good sleep the night before. Although it's normal for a jump to keep you up all  night, try to make sure that you'll be able to get a good night's sleep.
∙ Wear appropriate clothing – sports and comfortable clothing, athletic shoes. Sandals,  high heels and T-shirts are not allowed. 
∙ Be prepared to wait. Skydiving is a sport that is highly dependent on the weather.  Skydive Dubai officials keep a constant check on the weather monitor to keep track of  the winds. If the winds rise or the weather worsens, be prepared to wait. If conditions  are not suitable, your experience may take longer. 
∙ If you are a female and would like a trainer, please request this at the Skydive Centre in  advance. 
∙ You don't need to be an athlete to be a skydiver. If your weight is below the minimum  and you live an average healthy lifestyle, you will be a good jumper. 
∙ Relax, breathe, jump and enjoy the experience! 
Indoor Skydiving Dubai: 
Indoor skydiving is a relatively new concept but it has quickly spread in a short time. For  those unfamiliar with skydiving, indoor skydiving involves a vertical tunnel where free-fall  conditions are recreated via stimulation. Here is detailed information and conditions for indoor  skydiving in Dubai: 
∙ A vertical wind tunnel with fans at the top draws air through the flight chamber and  then pushes it back down through RATs. 
∙ Air from the RATs is 'diverted' down the tunnel and back up towards the flight chamber  through the handle. 
∙ The handle reduces the space that air can pass through, thus compressing and  accelerating the air before re-entering the flight chamber. 
∙ The result: a column of soft air that enables you to skydive. 
Skydive Dubai offers 2021 
You can book its tickets with wonderful discounts by using the latest Skydive Dubai  Discounts. Visit Skydive Dubai site and check Skydive Dubai Offers, Deals and Discounts
USPA A LICENSE 
If you are a skydiver who has just completed the AFF course, the next step is obtaining the  USPA A license. To obtain this license you will have to complete the following: 
∙ A minimum of 25 skydives 
∙ Pass all the requirements on the A license proficiency card 
∙ Pass the written and oral A license exam. 
Once you've successfully passed you can jump at drop zones without supervision and even  jump with other license holders. 
Here is the breakdown of the Skydive Dubai cost for the USPA A License. SKYDIVING DUBAI COST FOR THE USPA A LICENSE 
| | | |
| --- | --- | --- |
| Category  | Price Per Jump  | Total Price |
| Coaching jump (10 jumps required)  | AED 400  | AED 4,000 |
| Low altitude jump (2 low altitude jumps required at 5,500  ft and 3,500ft) | AED 100  | AED 200 |
| Solo jump (6 required)  | AED 120  | AED 720 |
| Rig rental for all 18 jumps  | AED 75  | AED 1,350 |
| Altimeter rental for all 18 jumps  | AED 40  | AED 720 |
| Helmet rental for all 18 jumps  | AED 40  | AED 720 |
| Packing tickets for all 18 jumps  | AED 35  | AED 630 |
| Packing course  | –  | AED 350 cash  only |
Skydive Dubai location and contact number 
Skydive Dubai is located near the Palm Island in the city of Dubai and at another location on  Al Ain Road, Dubai, United Arab Emirates. Tel: 043778888