Motiongate Dubai 2021 – ticket prices – best activities – timings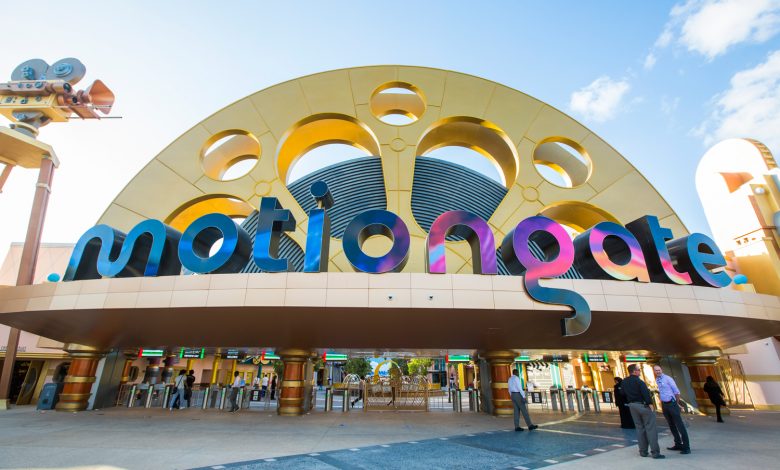 Motiongate Dubai is the best theme and amusement park in Dubai, as it enjoys a privileged  location filled with an atmosphere of excitement and fun, and it is one of the Parks and  Resorts in the charming Dubai city. 
Motiongate Park Dubai is characterized by the wonderful designs taken from the American  cinema and the Hollywood city, which is very fun and exciting. 
Dubai Park Motiongate is one of the most important tourist destinations and best places to  visit in Dubai, which children and adults seek to enjoy exciting games and shows. 
Information and guide to Motiongate park Dubai 
Dubai Park Motiongate includes more than 27 amazing rides, in addition to the show area,  which shows live scenes from Dreamworks Animation characters, through 12 amusement  park interfaces. 

In Motiongate Dubai games, the Capitol Bullet train, which rushes very strongly with slopes  of different heights, and there is Android 4D, through which you see a unique experience of  adventure and suspense, in addition to Flint Imagination Lab, and many exciting roller  coaster games. 
Best activities at Motiongate Park Dubai 
If you want to spend a journey full of excitement and thrill, you have to go to one of  the dreadful roller coasters, or a unique experience of vertical falls in the  "Zombieland". 

When you go to the theater district, you will be able to participate in live theater  

Visit Motiongate Dubai is a must, there you will discover a world of adventure and  imagination in the Smurfs Village, in addition to the excitement of discovering at the  world of Columbia Pictures, which is a world full of magnificence, suspense, and  creativity. 

Dragon Flame Grill Restaurant is one of the most prominent restaurants in Motiongate  Dubai, and it offers many dishes including shawarma, grilled chicken and curry dishes. 

Dubai Park Motiongate offers many shops, such as Daily Variety Store, which  specializes in selling toys and souvenirs.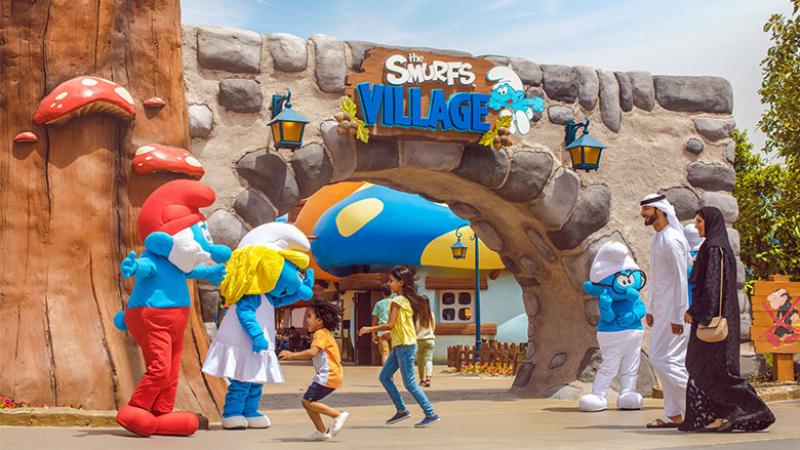 How many rides are there in Motiongate Dubai? 
Motiongate features 27 key rides, five roller-coasters, and meet your favourite characters.  Besides that, Motiongate Dubai offers interactive play areas, a drop tower, and 15 live  entertainment shows. The family-friendly amusement park in Dubai also has a water ride. 
Best attractions in Motiongate in Dubai 
Columbia Pictures 
Based on the Columbia Pictures films and franchises, this zone is home to various attractions,  including Zombieland, Ghostbusters, Hotel Transylvania, and Cloudy with a Chance of  Meatballs. There are some of the most popular Motiongate Dubai rides and attractions at the  Columbia Pictures zone. 
Flint's Imagination Lab 
Is your little nipper into science and technology? You can ignite your little one's imagination  by taking them to Flint's Imagination Lab!  
Zombie Land 
At Zombie and you will experience zombie horror games like Dead Rising., this ride will  definitely send chills down your spine! You must be 130 cm at least and children must be  accompanied by an adult on this ride. 
Smurfs Village 
As the name suggests, The Smurfs' Village is The Smurfs-themed zone that contains plenty  of attractions such as Woodland Play Park and Smurfs Studio, to name a few. It is one of  Motiongate Dubai new rides 
Smurfs Studios 
It based on the animated comedy film, The Smurfs, Smurfs Studios take you on a whirlwind  tour of the movie. Chaos ensues the moment Gargamel steps in, adding to the fun of this ride  in Motiongate. You can buy souvenirs from the in-house store such as beach towels, flip flops, and toys.
Dreamworks 
DreamWorks Motiongate Dubai based on animation, this zone is divided further into four  areas, including Shrek, Kung Fu Panda, How to Train Your Dragon and Madagascar. 
Fountain of Dreams 
A fountain adorned with your favourite characters from Madagascar, Shrek, Kung Fu Panda  and it is a great spot in Motiongate to just relax and take a break.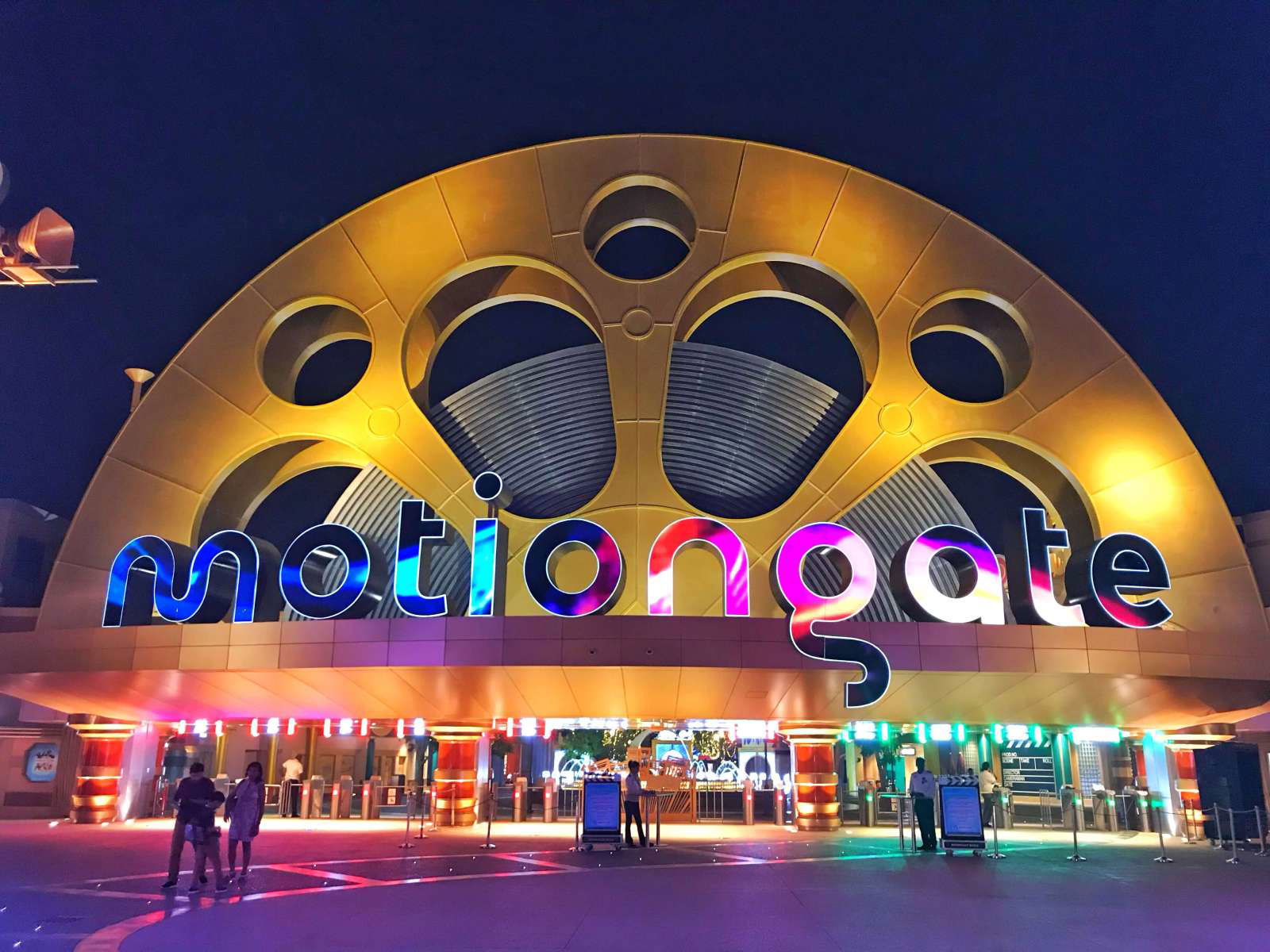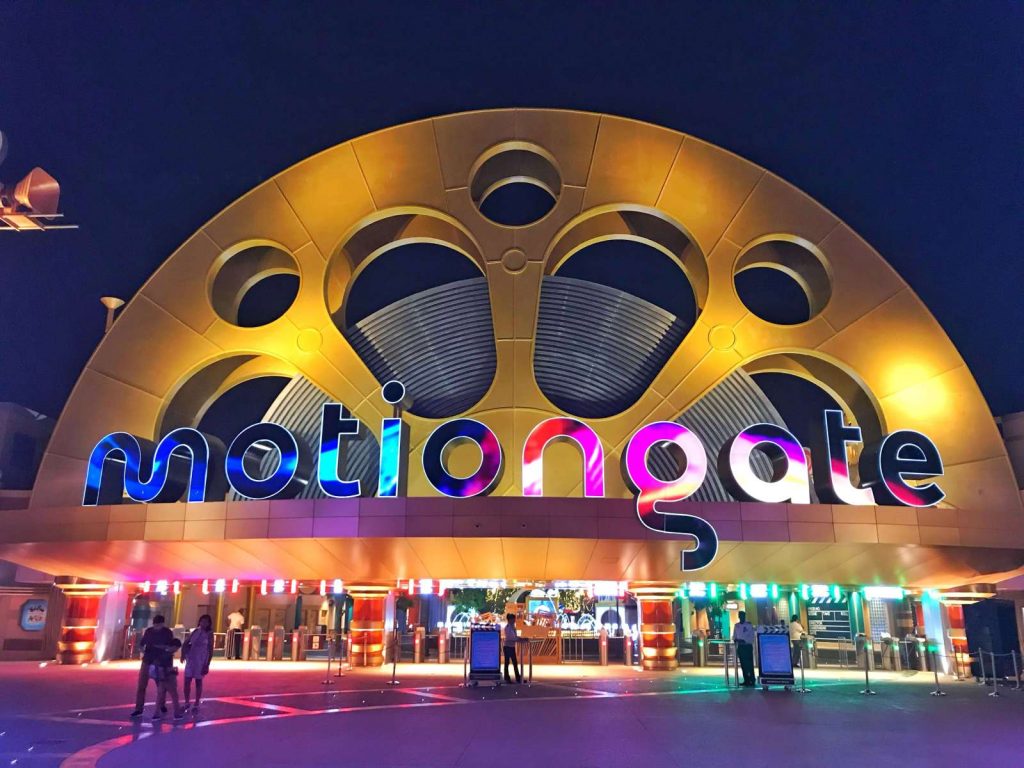 Motiongate Dubai park timings  
The park, which is considered one of Dubai's most important theme parks, starts receiving  visitors on Sundays, Mondays, Tuesdays, and Wednesdays from 11:00 am to 8:00 am. 

As for Thursdays, Fridays, and Saturdays, from 11:00 am to 10:00 pm. 
Motiongate Dubai ticket price 
Motiongate Dubai entry fee for one person to spend a fun and interesting day for  tourists is 245 AED. 

Motiongate Dubai tickets prices for a resident in Dubai, to spend a wonderful day of  excitement and suspense is 175 AED. 

Dubai Park ticket prices and reservations directly online through the official website. 
Best hotels near Motiongate Dubai 
Lapita Dubai Parks and Resorts, Autograph Collection 
∙ Lapita Resort Dubai is one of the best hotels in Dubai with a great location, as it is the  only hotel located in the heart of the largest theme park in the Middle East. 
∙ The resort receives tourists, who want to stay, near the theme park at Dubai Parks and  Resorts. 
∙ Provides distinguished services to its guests, including free internet, rooms equipped  with the latest modern facilities
∙ Lapita Resort Dubai includes 5 different restaurants, which serve a variety of Arabic,  Indian, and Moroccan meals. 
∙ It has fitness center, massage room and a sauna. It also has the largest spa in Dubai,  Ola. 
∙ You can reach it easily through Dubai airport, or Abu Dhabi, and it is located near  Marina Mall, a 20-minute drive away. 
Courtyard by Marriott Dubai, Green Community 
∙ Marriott Courtyard Dubai, is the best hotel near Motiongate Dubai, overlooking a  distinctive lake, in addition to an outdoor pool, and a terrace for rest and relaxation. 
∙ Marriott Courtyard Dubai contains distinctive and modern rooms, including all the  features that guests require, in addition to the availability of rooms overlooking the  lake and the outdoor pool. 
∙ It includes fitness center, gymnasium, and there are many restaurants available, such as  SOBO restaurant, which serves modern oriental meals, in addition to the Italian  restaurant Cucina, which was designed in an interesting Italian style. 
∙ Marriott Courtyard Dubai is 18 km from Motiongate Theme Park, and Jumeirah Beach  is a 15-minute drive away. 
Motiongate Location  
Motiongate Dubai is located within the Bollywood Parks Resort Dubai, which also includes  Legoland Dubai, one of the most prominent entertainment venues in Dubai.