Dubai Miracle Garden timings and entrance tickets 2021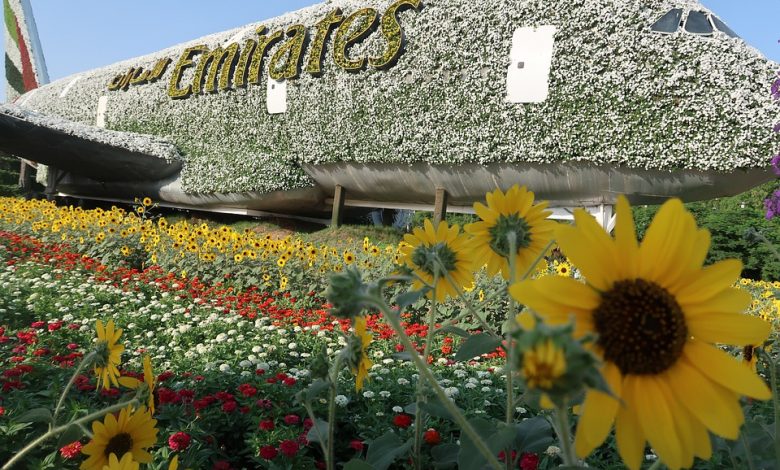 Where is the Dubai miracle Garden located? Dubai, it is one of the most famous tourist cities in the  Middle East and the whole world, as it has a group of cultural places and exceptional tourist  attractions, as well as it embraces a bouquet of the most enjoyable recreational activities, many  tourist attractions and distinctive landmarks, and places that visitors and tourists come to enjoy  fun And activity in the midst of stunning and picturesque nature. 
Dubai Miracle Garden is one of the best gardens in Dubai and it is one of the important  landmarks in Dubai for children and adults as well, which is the largest natural flower garden in  the world, and because it is so creative and beautiful, which is considered an amazing painting  on the land of Dubai 
It is the most famous park "Dubai Miracle Garden" or the flower city of Dubai, which you  cannot miss to visit, which is located in the heart of Dubai land and near several luxury hotels  that offer you high-end accommodation, providing you easy transportation to the Miracle  Garden Which includes about 199 million flowers out of 45 million different flower types, and  other tourist attractions in Dubai. 
Here we offer you what you should know about Dubai Miracle Garden's environment and  important things about it.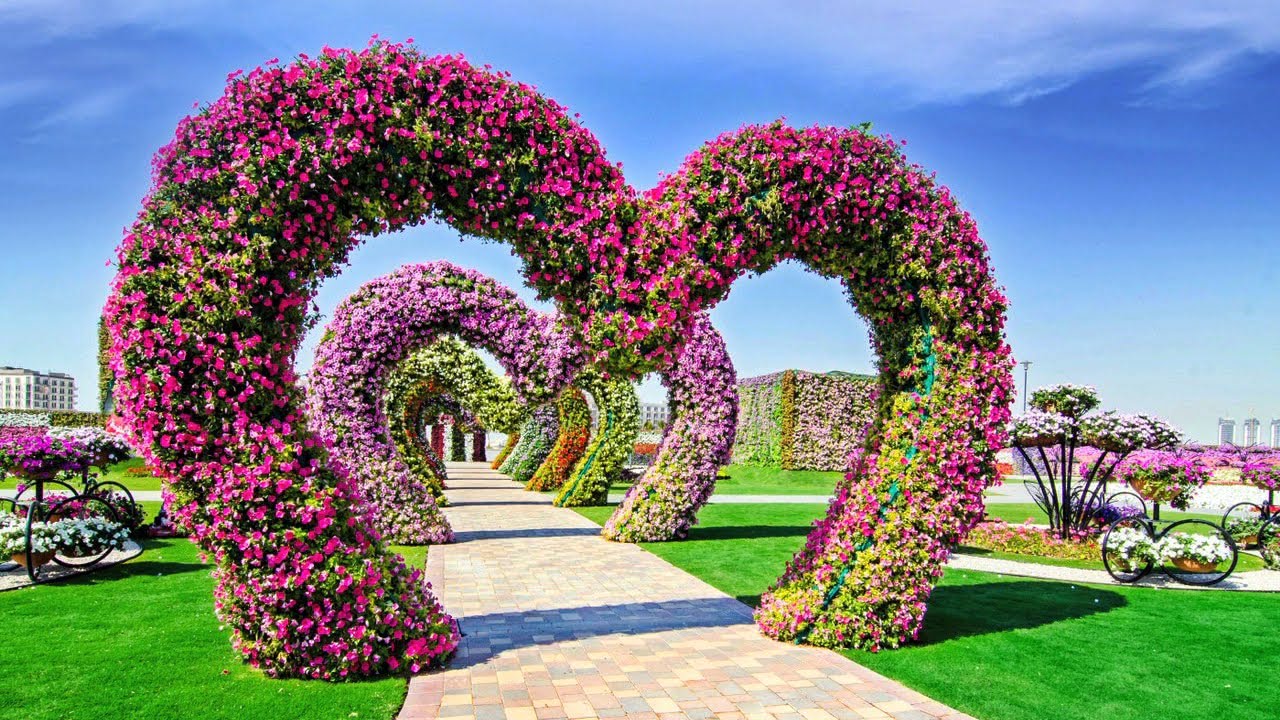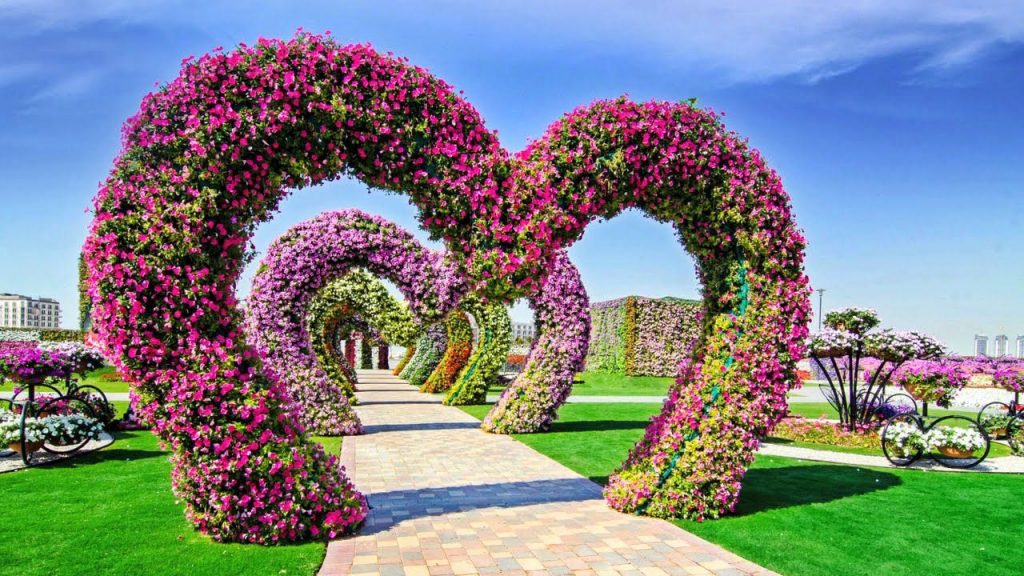 Dubai Miracle Garden opens for the 2020 season 
The administration of Miracle Garden announced the reopening of its doors for the new season  starting on November 1st, 2020, and visitors to Miracle Garden will be able to see new works of  art made entirely of natural flowers, in addition to the opening of a number of stores and cafes  and the establishment of new entertainment activities. 
Section of Dubai Miracle Garden 
The flower garden was opened in Dubai in 2013 AD, that is, it officially received its first  visitors that year on Valentine's Day February 14, and surprisingly, it succeeded in attracting  about 2 million visitors that month, and it also succeeded in reserving its position among the  most important landmarks that attract tourists, as well as Burj Khalifa, the famous Emirati  tower, as millions of visitors come to it every year to enjoy its fairy-tale views. 
It called Miracle Garden for a reason, the reason behind this is that this amazing garden with its  huge area is located in the middle of the desert, not only that, but also because it amazed all its  visitors with its bright landscapes and its unique designs that nothing like it has been created  anywhere else around the world, in addition it includes a wide variety of flowers.
Dubai Miracle Garden contains a painting of colorful flowers designed in different forms, as it  designs a stunning and unique display made of those flowers, to be pyramids, hearts, stars and  huts, as well as a corridor of brightly colored and sparkling flower umbrellas, as well as a wall  of flowers, that with its incredible beauty, broke world records.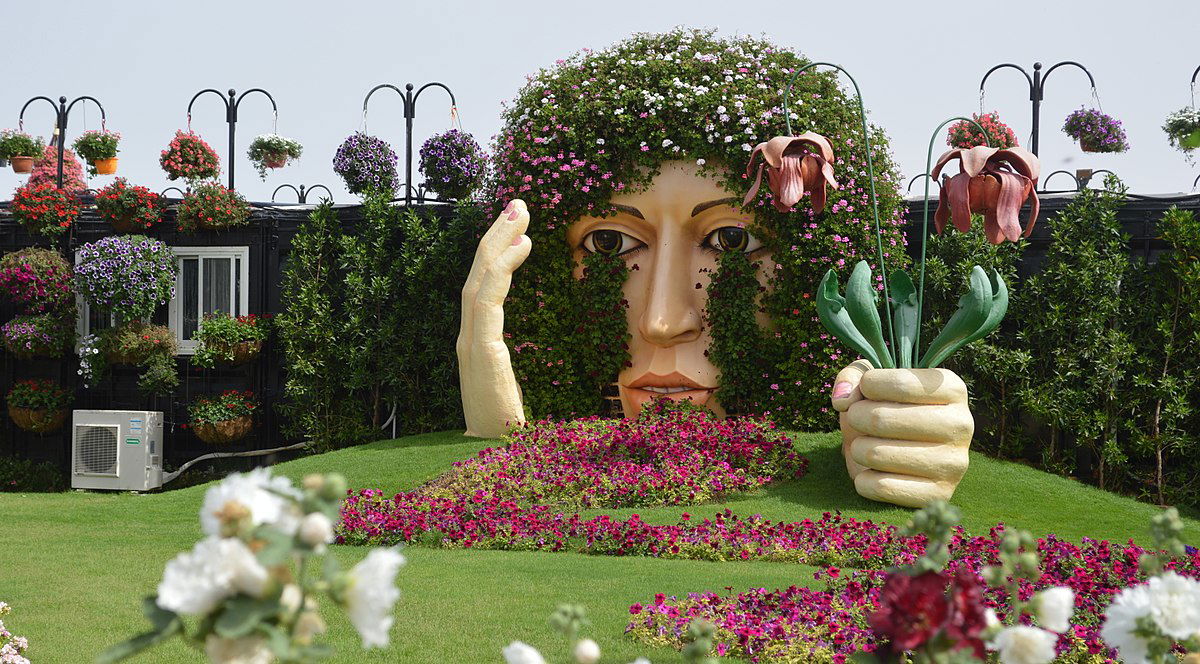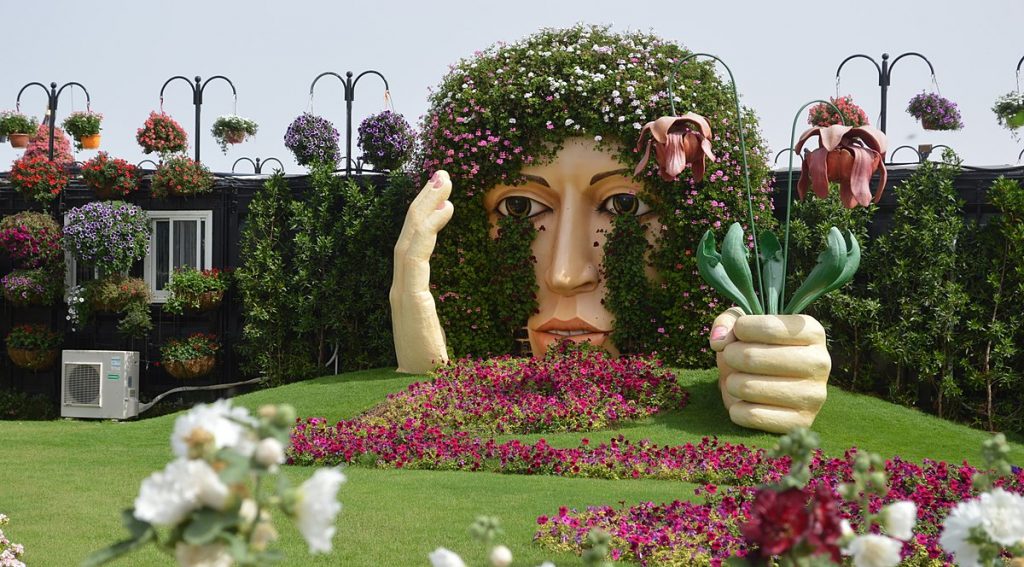 Best things to do in Dubai Miracle Garden 
Here are some tips for visiting Dubai Miracle Garden 
When you have a visit to Dubai Miracle Gardens you will take the most beautiful and  memorial photos with the famous pyramid of flowers, which was designed from an  elegant set of flower, and has a height of about ten meters, and its area is about 144

square meters. Share that photo with your friends and show off about taking it with The  Pyramid which made Dubai Miracle Garden in the Guinness World Records

Do not miss wandering between those romantic paths in Dubai Miracle Garden, which  designed in the shape of hearts of different colors and ultra-magnificence, carrying  attractive and exciting scents of love and romance, these perfumes spread throughout the  garden. 

You can enjoy watching that wall of flowers that surrounds the garden, with an extension  of about 8 meters, and its height is about 3 meters, making it the longest wall of flowers  in the world, and one of the exceptional landmarks in Dubai Miracle Garden.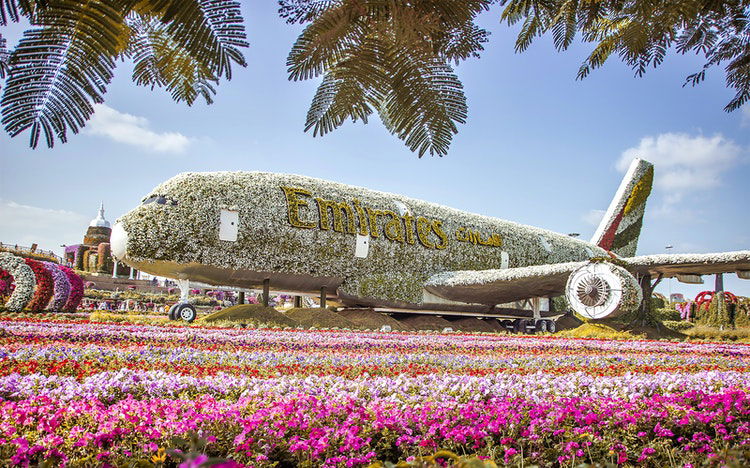 Dubai Miracle Garden timings 
Dubai Miracle Garden has set different times to be available and suitable for all visitors,  as it opens its doors to visitors on Sundays, Mondays, Wednesdays and Fridays, from  9:00am – 9:00pm.  

As for Tuesdays, Thursdays and Saturdays it opens from 9:00am – 11:00pm. 
Dubai Miracle Garden ticket prices 
How much is Dubai Miracle Garden's tickets coast? 
∙ Entrance tickets to Miracle Garden coasts 40 AED for adults. 
∙ For children 3 – 12 years old costs 30AED. 
∙ Entrance for children under 3 years old is free.
Where is Dubai miracle Garden located?
Miracle Garden is located in Dubai in the vicinity of Dubailand, in the United Arab  Emirates, south of the famous Al Barsha neighborhood, near the Arabian Ranches area in  the direction towards the Emirate of Abu Dhabi. 

You can reach Dubai Miracle Garden by taking the metro from Deira station, passing  through Farhoud Bridge, Sheikh Zayed Road and Umm Suqeim Street, until you reach  Motor City, where the Miracle Gardens is next to it. 
Important things to know about Dubai Miracle Garden  
Dubai Miracle Garden opens its doors to visitors in the months from October to April,  and is closed in the months of June to September, due to the high temperatures to an  average of 40 degrees, so the best time to visit Dubai Miracle Garden in winter. 

Miracle Garden's flowers are preserved by recycling wastewater and using it through drip  irrigation. Thus, the garden becomes environmentally friendly and does not cause water  waste while irrigating this huge number of flowers. 

Dubai Miracle Garden won the Moselle Award, after winning the best gardens in  "Garden Towers", which adopts distinguished gardens in terms of creativity and  distinction, in order to promote the revitalization of tourism in the gardens. 

Work has been made to develop the sections of Dubai Miracle Garden in two phases, and  among these development processes was the establishment of Dubai Butterfly Garden,  which was opened in March 2015, which is a distinct extension of Dubai Miracle Garden,  and it is a complement not less creative than it. 

The park includes several services for visitors, the most important of which are tourism  services that contribute to spending an enjoyable time, as cars are allocated to transport  visitors between the corridors of the Garden, and there is also a seating area, as well as  seats specially designed for disabilities. 

Dubai Miracle Garden also contains all the needs and preparations that visitors may need,  as there are prayer rooms in the Dubai Miracle Garden, and a first aid area. There are also  stalls, various shops and luxury restaurants. 

Miracle Garden includes a flower model of the giant Emirates Airbus A380 covered by  500 thousand flowers and plants and many Disney cartoon figures. These models are  famous and wonderful attractions in Dubai Miracle Garden.
Dubai Butterfly Garden  
Dubai Miracle Garden includes the largest Butterfly Garden in the world on an area of 2,600  square meters, which contains more than 15 thousand butterflies from all around the world. 
Butterfly Garden Dubai consists of nine domes designed with advanced technology that control  temperatures to fit the way that butterflies live, and it also includes an educational area  explaining the stages of growth of butterflies and their types, in addition to fish tanks that  contain various types of fish.
Dubai Butterfly Garden timings and ticket prices 
Dubai Butterfly Garden opens daily to visitors from 09:00am – 06:00pm. It is also located  within Dubai Miracle Garden in Dubailand. 

tickets prices: 55 AED for children and adults (3 years and above).

Entrance is free for children under 3 years old.
Best hotels near Dubai Miracle Garden 
Ghaya Grand Hotel 
Ghaya Grand Hotel is among the best Dubai hotels near Dubai Miracle Garden, at the  International Media Production Zone, in the emirate of Dubai, and it is about 10 minutes away  from Jumeirah Beach Residence and the Mall of the Emirates by car, while it is Only 5 minutes  away from Ma'zaim City Center. 
The hotel rooms are characterized by modern décor, and include all the necessary service  facilities for visitors, the most important of which is the LED TV screen, which is equipped  with satellite channels, in addition to the presence of a wonderful sittings area and air  conditioning with individual control technology, in addition to a private bathroom and facilities  for making coffee and tea, with the services of free internet. 
Address Montgomerie Hotel 
Montgomerie Hotel is one of the best hotels near the Miracle Garden in Dubai, and it is located  within a group of green corridors, which are characterized by beautiful landscapes, and it is  within the five-star category among Dubai hotels, and it is located about 2 km from the Dubai  Marina area, as it is only 2.9 km away from The Dubai Internet area  
The hotel rooms are luxurious, with modern and elegant décor, and are equipped with the best  services for visitors, such as a 32-inch flat screen, with a bouquet of satellite channels, the  rooms also include a mini-bar, coffee stalls, and free wireless internet services.
The roads that leadings to Dubai Miracle Garden 
If you are in Deira and want to go to the Miracle Garden, you have to go to Al Garhoud Bridge,  then choose the street known as Sheikh Zayed to reach the entrance which on the right side,  which is Umm Suqeim Street, and on the left side you will find an exit from this street that  leads to Abu Dhabi, and while you are walking you will see the Garden on the left.