Aquaventure Waterpark Dubai – ticket prices – activities – timing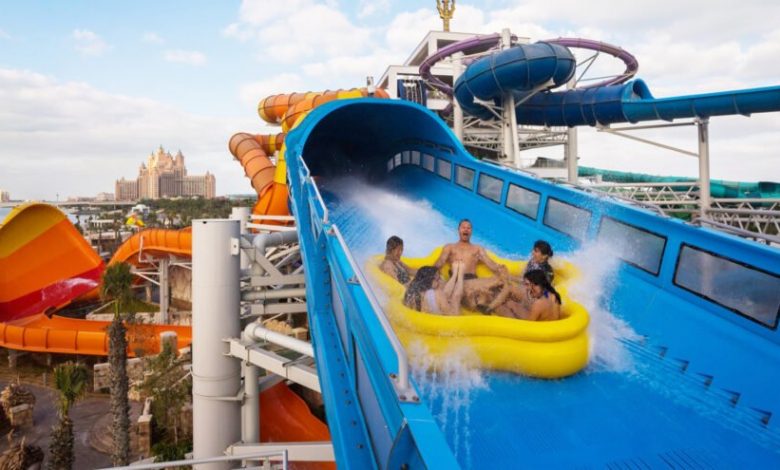 Aquaventure Waterpark Dubai is one of the most beautiful and exciting tourist places in the  world, not only in Dubai. 
Aquaventure Water City in Dubai is followed by the Atlantis Aquaventure Dubai tourist resort  which is located at Palm Jumeirah, and attracts millions of visitors to enjoy various water  games. 
Aquaventure Waterpark Dubai is designed on a huge area to be the largest Dubai water park  ever, which is suitable for all ages, whether adults or kids. 
Guide to Aquaventure Waterpark Dubai 
If you are a fan of getting to know the most important water parks in Dubai, you should try a  day of adventure inside the Aquaventure Waterpark Dubai and play giant sliding roller  coasters, which pass inside a lake with a number of sharks, in addition to a roller coaster game  in the middle of the water. The little one also has Splashers toys. 

Aquaventure Water City in Dubai has won the admiration of many tourists who were keen to  share their photos on the "TripAdvisor" website, and those photos won a huge vote from  viewers, and they confirmed that it is one of the distinctive tourism destinations in Dubai and  suitable for all family members. 
Best activities in Aquaventure Waterpark in Dubai 
You can enjoy swimming with dolphins inside the amazing Dolphin Bay which is located  near the Aquaventure Waterpark Dubai rides and enjoy the best tourist places in Dubai for kids. You  can also watch marine animals in The Lost Chambers Lake, which includes more than 65,000  marine animals. 

Do not forget to take photos with the amazing dolphins, play with them as it is also possible  to feed them. 

If you are a diving enthusiast, do not miss the opportunity to take a diving tour with one of  the professional divers working in the Ambassador Lagoon. 

You can rent a wooden boat and have a ride in the Arabian Gulf and the seas through the  wonderful coasts of Atlantis that extend from the coast of Nasimi Beach to the end of the  Aquaventure Waterpark Dubai. 

The fun and excitement are limitless when you have huge water slides rides at Aquaventure,  through which you see lakes filled with sharks and rays, while enjoying an adventure inside the  waves of the raging river.

Kids can have fun with their water games at Splashers Atlantis Dubai. 

You can relax at Aquaventure beach; have a sunbath or sip your delicious iced drink with an  enchanting experience full of comfort and serenity.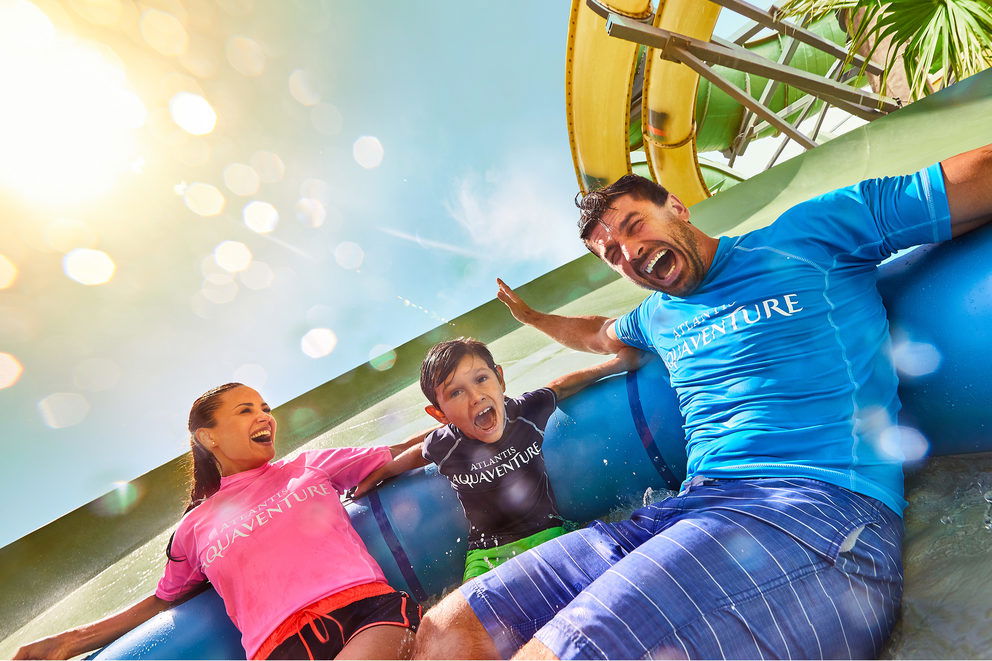 Aquaventure Opening Timings 
∙ Aquaventure Waterpark Dubai opening hours are daily from 10:00am to 6:00pm. ∙ Aquaventure Waterpark Dubai ticket price 
The Aquaventure Dubai prices 
Ticket Prices for Aquaventure Waterpark Dubai and Atlantis include different prices according  to the height of the child as follows: 
Free entry for children under two years old. 

Children under 1.1 meters 284 AED. 

The Atlantis Aquaventure ticket price is 336 AED for adults of 1.1 meters or more. 

For reservations and more information about the prices of Atlantis Aquaventure Dubai ticket,  please visit the official website. 
Best hotels near Aquaventure Waterpark 
Atlantis, The Palm, Dubai 
Atlantis, The Palm Hotel, Dubai is one of the best hotels in Dubai close to Aquaventure  Waterpark Dubai. The hotel is located on the Palm Jumeirah island, and it is classified within  the five-star category. 

The hotel has a private sandy beach so that guests can enjoy a charming view of the coast of  the Arabian Gulf, and you can also have free entry to Aquaventure Waterpark Dubai, Aquarium and  The Lost Chambers. 

Atlantis, The Palm Hotel, Dubai includes modern and distinctive rooms with full services  such as free internet, modern TV screen with all satellite channels, and a facility for making  various drinks. 

The hotel has various restaurants serving world famous food such as Hakkasan Restaurant  and Nobu Restaurant which serves delicious Japanese food. 

Atlantis, The Palm, Dubai is characterized by the ability of booking a helicopter to enjoy a  15-minute tour around Dubai, or to reach Dubai International Airport.
Flora Inn Hotel Dubai Airport 
Flora Inn Dubai is considered one of the best hotels in Dubai, because of its many advantages  that visitors like, such as free shuttle flights, and an outdoor swimming pool to enjoy a  distinctive view of Dubai. 

The hotel rooms have a modern flat screen, bathroom equipped with the latest services,  minibar and free internet. 

Flora Inn Dubai offers a fitness center, sauna and spa, as well as a temperature-controlled  indoor pool. 

The hotel includes an international restaurant that serves famous Arab, European and Asian  foods, as well as a buffet for breakfast. 

The hotel is located close to Dubai's landmarks, close to Dubai Gold Souk, Dubai Creek Park  and Spice Souk. 
Best restaurants at Aquaventure 
There are several stalls and restaurants at Aquaventure for refreshments, where you can enjoy  your time: 
Shark Bites  
If you need to have a scrumptious meal with your family, head to Shark Bites. This place  serves traditional Arabic cuisine as well as sandwiches, pizzas and burgers. It has both outdoor  and indoor seating. 
Splashers  
If you are craving a nice hot dog head down to Splashers. This restaurant in Aquaventure also  has sandwiches, burgers and drinks to keep you energised. 
Snappers  
You can enjoy a small snack such as a pastry or cake along with coffee or tea at Snappers.  They also serve assorted cold beverages. 
Lagoons 
Who wants ice cream? Head over to Lagoons. The place also has all sorts of ice creams and  milkshakes to fill you up.
How to reach Aquaventure Dubai 
Aquaventure Waterpark is located within the Atlantis resort. If you are hailing a taxi, rest  assured that most drivers will be familiar with the location. You can also use public transport to  get there. The best way to reach Aquaventure Waterpark is via the Palm Monorail from the  Palm Gateway. Also, by the Dubai Metro's red line, it has a stop at DMCC, which is very close  to the Dubai Marina tram station. 
Aquaventure Dubai Location 
You can visit Aquaventure Waterpark via the following map
Aquaventure Dubai Contact 
Email: aquaventure@atlantisthepalm.com 
Phone: +971 4 426 1169 
Phone: +971 4 426 2000