All about the Umm Suqeim Beach Dubai -activities- timings- photo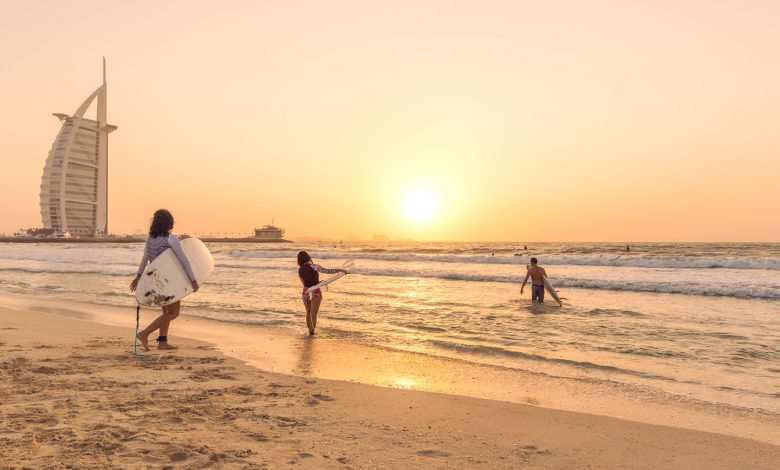 Umm Suqeim Beach Dubai, also known as Sunset Beach, is one of the best places in Dubai to relax;  it is easily accessible from Umm Suqeim Park. The park is free to visit throughout the week.  Facilities at Umm Suqeim Beach include changing rooms, showers, restaurants and beach  library. The beach also has a long jogging track. Sunset Beach or Umm Suqeim Beach is one  of the most popular beaches in Dubai for family where you can soak in the sun, grab a bite to  eat and spend days with friends and family.
Things to do at Umm Suqeim Beach  
Try your luck at surfing at Umm Suqeim Beach as surfing is popular among the locals as  well as tourists. The calm, clear waters and high winds make surfing at Umm Suqeim  Beach perfect for first-time surfers and seasoned experts. You can also easily learn how  to surf, as there are several companies that offer surfing equipment and lessons. Surf  House Dubai and Surf Dubai are two of the most popular companies in the area for  surfing lessons, surfboards and kite surfing equipment. 

Another fun activity to do at Umm Suqeim Beach is spotting kite surfers at the nearby Kite Beach. You can simply sit back and watch the amazing kite surfers performing  their stunts at the beach. 

If you want to stay fit? Umm Suqeim Beach Dubai has a well-paved jogging track. People frequent this place to run along the beach while enjoying beautiful views of Burj  Al Arab. The best time to visit the beach for a walk, jog or run is just before sunset.  When the beach is not too crowded, watching the beautiful colors of the sun. 

Packing your snacks and going for a family picnic on a weekend. Kids can spend hours  playing in the sand, creating amazing sand art and sandcastles. You can also play board  games, beach ball and other fun activities at the beach. 

Going for a swim at Umm Suqeim Beach Dubai. The water has the perfect temperature  in summers; therefore people frequent this place for swimming. 

Swimming in Dubai isn't allowed after sunset but Umm Suqeim Beach is an exception.  The beach allows night swimming in the evenings after the installation of the Smart  Power light. The Smart Power Lights were installed in 2017, under the Night Swimming

Dubai project. Since the project was launched, locals have frequently visited the beach  to experience Umm Suqeim Beach night swimming. 

Umm Suqeim Beach is one of the most popular beaches in Dubai. The beach is the  perfect place for taking mesmerising shots of the Burj Al Arab or swimming in the cool  blue waters. 

Umm Suqeim beach has got a beach library, where you can borrow books for free to  read on the beach. There is also an area with beanbags and tables for reading. After  reading you return the books back to any library unit on the beach. Dubai Municipality  has also provided lighting to make it still possible to read at night.  

Go to Mall of the Emirates is 10 minutes away from Umm Suqeim Beach. Apart from  shopping, there are plenty of other things to do at the mall. Mall of the Emirates is also  home to Ski Dubai, Magic Planet, VOX Cinema, and Yalla! Bowling.  

Timings: Sunday to Wednesday: 10:00am – 10:00pm |Thursday to Sunday: 10:00am – 12:00am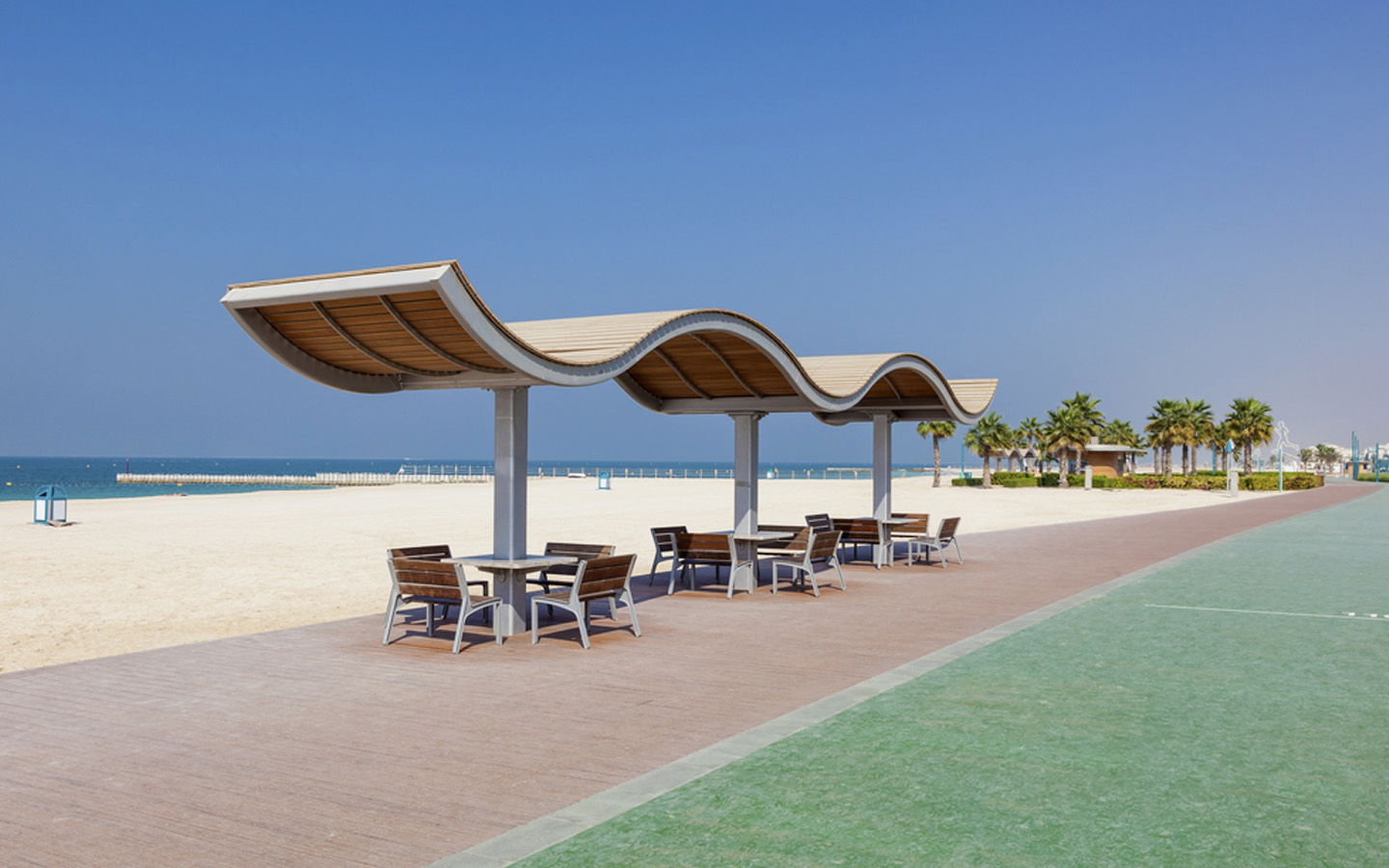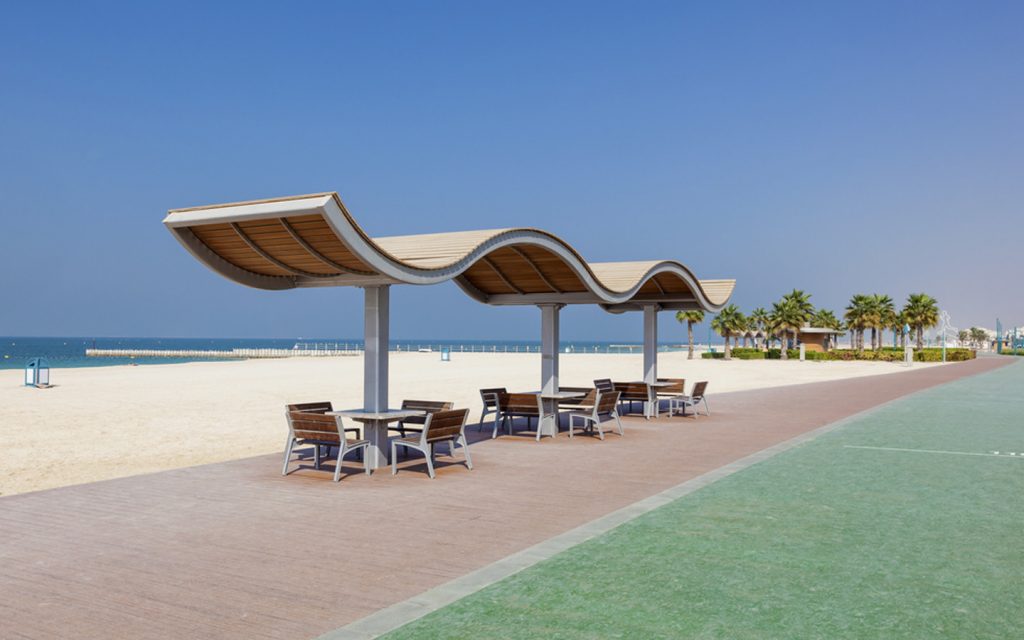 Visit Umm Suqeim Park  
Nearby Umm Suqeim Beach Park located in Umm Suqeim 1, is also worth a visit if you're at  Umm Suqeim Beach. The park offers a quiet place to relax, have a picnic or read your favorite  book. The park has a Kids' play area and a café to enjoy snacks and drinks. 
Timings: Everyday 08:00 am – 10:00 pm 
*Note: entry to Umm Suqeim Park is free and only women and children allowed to visit the  Park on weekdays. Men are allowed with families on weekends. 
Important information about Dubai Umm Suqeim Beach  
Umm Suqeim Beach Timings: 24 hours 

Facilities at Umm Suqeim Beach: Showers, toilets, mini-marts, night swimming

∙

Entry fee: entry is free  

Nearest Metro Station: First Gulf Bank, Red Line 
Umm Suqeim Beach Restaurant  
There are many choices of restaurants and cafés near Umm Suqeim Beach. Here are some of  the best restaurants there.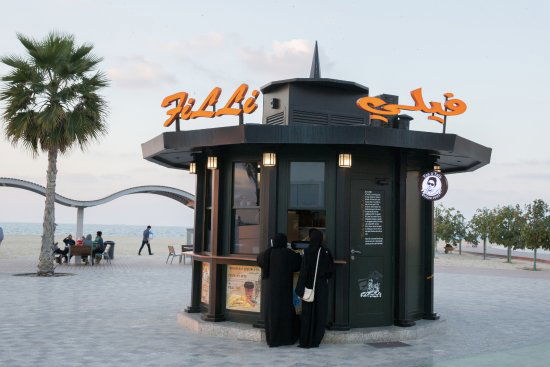 Doors Freestyle Grill 
One of fine-dining restaurants that will not disappoint you if you want fresh and tasty grills.  Their unique menu of fresh cut meat and seafood has been made by internationally acclaimed  Chef Kemal Çeylan. Average cost for two: 540 AED approximately 
Nomad  
Nomad restaurant is located in Jumeirah Hotel. The restaurant serves a variety dishes,  including American cuisine, appetizers and Asian grills, in addition to drinks. The restaurant  also has a smoking area. 
Breakfast: from 06:30 AM to 11:00 AM 

Lunch: from 12:30 pm to 3:30 pm 

Dinner: from 06:30 pm to 11:30 pm 
Abu Jad restaurant  
One of the most famous restaurants for its Lebanese, Arabian and Eastern Cuisines, some of  popular dishes are Falafel Balls, Chicken Shawarama, Manakeesh and Salad. It is s Known For pocket Friendly, Low Price, Spill Proof Packaging, Wonderful Presentation 
Bu Qtair  
Bu Qtair Restaurant is specialized restaurant in seafood and one of the first restaurants with  this specialty, which is popular for visitors. Bu Qtair Restaurant is currently considered a great  tourist destination to enjoy the distinctive seafood meals, which include fried fish or shrimp,  paratha bread that is baked in the restaurant, and rice with curry sauce 
Tulum Dubai Restaurant  
It is one of the best restaurants in Dubai and specializes in Mexican food. They offer a different  dining experience, where you can watch them making different cuisines near your table. In  addition to an amazing view of Dubai Fountain 
Umm Suqeim Beach Location map 
Umm Suqeim Beach is located in the Umm Suqeim 2 Beach District next to Jumeirah Beach  Hotel. The Beach is easy to find, at Jumeirah Beach Road, behind Umm Suqeim Park, Dubai