Laguna Waterpark Dubai: Tickets Price , Timings, Facilities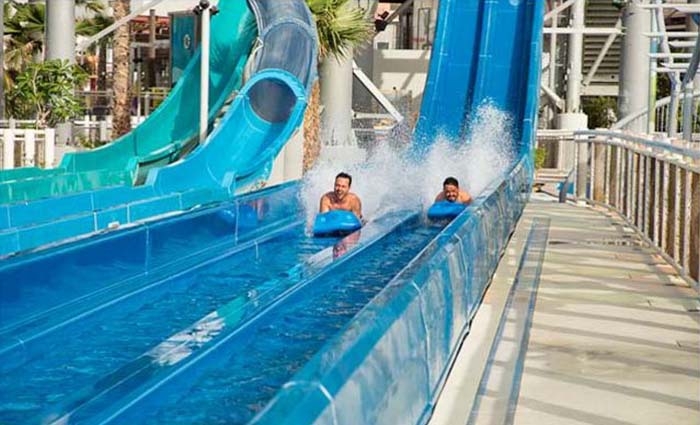 Dubai is a unique and luxurious destination for travelers, with its top attractions including the Grand Mosque, Burj Khalifa and Dubai Fountain. One of the newest additions to this list of must-sees is Laguna Water Park in Dubai. The park offers an incredible water experience for families and children of all ages.
Where Is Laguna Water Park Located in Dubai?
Laguna Waterpark and La Mer are located in the Jumeirah area of Dubai. There's no Metro station within easy walking distance.
What Are Some Laguna Water Park Attractions?
The biggest attraction at the water park is the AquaLoop ride; it can be found right at the entrance. This thrilling ride is a tube slide that's over 100 feet tall and takes riders on an exhilarating vertical drop into a 360-degree loop. For those looking for something less intense, there are plenty of other rides to choose from as well, such as the Aqua Play area where children can enjoy water jets and fountains.
Laguna Water Park in Dubai also has a wide range of pools, including kiddie pools and wave-style pools. There are water slides that include the Aqua Racer with four lanes for racing; there's even an overhead gondola where parents can view their children as they race through the slide! The park is decorated with beautiful landscaping features, including waterfalls and large ponds.
Laguna Water Park also has a café where visitors can order lunch or drinks while sitting on the patio overlooking all of the fun in the park!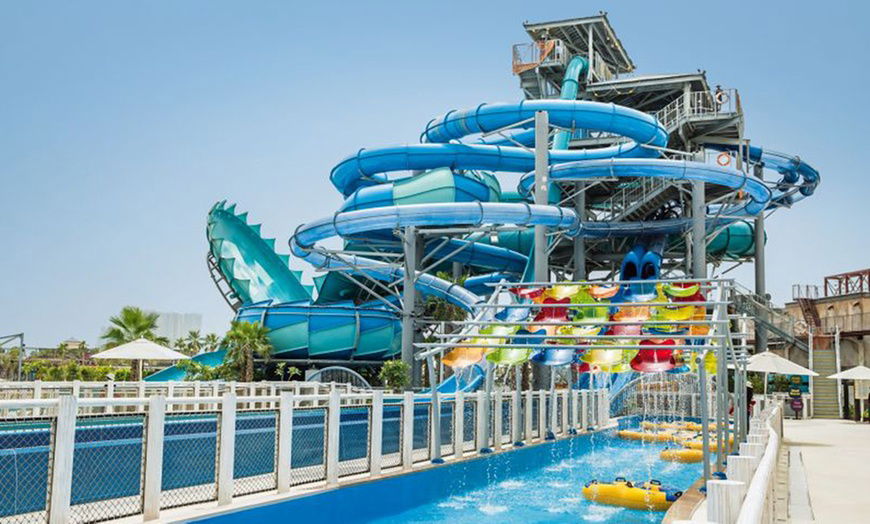 What Is The Recommended Age For Laguna Water Park?
The recommended age for children to enjoy Laguna Dubai is six years old, but there are plenty of activities that younger kids will love as well. The Aqua Play area at Laguna Water Park is perfect for toddlers who want to cool off without getting too wet. This interactive play zone offers fountains and other kid-friendly structures designed just for them. Children who aren't yet swimming independently should wear life jackets provided by the UAE government; they're mandatory throughout Dubai's pools and water parks.
What Are The Laguna Water Park Hours?
Laguna Dubai is open seven days a week from morning until evening, and the hours vary by day: Other than Thursday the time for the water park are 10am to 6pm; On Thursday the park is only open till 4pm and it is closed on Mondays. There are special family-friendly events on certain weekends throughout the year as well! Visit their website for more information about upcoming holiday events at the park.
What Is Ticket Price To Enter The Laguna Water Park?
Dubai Laguna water park admission ticket can cost a minimum of around $25 and the price can increase based on the activities you are planning to do at the park. Usually you can get a full day pass for only around $25. However this is just the Laguna water park ticket price.
If you are looking for more details about much can it cost you to enjoy the maximum experience at Laguna Water Park then you have to check out the different packages offered at the water park. All packages have a range of different options. There is an annual pass, cabana experience, Snowdowner pass, UltraAll Inclusive package. Full day pass and the park also offers new packages as well.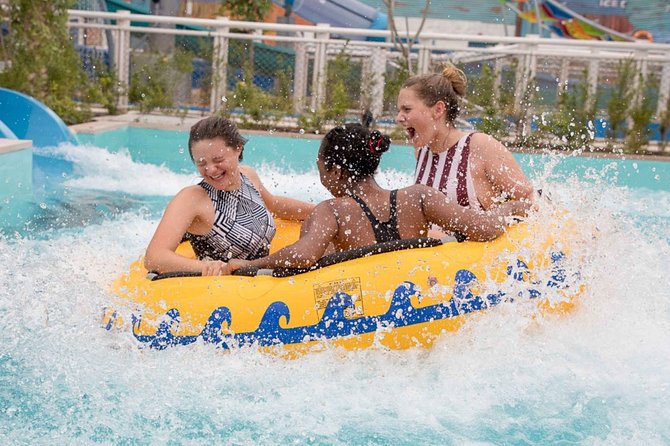 Read More: Best Water Parks in Dubai in 2022
Where Can I Buy the Tickets to the park?
Buying tickets for the Laguna water park in Dubai is very easy. You can either buy them at the gate of the water park or you can buy them online buying them online is going to give you a great deal of discount. So check online for Laguna water park tickets offers.
Things to Do At the Laguna Water Park in Dubai
WaveOz 180 Surfing Simulator
First of all there is the WaveOz 180 surfing simulator. So if you are a beginner or someone who wants to learn surfing then this is where you should start. Many people do it out of fun but it can definitely be a great step for you to learn surfing in a safe environment. Kids and adults can both try and experience the thrill of surfing through WaveOz 180 Surfing.
Free Fall Slides
Another great ride you can try is the free fall slides. It is basically like a drop tower but instead of dropping vertically you are dropped horizontally at an angle and it comes with all kinds of drops, twists, turns and much more!
There are other slides at the park as well including Constrictor, Mad Racer, Manta and The Loop.
Relaxation Activities
In addition to the slides, there are many relaxation activities that can be done at the Laguna water park.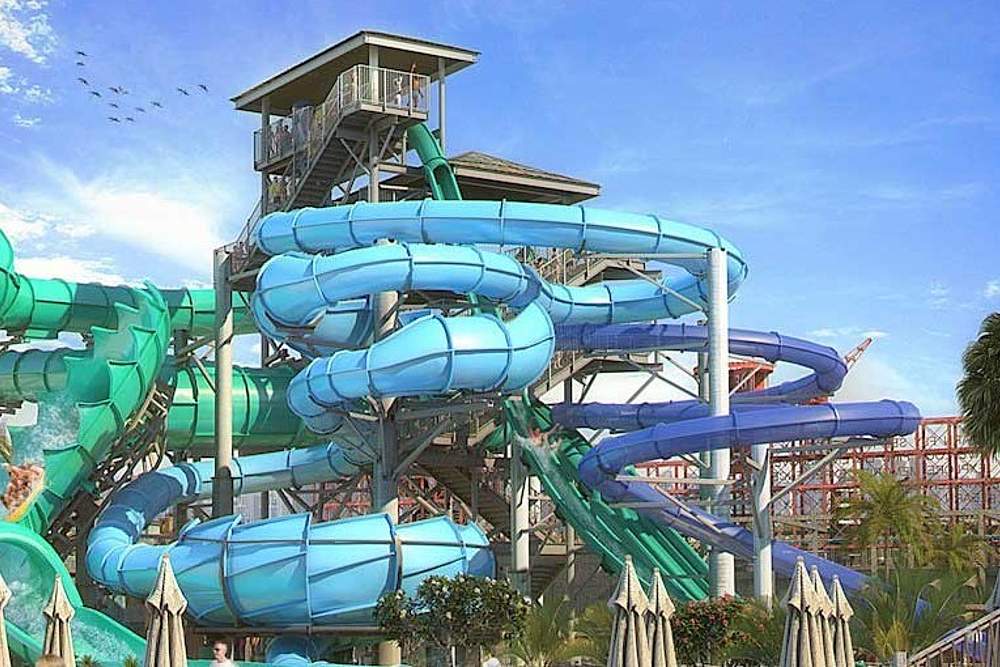 Cabanas
There are a number of private cabanas that you can book at the park. These include daybeds, seating areas and even rooms with bathrooms! You can get food delivered to your cabana while enjoying the view from above on a shaded deck chair.
Lazy River
The Laguna water park also has a lazy river. You can enjoy the calm waters of this spacious section by floating along on an innertube or you can go down one of the many rapids inside!
The Infinity Pool
The Laguna water park also has a large infinity pool that is perfect for lounging by the waterside. You can relax and enjoy views of Dubai's skyline while lying in an outdoor Jacuzzi!
Cafe and Bar At the Laguna Water Park in UAE
In addition to all these great rides, slides and pools there are even more activities at the waterpark including a cafe with food options from around the world as well as a bar where you can get drinks to cool off on those hot days! There is also dry saunas, showers and changing rooms inside too! So if your kids want to go swimming but need a break then this might be just what they need.
There are plenty of places to buy food and drinks at Laguna Water Park Dubai as well. There is every kind of hot dog, burger, pizza, ice cream cone etc. that you could ever want for lunch! Be sure to check out their website for more information about family-friendly events happening throughout the year too.