Best Dubai Mall restaurants 2022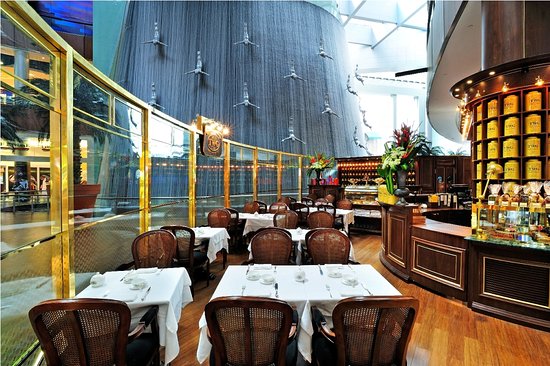 The Dubai Mall is one of the largest malls in Dubai, the mall includes about 1,200 shops, and if you get tired during your tour in all these shops you will surely find the best restaurant or café for you to have a rest inside the mall, where there are more than 200 restaurants and cafes that you can choose what suits you. Here is a list about the best restaurants in Dubai Mall.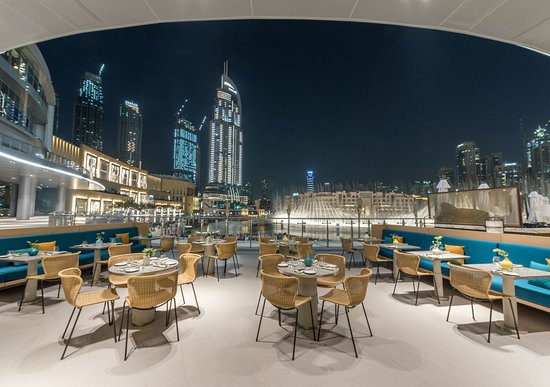 Dubai mall restaurants list
1- Dubai Mall restaurants fountain view:
Al Hallab
Al Hallab Restaurant features a wonderful view of the waterfalls and the Dubai Fountain, lavish, upscale and contemporary décor and delicious food.
It is one of the favorite dining options in The Dubai Mall. It serves a wonderful and delicious Lebanese food and sweets.
Services are fast and friendly, and it's cheaper than you expect, it is considered one of the best restaurants in Dubai Mall overlooking the fountain.
Location: Level 2, The Dubai Mall
Huqqa
If you want  a fantastic Dubai Mall restaurants fountain view head to Huqqa Restaurant, is a restaurant that serves Turkish-Asian cuisine, which serves a variety of kavurma slices, smoked steaks, buffalo cream, rice, pasta and kebabs, and it also provides multiple gluten-free dishes to satisfy various desires.
You have to book in advance if you want to have a charming view of the Dubai Fountain, and it also offers private rooms for meetings.
Location: New Expansion, Ground Floor, The Dubai Mall
Thiptara
Thiptara Restaurant features a unique and distinct view of the Dubai Fountain and Burj Khalifa, making the opportunity to dine at this luxurious Thai restaurant a unique and unforgettable experience.
The distinctive atmosphere, high-end services and delicious cuisine will undoubtedly impress you, as it serves luxurious and distinctive Thai and Asian dishes with exquisitely cooked seafood.. Have a table on the restaurant's outside balcony, where you can relax and enjoy the wonderful views of the Dubai Fountain's dancing shows.
Bebabel 
Bebabel Restaurant is considered one of the best restaurants overlooking the dancing fountain, as it combines elegance and modern ambiance, and serves many delicious and varied dishes, and is distinguished by its reasonable prices compared to other restaurants. Its menu includes a wide and unique selection of Lebanese dishes inspired by international cuisines and prepared using the finest local and fresh ingredients.
Location: New Expansion, The Dubai Mall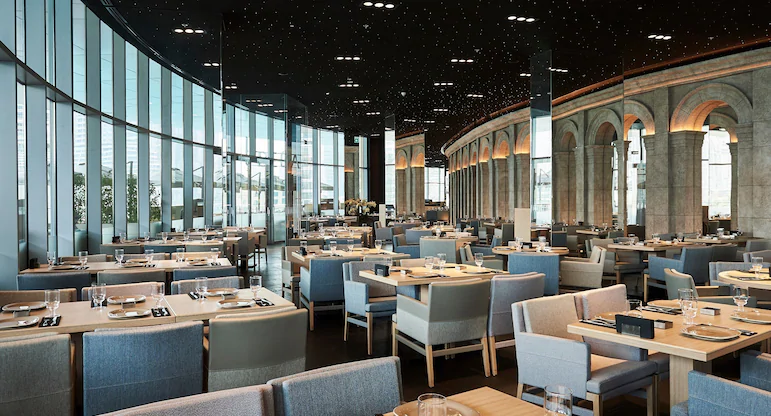 2- Indian restaurant in Dubai Mall
India Palace Express 
If you want to experience the true taste of Mughal food, India Palace Dubai Mall is the perfect choice. As it is one of the oldest Indian restaurants in Dubai. The menu includes a wide variety of the most delicious Indian cuisine such as kebabs, seafood items and dum pukht biryani. Their salads, starters and soups are also a treat for the tastebuds and a variety of vegetarian dishes.
It is considered the best Indian restaurant in Dubai in terms of the interior design of the restaurant, which is characterized by Indian luxury and the walls are covered handcrafted dark wood panels that are.
Location: Lower ground floor, The Dubai Mall.
Peppermill 
The restaurant has a prominent place at the mall, and at the level of Indian restaurants as well, it serves the most famous and modern Indian cuisine and desserts. And what distinguishes this restaurant from other Indian restaurants, besides the taste, is the price, where you can enjoy appetizers, main dishes, desserts and drinks at very low prices. Do not hesitate to make this restaurant one of your favorite.
Location: Second floor, The Dubai Mall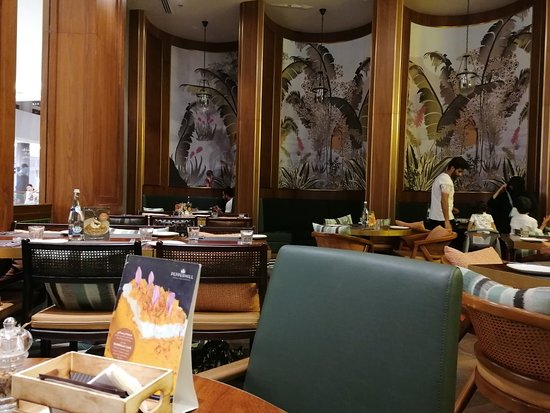 3- Italian restaurant Dubai Mall 
Gia
The restaurant features a large terrace overlooking the Dubai Fountain. It is distinguished with its wonderful interiors, lighting, wonderful architectural designs, and its glassy kitchen, which gives you the opportunity to watch the chiefs preparing your special dish. The restaurant serves the most delicious Italian dishes in addition to Emirati food Location: the new expansion, The Dubai Mall.
Eataly 
This Italian Restaurant attracts lovers of Italian cuisine in the city. Which is inspired by the original "Italy" branch located near the Italian city of Turin,
You will feel confused there, as it offers a long list of the most delicious Italian foods, on top of which are pastas, slices of bread with cheese and garlic, pizza, seafood and many other delicious foods that you will not find in any other restaurant. In addition to ice cream in various flavors, as well as another coffee corner.
Location: Lower Ground Floor, The Dubai Mall.
Japanese restaurant Dubai Mall
Katsuya by Starck  Restaurant 
It is one of the best Japanese Restaurants which offers a distinguished menu rich in Japanese flavors, such as sushi dishes, wraps and robata grills. As one of the Japanese restaurants in Dubai, this place hosts indoor seating and outdoor seating overlooking the Dubai Fountain.
Lebanese restaurant Dubai Mall,
Karam Beirut
If you want to visit the best Lebanese restaurant in Dubai Mall that offers the most delicious
Lebanese food with its traditional taste, do not miss visiting Karam Beirut Restaurant in Dubai Mall. Also you have to taste the delicious Lebanese sweetness: Halawat al-Jebne. It also offers reasonable prices.
Location: The Dubai Mall · Near Dubai Aquarium & Underwater Zoo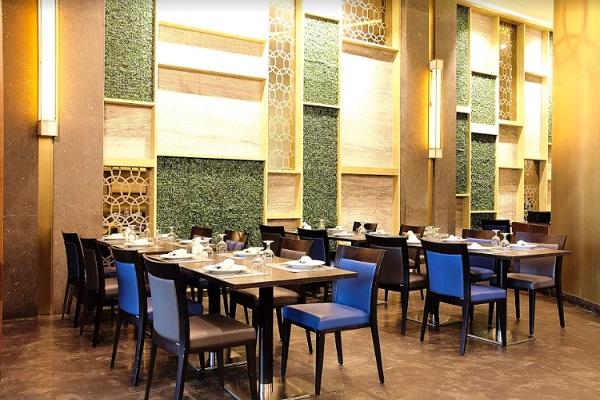 Zaatar w Zeit
One of the best restaurants which serves the best and the most famous dishes for breakfast such as the fresh wild thyme, pastries, sandwiches in addition to breakfast dishes and very delicious salads, as well as the grilled meat, and don't miss the very distinct grilled konafa. Location: The Dubai Mall, Lower Ground Floor, Food Court
Chinese restaurant in Dubai Mall
New Shanghai
It is one of the must-visit Chinese Restaurants in Dubai Mall. Entering the restaurant is similar to entering a bustling street in Shanghai.
The restaurant offers a comprehensive menu of traditional and modern Chinese cuisine, such as Crab & Chicken Xiao Long Bao and Sizzling Mongolian Beef and many others. Location: Ground Floor, The Dubai Mall
Magic Wok 
This restaurant invites you to choose your Chinese meal from a menu rich in Chinese flavors without any artificial additives in it.
Turkish restaurant Dubai Mall
Bosporus Turkish Cuisine
A delicious Turkish food restaurant characterized by great service. It serves a lot of Turkish cuisine, in addition to the appetizers and drinks that are famous for the Ottoman Empire that prepared using the spices and flavors of the Middle East. The restaurant also serves shisha with the best flavors.
Mado 
It is one of the most famous names in Turkey, it is famous for its delicious ice cream and Turkish sweets.
Here you can taste the magic of Turkish cuisine for your breakfast, lunch, and dinner menus.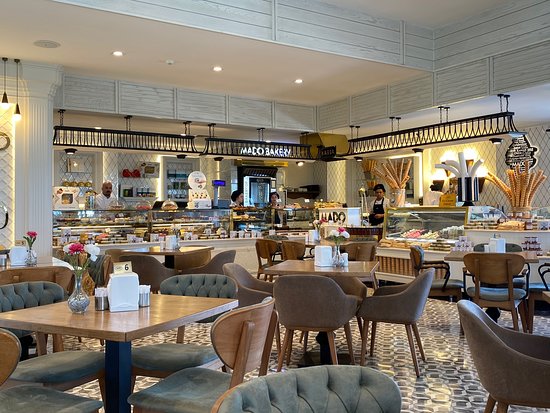 Gunaydin 
One of the best restaurants overlooking the Dubai Fountain, serving the most delicious Turkish dishes
Lovers of American cuisine, you are invited to visit the Food Court, which includes 40 restaurants that serve fast food, including:
As for lovers of international dishes, they are ready to visit the following restaurants:

Chili's
Guy Fieri's Kitchen
And if you get tired of your tour, you will find one of the cafes that you like out of 120 cafes, including:

Rubicon Café on the second floor
PappaRoti Cafe on the first floor.
Rainforest Cafe