Dubai henna mehndi designs in 2022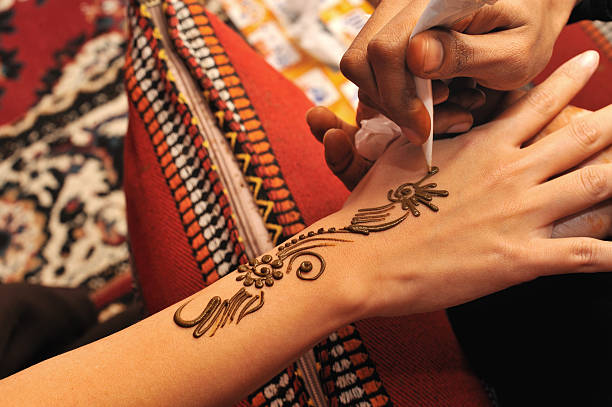 Mehndi "Henna" is a common tradition in the Middle East, especially in the Gulf Cooperation Council countries. In the UAE, Dubai henna mehndi designs is part of the culture, and women usually choose it on weddings, Ramadan and holidays.
Dubai is distinguished by its rich and ancient history, as well as many traditions and rituals of beauty and elegance such as perfumes, oils and Mehndi.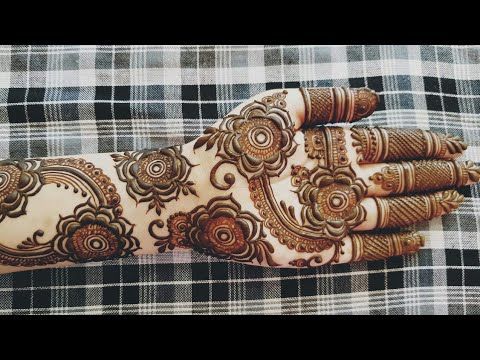 Mehndi is made from the crushed leaves of the henna tree, where the powder is mixed with water and lemon juice or something similar to citrus to form a thick paste that is applied to the skin.
Dubai henna mehndi designs are created by  artists who specialize in it  to create a wide variety of designs according to the occasion. Beautiful and intricate designs are created using Mehndi, and it is considered a very important part of traditional wedding ceremonies, where hands, legs or other body parts are decorated with intricate drawings and hand-drawn inscriptions.
If you are a bride getting married in Dubai or having a Mehndi party there, you should know that Dubai is full of places that offer very talented Mehndi artists, who specialize in amazing Dubai Arabic Mehndi designs and patterns.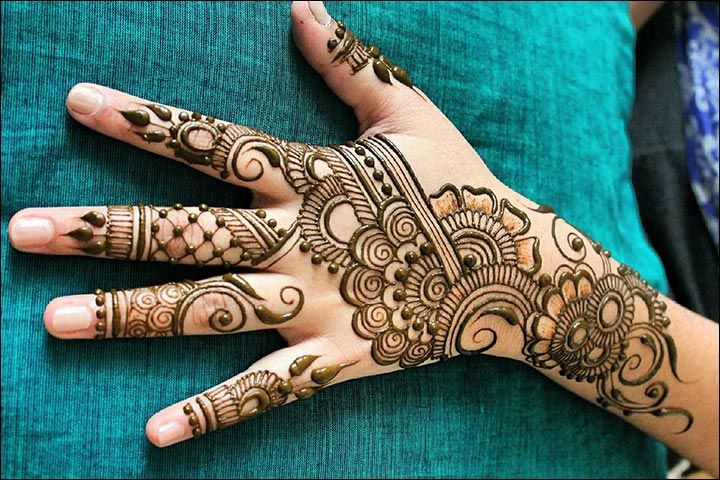 Dubai style Mehndi design
You can choose the design that you want according o the ceremony and your style  Here are some of the most popular Dubai style Mehndi designs.
Paisley and Flower Design
The most familiar Dubai henna mehndi designs and mostly used elements like flowers, dots, peacocks and vines.
It one of the most famous Mehndi designs in Dubai Especially in Ramadan. A combination of paisley patterns and flower drawings, across the wrist's upper area to finger beside other fingers to make paisley patterns of different sizes to make exciting images.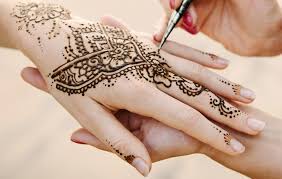 Heavy Bracelet Design
As the name shows, this Dubai henna mehndi designs looks like a bracelet that surrounds the hand and the leg if you like to have one on your leg with stunning details and amazing drawings.
Dubai Flowers Mehndi Designs
Delicacy and softness of roses drawn with Mehndi lines on the hand to give a wonderful beauty
Blooming Flower Pattern
Most of the Dubai henna mehndi designs focus on flowers, the blooming design  across the hands to fingers creating an attractive and discontinuous drawing designs.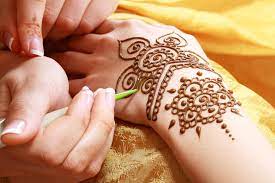 Elaborated Gulf and Floral Pattern Design
One of the most popular Dubai henna mehndi designs, it is very eye catching with floral and gulf pattern.
These types of Mehndi designs are popular and it's more preferred during wedding ceremonies in Dubai. The drawing consists of floral elements, such as petals, vines and flowers. When you just have a glance at it you will know that it is the gulf design from festivity and celebrations.
Dubai Mehndi design websites
There is no any occasion completed without some beautiful Dubai henna mehndi designs. So they released special websites and apps to make Mehndi accessible to every woman in their homes and inspire them to create their unique Mehndi designs,
Safaa Manafer; the first Mehndi artist with an international certificate in the Middle East, has released the first e-commerce platform dedicated to all Mehndi items in and tools with delicate and exquisite designs that customers can use in the comfort. The tools are priced at 30 AED, with over 40 delicate Dubai henna mehndi designs.
You can purchase exclusive henna tools through the official website, click here.