The best 5 activities in Safa Park Dubai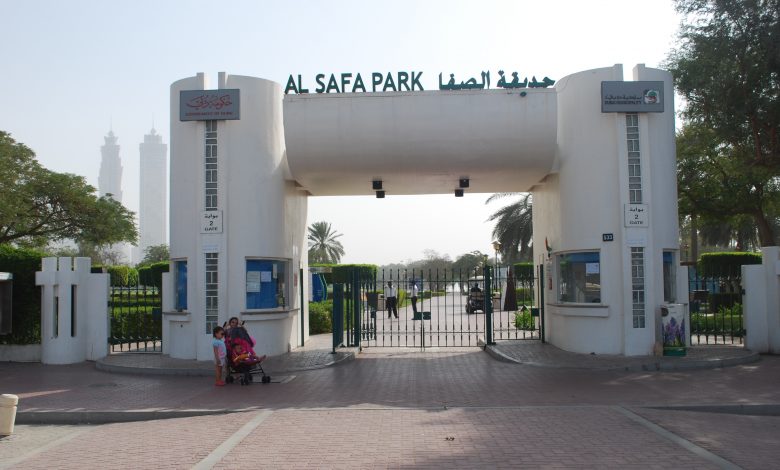 Safa Park Dubai is one of the most important, public and oldest parks in the city of Dubai, and it is  also the most famous park in the United Arab Emirates, its unique location distinguishes it from  other Dubai's parks, as it became famous and favourite among many who find what they want to get of Relaxation near Dubai's many cultural landmarks 
When you visit Safa Park, you find it among many high-rise skyscrapers such as the famous Burj  Khalifa and the various Emirates Towers, and it is only 6 km away from the World Trade Center,  and Safa Park extends over a wide area of about 185 acres, or about 64 hectares, There are four  different entrances for visitors, the first entrance is on Sheikh Zayed Road, the second is on Al Wasl  Street, the third is located on Al Hadiqa Street, and the fourth entrance overlooks 55 Street. 
We offer you a complete guide about the spacious Safa Park, which was established in 1975 AD,  and has been developed several times, most recently in 1992 when a set of health facilities were  added to the park, and a covered playground was built, so it has become one of the places of  tourism in Dubai that suits all different ages and interests, spend the most enjoyable time there, as it  is located in the center of Dubai, close to its vibrant streets.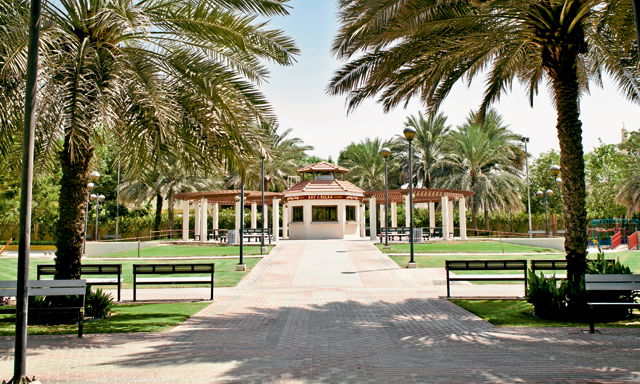 Best activities in Safa Park
You can enjoy the wide green areas, which provides a safe space for playing, having fun and  practicing all kinds of your favorite sports, and if you want to relax and have tranquility time, the green nature in Safa Park is the most suitable environment for that. 

The park is one of the tourist places in Dubai for children, as a miniature garden has been  designated for mothers and women in general, so that they have the opportunity to enjoy their  time with their children in comfort and privacy, and to be able to share their children playing  and enjoyment.  

Do not miss a barbecue party in the specialized areas in the Park, especially if you are in a  family gathering or with friends, and you can also visit the theater area in the Park after the  barbecue, or rent a boat to sail in the wide lake in Safa Park, these activities are considered an  attraction in Safa Park.  

One of the most enjoyable things to do in Safa Park is the electronic games, which provide  visitors with a great deal of fun and entertainment, in addition you can rent a bicycle and take a tour around the park.

The park provides visitors with football fields, volleyball and tennis courts as well, in which  you can play for free without any fees, and you can also benefit from all service facilities in  the park, such as bathrooms, chapels and first aid.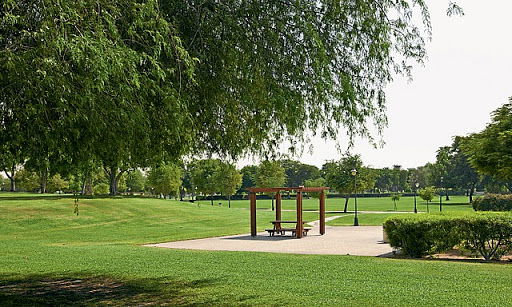 Best hotels near Safa Park 
Here is a detailed report on the best hotels near the prestigious Safa Park, which are characterized  by being at the highest level of elegance and luxury, competing in providing the best services with  unique quality for the visitors, and they also provide guests with luxurious accommodation 
1- V Hotel Dubai, Curio Collection by Hilton 
V Hotel Dubai, Curio Collection by Hilton, is one of the luxury Dubai hotels near Safa Park,  located on Sheikh Zayed Road on the Dubai Water Lake, which gives guests a stunning view of the  charming Dubai skyline, and the hotel is minutes and simple steps away from the most important  landmarks of Dubai such as Burj Khalifa, Dubai Mall, and Mall of the Emirates. 
The rooms in the hotel are characterized by the availability of all forms of future technology, and  all the various recreational activities, as they are spacious and air-conditioned rooms and contain all  guest supplies, such as a flat-screen TV with cable channels, as well as coffee and tea making stall,  and the rooms have bathrooms designed in open style with elegant bathtub, with free Wi-Fi services  throughout the hotel.
2- JW Marriott Marquis Hotel 
JW Marriott Marquis Hotel is among the best hotels near Dubai's Safa Park, which comes in the  form of two wonderful towers, to be one of Dubai's cultural landmarks, and it is distinguished by its  location between Dubai's tourist areas such as the Mall of the Emirates, the Dubai Mall and the  Business Bay metro station. The hotel has an outdoor swimming pool for those who love to swim in  the open air. 
There is a luxurious health club "Saray Spa Center", as well as a fitness center equipped with the  latest sports equipment, the hotel offers its guests various local and international buffets, you can  choose the most suitable for you from them. The hotel also includes about 12 hotels and bars that  offer delicious food; it is won many International awards.
The hotel rooms are characterized by modernity decor and elegance furniture and furnishings,  interspersed with natural lighting through the windows extending from the floor to the ceiling, the  rooms also have flat-screen TVs, and the rooms include bathrooms with a bathtub and bathrobes as  well, and the hotel provides free internet services.
Safa Park location  
Safa Park is located in Bur Dubai, in Al Hadiqa Street, Dubai, United Arab Emirates. 
Contact the administration  
You can contact the administration of Safa Park at +971-800-900 
Safa Park entry fee 
Safa Park entry fee is 3 AED  

Entry is free entry for disabilities and children below 2 years old.  
Safa Park timings 
Safa Park opens from Sunday to Wednesday 08:00 am – 10:00 pm,  

Thursday to Saturday 08:00 am – 11:00 pm. 
You can go to Safa Park by metro. The Business Bay Metro Station (Redline) is 1.5 miles from  Al Safa Park.